Cable management includes products used for installation of cables and wires across different construction applications. The overall cable management includes various products such as cable cleats, electrical raceways, cable trays, electrical conduits and floor ducts, among others. These products are used in combination to organize and maintain the overall wiring system of a building. Cable cleats refer to products used to ensure the retention and support of cables. These are commonly used across a diverse range of end-use applications including IT & telecommunication, industrial, commercial, energy & utility, transportation and metal & mining, among others. Cable cleats have been used for several decades and with the consistent rise in electrification and infrastructural advancement, the demand for cable cleats is expected to rise consistently in the following years. Nevertheless, the product has been witnessing enhanced demand since 2003, with the introduction of the EN 50368 standard.
The most prominent factor fueling the market growth for cable cleats is consistently rising construction sector across the world. Cable cleats are primarily used across commercial buildings, industrial buildings, power lines and transportation. With continued rise across these construction sectors, the demand for related cable management products (such as cable cleats) is projected to remain strong in the following years. Another major factor propelling the market growth is the superior advantages of cable cleats for effective cable management. The use of cable cleats results into longer life of cables as they help to reduce physical stress.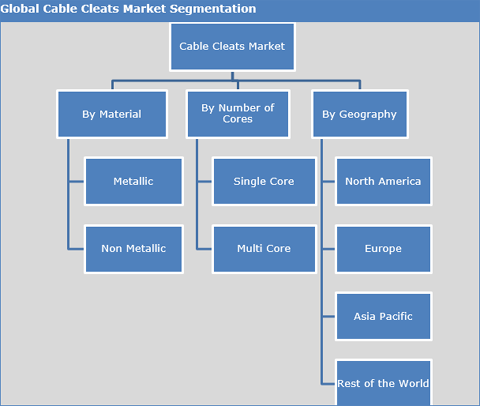 The report titled "Cable Cleats Market- Growth, Future Prospects and Competitive Landscape, 2017-2025" offers strategic insights into the global cable cleats market with a focus on the market size and estimates for the duration 2015 to 2025. The said research study covers in-depth analysis of market segments based on material, number of cores and cross-sectional study across different geographies. The study covers the comparative analysis of each sub-segment for the years 2016-2025. The report also provides a prolific view on market dynamics such as market drivers, restraints, and opportunities.
In order to help strategic decision makers, the report also includes competitive profiling of the leading cable cleats manufacturers, their strategies, market positioning and key developments. Some of the major players profiled in the report include Ellis Patents Ltd., Remora Electrical Limited, BICON, Eland Cables Limited, CMP Products Limited, Oglaend System Group, Nantong Naco Fluid Equipment Co. Ltd., IPD Group Limited, TransDelta International Industries L.L.C and Novoflex Marketing Pvt. Ltd.
Other in-depth analysis provided in the report includes:
Current and future market trends to justify the forthcoming attractive markets within the cable cleats.
Market fuelers, market impediments, and their impact on the market growth
Market inclination insights and key trend analysis for cable cleats market
In-depth competitive environment analysis
Trailing 2-Year market size data (2015 – 2016)
Overall, the research study provides a holistic view of the global cable cleats market, offering market size and estimates for the period from 2017 to 2025, keeping in mind the above-mentioned factors.