History of Indian spices dates back to the beginning of human civilization. Spices were inducements of romance, voyages, war and expeditions. Cardamom has been used since ancient times as medicine and in cooking. It has a fascinating long history dating back about 3,000 years B.C. during the Vedic period. Spices in those days were known to be symbol of luxury and royalty. It was used in manufacturing perfumes during the Roman and Greek times. Cardamom is very well known as a spice for its flavor and woody aroma. This property of cardamom makes it applicable for a wide range of applications in the market. Cardamom essential oil is extracted from the dried seeds of cardamom through hydro distillation which comprises of4% to 8% of essential cardamom oil. Now-a-days, CO2 extraction method of essential oil seems to be more in demand as this is another interesting process used in extraction of cardamom oil. Cardamom oil consists of advantageous properties such as antiseptic, antimicrobial, boosts digestion, used in aromatherapy, relives muscle spasms, and aids proper digestion. These factors have led to high demand for cardamom oil in the market.
Based on applications, the global cardamom oil market is segmented into bakery & confectionary, food & beverages, personal care products, medicines, cosmetics, dairy products and others. Medicines accounted for major share of global cardamom oil market due to the beneficial properties of cardamom oil. Cosmetic followed medicine application in terms of demand and accounted as the second largest application segment of global cardamom oil market in 2015. Other applications of cardamom oil such as bakery & confectionary, food & beverages, dairy products and personal care products are also projected to boost high demand for cardamom oil during the forecast period from 2016 to 2022.
Cardamom oil market was valued at US$ 4,655.1 Mn in 2015 and is expected to reach US$ 6,232.4 Mn by 2022, growing at a CAGR of 4.3% during the forecast period 2016-2022.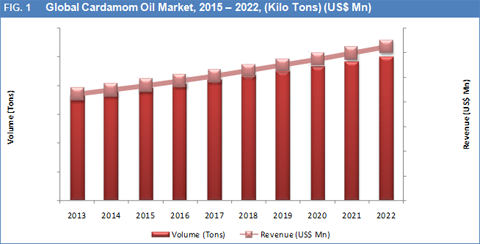 Purpose of the Report
The purpose of this strategic research study titled "Global Cardamom Oil Market - Growth, Share, Opportunities, and Competitive Analysis, 2015 – 2022" is to provide company executives, industry investors, and industry participants with in-depth insights to enable them make informed strategic decisions regarding the opportunities in the global cardamom oil market.
Target Audience
Industry Investors
Cardamom Oil Providers/Vendors
Research Professionals
Emerging Companies
Raw Material Suppliers/ Buyers
Product Suppliers/ Buyers
Research Institutes
USP and Key Offerings
The report titled "Global Cardamom oil Market - Growth, Share, Opportunities, and Competitive Analysis, 2016 – 2022" offers strategic insights into the global cardamom oil market along with the market size and estimates for the duration 2016 to 2022. The said research study covers in-depth analysis of multiple market segments based on end-user applications, and cross-sectional study across different geographies. In order to help strategic decision makers, the report also includes competitive profiling of the leading cardamom oil vendors, their expansion strategies, market positioning, and latest developments. Other in-depth analyses provided in the report include:
Current and future market trends to justify the forthcoming attractive markets within cardamom oil industry
Market fuelers, market impediments, and their impact on the market growth
In-depth competitive environment analysis
Trailing 2-Year market size data (2013 – 2014)
SRC (Segment-Region-Country) Analysis
Overall, the research study provides a holistic view of the global cardamom oil market, of growth, offering market size and estimates for the period from 2016 to 2022, keeping in mind the above mentioned factors.
Related Reports