Dairy ingredients are made from milk and find application in chocolates, bakery products, ice creams, sports food, prepared food products, ready-to-eat food products to name a few. Dairy ingredients are basically used for flavor and texture enhancement offering viscosity, gel formation, emulsification and fat holding properties of the particular food and beverage product. Dairy ingredients types include milk, whey and permeate. Milk is essential component of human diet and thus has wide acceptance among consumers. Milk is dried and preserved in the form of powder, owing to its benefits of having increased shelf-life and low moisture content, which is known as dried form of milk. Other types of milk derived dairy ingredients include casein and caseinate, milk protein concentrate, milk protein isolate, and others. Whey ingredients are classified as whey protein isolate, whey protein concentrates, and others. Depending upon the application, dairy ingredients types are used in the final product.
International and domestic trade barriers have resulted in complex system for dairy industry worldwide in combination with price constraints in some of the major dairy markets such as European Union, United Sates, Japan and Canada. As compared to all these barriers, dairy industry offers wide potential especially in Asia Pacific, wherein factors such as urbanization, income growth, government plans and policies supporting dairy industry, inclination of consumers towards milk and milk products are bolstering dairy ingredients market growth. Growing dairy industry is thus supporting the demand for dairy ingredients especially in the dairy food products globally. However, price is a key concern among dairy ingredient manufacturers, which hinders overall dairy ingredients market growth.
Globally, dairy ingredients market in Asia Pacific is expected to be largest in terms of value followed by Europe and North America. Asia Pacific is further anticipated to exhibit fastest CAGR during the forecast period, which is attributed to growing food and beverage industry in China and India leading towards demand for dairy ingredients coupled product launches catering to the dairy food products especially in China and India. However, demand for dairy ingredients is expected to record moderate growth in Latin America, owing to increased consumption along with growing imports and exports of milk in Brazil, thereby leading towards subsequent demand for dairy ingredients in the region.
Global dairy ingredients market is expected to be valued at US$ 48.6 Bn by the end of 2016 and is projected to expand at a CAGR 5.4% during the forecast period 2016-2023.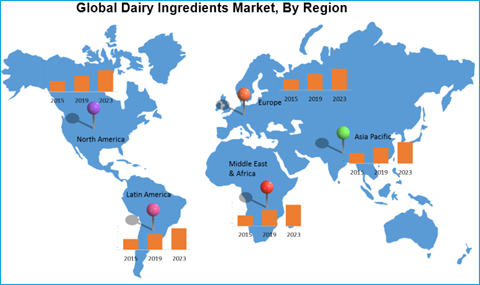 Purpose of the Report
The purpose of this strategic research study titled "Global Dairy Ingredients Market- Growth, Future Prospects, Competitive Analysis and Forecast, 2016 – 2023" is to provide company executives, industry investors, and industry participants with in-depth insights to enable them make informed strategic decisions regarding the opportunities in the global dairy ingredients market.
Target Audience
Industry Investors
Research Professionals
Emerging Companies
Dairy ingredients manufacturers
Oil & Gas exploration and production companies
Downstream & Midstream Companies
Research Institutes
USP and Key Offerings
The report titled "Global Dairy ingredients Market- Growth, Future Prospects, Competitive Analysis and Forecast, 2016 – 2023" offers strategic insights into the dairy ingredients market along with the market size and estimates for the duration 2013 to 2023. The said research study covers in-depth analysis of multiple market segments based on fuel type and cross-sectional study across different geographies. In order to help strategic decision makers, the report also includes competitive profiling of the leading dairy ingredients manufacturers, their expansion strategies, market positioning, and latest developments. Other in-depth analyses provided in the report include:
Current and future market trends to validate the forthcoming attractive markets within chemicals and materials industry
Market fuelers, market impediments, and their impact on the market growth
In-depth competitive environment analysis
Trailing 3-Year market size data (2013 – 2015)
SRC (Segment-Region-Country) Analysis
Overall, the research study provides a holistic view of the global dairy ingredients market growth, offering market size and estimates for the period from 2013 to 2023, keeping in mind the above mentioned factors.