Overview:
The global connected agriculture market was accounted at US$ 1.7 Bn in 2018 and is projected to witness significant growth, growing with CAGR of 16% across the forecast period from 2019 to 2027. Connectivity is the cornerstone of technological transformation that has been taking place across the globe. Connected agriculture aims to provide optimum production with minimal resources. According to FAO, population of the world is more than 7 billion today and is likely to reach 9.1 billion by 2050. About 70% increase in agriculture production is required to satisfy the hunger needs of this growing population. The traditional farming methods are making agriculture inefficient. But, with the help of connected agriculture, farming operations are becoming more productive and efficient.
On account of climate change, the agriculture sector across the globe is currently facing issues such as excessive heat and uneven rainfall. For instance, in April 2019 a report by India Today had suggested that for the 6th year in a row India witnessed below normal level rainfall due to climate change, which has aggravated farm distress, particularly in the drought prone areas. Uneven rainfall is hampering agriculture productivity in the regions like Maharashtra, Karnataka and Madhya Pradesh. Likewise, the agriculture sector in the U.S. and Australia is expected to face a decline in the crops production due to extreme rise in temperature. Moreover, water scarcity is also accounted as one of the major problem in the agriculture sector. For instance, agriculture consumes nearly 70% of fresh water[S1] . There is a massive need for advanced water management solutions and technologies[S2] [S3] which help in reducing the consumption of water for agriculture[S4] purposes. Connected agriculture benefits farmers in increasing efficiency by minimizing cost and efforts, it helps farmers to proficiently invest time and resources which thereby balances the cost and yield of crops. Rising demand of advanced technologies and increasing investments in this sector are some of the factors are driving the connected agriculture market worldwide. [S5]
Today, farmers are increasingly depending on several technologies for their day-to-day activities and are using connected technologies [S6] like zigbee and wireless sensor technologies in various agricultural operations like harvesting, inventory control etc. Moreover, government across several regions [S7] are joining hands with different financial institutions and agro-processing organizations to promote the growth of connected agriculture initiatives. These partnerships are expected to promote the implementation of IOT solutions in agriculture across the globe. On the other hand, connected agriculture requires high initial investment which is a serious challenge for middle to low income group of farmers. Also, lack of network connectivity is another major factor restraining the market growth.
Market Snapshot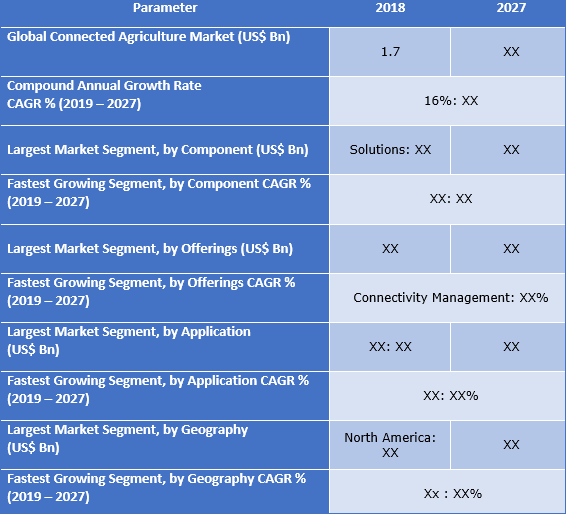 Get a sample copy for more information
Solution Segment is expected to hold the Largest Market Share in 2018
In 2018, the solution segment held for the largest share in the global connected agriculture market and is expected to continue with its dominance during the forecast period as well. Crop yield depends upon various factors like rainfall, humidity, temperature, condition of soil and variety of seeds. As a result of this, it becomes very difficult for farmers to interrelate those factors which will hamper the productivity of the farms. Connected agriculture permits in associating the available data which thus help farmers to increase the yield of crops. Also, there is a huge demand for collecting data through sensors for minimizing losses due to uncertain weather conditions. Solution segment also consist of technologies such as water management system, which by detecting heat and moisture from soil ensures adequate supply of water to the crops.
Get a sample copy for more information
North America held Largest Share of Connected Agriculture Market
In 2018, North America represented the largest market for connected agriculture across the globe and is likely to dominate during the forecast period from 2019 to 2027. The growth of this region is mainly accredited to the countries including U.S. government bodies in North American region provide great support for several advanced agriculture and farming technologies for increasing the production and to fulfill growing demand of food grains. Also, people in the U.S. and other countries are readily adopting and accepting advanced technologies that can be further implemented in the several farming practices. Dependency of people on various hand-held devices[S1] like mobiles, computers etc. that uses IOT and early adoption of these technologies is boosting the market growth in the region. Furthermore, Asia Pacific is expected to witness a significant growth in connected agriculture market in the years to come as farmers in the region are gradually adopting modern methods of connected agriculture. Countries including india and China are expected to have largest market for connected agriculture in Asia Pacific region. Owing to large number of farming lands, there will be an increased demand of advanced farming methods in order to meet rising demand of food.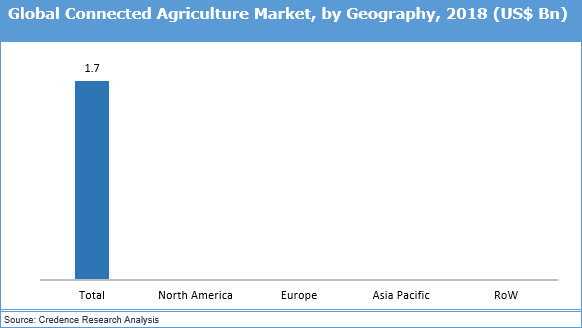 Get a sample copy for more information
Competitive Insights
The major players identified in the connected agriculture market includes Deere & Company, Raven Industries, Hexagon Agriculture, Decisive Farming, Trimble Inc., The Climate Corporation, DICKEY-john, GEA Group, Precision Planting, LLC, Teejet Technologies, Introduction of new technologies and partnership are some of the major strategies implemented by major players in connected agriculture market. For instance, in September 2018 Raven Industries and Topcon Agriculture collaborated to share Slingshot API, a software to software interface which provides end-users to share information between softwares[S1] . Through this collaboration Topcon Agriculture can able to share data with Raven's hardware in fields and provides integration to the customers using wireless connection.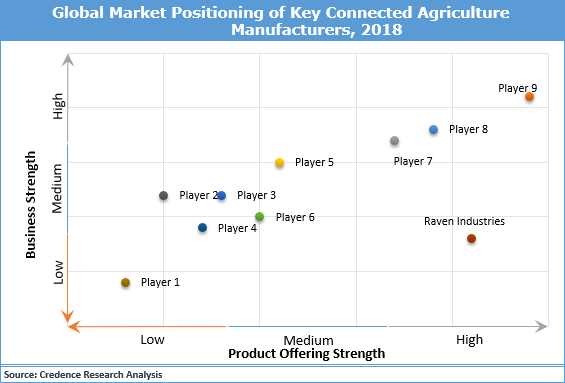 Historical & Forecast Period
The research report presents the analysis of each segment from 2017 to 2027 considering 2018 as the base year for the research. Compounded Annual Growth Rate (CAGR) for each respective segments calculated for the forecast period from 2019 to 2027.
Report Scope by Segments
Connected agriculture market report provides market size and estimates based on market dynamics and key trends observed in the industry. The report provides a holistic view of global connected agriculture market based on component, Offerings, application, and geography. Key segments covered in the report are as follows:
ATTRIBUTE
DETAILS
Research Period
2017-2027
Base Year
2018
Forecast Period
2019-2027
Historical Year
2017
Unit
USD Billion
Segmentation

Component Segment: (2019-2027; US$ Bn)
• Solution
o Network Management
o Smart Water Management
o Agriculture Asset Management
o Supervisory Control and Data Acquisition
o Logistics and Supply Management
• Service
o Consulting
o Support and Maintenance
o Integration and Implementation

Offerings Segment: (2019-2027; US$ Bn)
• Device Management
• Application Enablement
• Connectivity Management

Application Segment: (2019-2027; US$ Bn)
• Precision Farming
• Yield Monitoring
• Soil Monitoring
• Irrigation System
• Fish Farming
• Horticulture
• Livestock Monitoring
• Smart Green House
• Others (Weather Monitoring, Weed Monitoring etc.)

Geography Segment: (2019-2027; US$ Bn)
• North America (U.S., Rest of America)
• Europe (Germany, U.K., France, Rest of Europe)
• Asia Pacific (India, China, Japan, Rest of Asia Pacific)
• Rest of World (Middle East & Africa, Latin America)
Key questions answered in this report
COVID 19 impact analysis on global connected agriculture industry.
What are the current market trends and dynamics in the connected agriculture market and valuable opportunities for emerging players?
What is driving connected agriculture market?
What are the key challenges to market growth?
Which segment accounts for the fastest CAGR during the forecast period?
Which product type segment holds a larger market share and why?
Are low and middle-income economies investing in the connected agriculture market?
Key growth pockets on the basis of regions, types, applications, and end-users
What is the market trend and dynamics in emerging markets such as Asia Pacific, Latin America, and Middle East & Africa?
Get a sample copy for more information
---
Related Reports:
Agriculture Analytics Market By Component Segment (Software, Services), By Deployment Model (Cloud, On-premise), By Application (Farm Analytics, Livestock Analytics, Other), By Farm Size (Small And Medium-Sized Farms, Large Farms) - Growth, Future Prospects And Competitive Analysis, 2019 - 2027
Agriculture Sensors Market By Sensors Type (Physical Sensors, Mechanical Sensors And Chemical Sensors), Application (Yield Monitoring And Mapping, Soil Monitoring, Disease Control And Detection, And Irrigation And Water Management) - Growth, Share, Opportunities & Competitive Analysis, 2018 – 2026
Global Agriculture Market Size, Segmentation, Opportunities, Trends, Growth and Industry Forecast To 2027