Market Insights
The Connected Logistics market is projected to reach a market value of more than USD 84,000 million in 2027 from USD 22,357 million in 2020. It is estimated to witness growth at a CAGR of over 22.7% throughout the forecast period.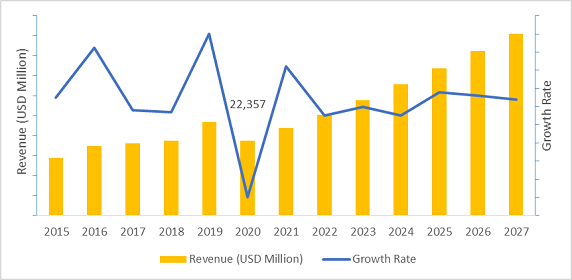 Connected Logistics is a set of hardware and software which helps in getting the real-time information for the goods which are shipped through different modes of transportation. These solutions help supply chain companies in real-time access, improving operational efficacy, coupled with increasing productivity. The report titled "Global Connected Logistics Market" with Credence Research offers detailed and accurate insights into this industry.
Key Market Drivers and Restraints
This report covers a detailed analysis of the major factors driving the market growth for Connected Logistics market. The report discusses the major factors affecting global market growth for the Connected Logistics market and helps to identify the key growth trends.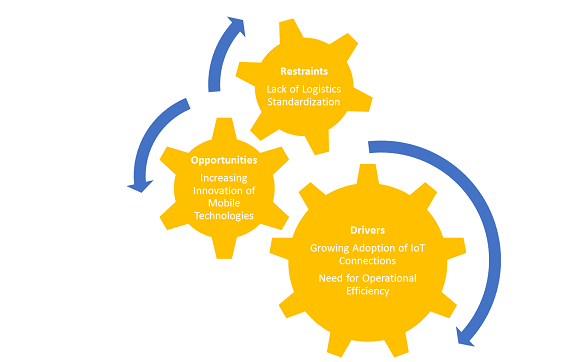 Impact of COVID 19
COVID 19 had a severe impact on the world Connected Logistics industry. With the sudden lockdown, complete ban on trade activities along with sealed country borders the global logistics and supply chain industry was rigorously impacted. Hence, the global Connected Logistics market stated around a 15% decline in its revenue when compared to 2019. Besides, speedy recovery across the globe and increased trade activities are anticipated to push the Connected Logistics market growth.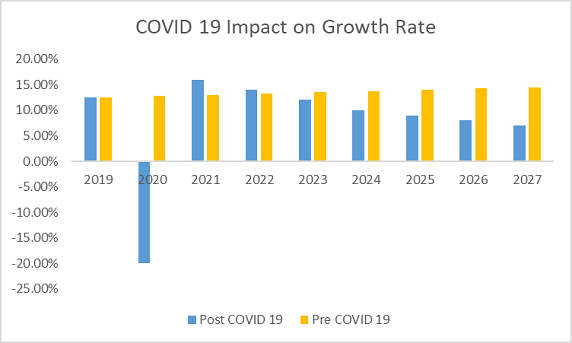 North America to Dominate the global Connected Logistics market
The global Connected Logistics market covers six regions including North America, Europe, Asia Pacific, Latin America, Middle East, and Africa with all major markets pertaining to it. The world Connected Logistics market report published by Credence Research offers a deep and detailed insight on all regional markets. North America had its dominance in the global Connected Logistics market with more than 35% market revenue share in 2020.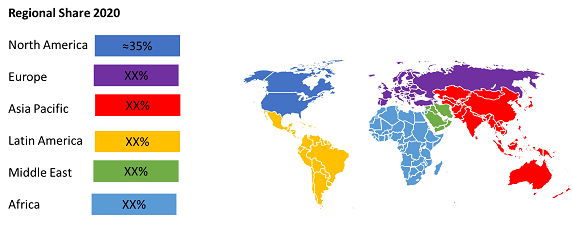 Global Connected Logistics Market is led by the solutions component
Hardware, solutions, and services are three major components for Connected Logistics. Solutions were the major component for Connected Logistics in 2020. The growing demand for effective supply chain management and the increasing need for mobility are the key factors for the dominance of the solutions segment in the global Connected Logistics market. However, the services component in the Connected Logistics is anticipated to witness the fastest growth during the forecast period.
Manufacturing continue to dominate the global demand for Connected Logistics
Global Connected Logistics market is segmented based on end-user industries including Oil & Gas, Manufacturing, Healthcare and Pharmaceuticals, Automotive, Travel and Hospitality, Food and Beverages, Consumer Goods and Retail, and Others. More than 40% revenue share of the global Connected Logistics industry was streamed from the manufacturing industry and it is presumed to continue its dominance during the forecast period.
Frequently asked questions about global Connected Logistics industry
What are the consequences of COVID 19 on global Connected Logistics industry?

Ans: The report offers in-depth consequences of COVID 19 on global Connected Logistics industry
Who are the top five players in the global Connected Logistics industry?

Ans: This report enlists the top five players' revenue and business presence
Which is the fastest growing end user industry for global Connected Logistics industry?

Ans: This report provides details of fastest growing end user industry for Connected Logistics industry
Which is the leading regional market for global Connected Logistics industry?

Ans: The report highlights most dominating as well as fastest growing economies for Connected Logistics industry
What will be the CAGR (2021 - 2027) of in global Connected Logistics industry?

Ans: The global Connected Logistics market report provide CAGR from 2021 to 2027
What was the revenue of global Connected Logistics industry in 2015?

Ans: This report provides detailed market size, share and growth for historical period from 2015 to 2020
Which are the growing technological trends in in global Connected Logistics industry?

Ans: The report helps to identify the key technological trends Connected Logistics industry across the world
Which are the major driving forces behind growth of global Connected Logistics industry?

Ans: The report covers all major factors fueling the growth of this industry
What are the key growth pockets within global Connected Logistics industry?

Ans: The report also reveals key growth pockets within global Connected Logistics industry
What are the attractive investment prepositions in the global Connected Logistics industry?

Ans: Global Connected Logistics market report provides key investment prepositions based on component, transportation mode, end user, and regions
What are the key challenges faced by the industry participants in global Connected Logistics market?

Ans: This report answers major challenges being faced by the global Connected Logistics players
What is the competitive scenario in global Connected Logistics industry?

Ans: The report describes in detailed about current competitive scenario of Connected Logistics industry
Who are the major regulatory bodies in global Connected Logistics industry?

Ans: The report provides insights related to major regulatory bodies in global Connected Logistics industry
Which are the major companies governing the global Connected Logistics industry?

Ans: This report enlists the top five players on the basis of revenue, products offered, and business presence