"Surge in Demand for Aerial Imaging, Driving the Consumer Drones Market Growth"
Consumer Drones market was valued at US$ 2,062.0 Mn in 2017 and expected to grow at a CAGR of 20.9% from 2018 to 2026 and reach US$ 11,290.6 Mn in 2026. In recent years, there has been a significant growth in the number of consumer drones across the world. Though widely used for military purposes, drones are becoming increasingly popular among gaming and aerial photography enthusiasts and hobbyists. Drones have not just attracted the interest of airplane hobbyists and flight hobbyists, but with technological advancements, its adoption has witnessed a rapid growth among photographers and videographers. The growth in the popularity of consumer drones can also be attributed to the large number of drone companies that were launched in recent years. Moreover, technological advancements have facilitated high-end hardware and software to be developed and prototyped at a lower cost. Therefore, lower prices have enabled its adoption on a large scale. In addition, technological advancements are also directed towards increasing the speed, durability, maneuverability and quality of images and videos. These factors are expected to positively influence the consumer drones market growth.
Market Synopsis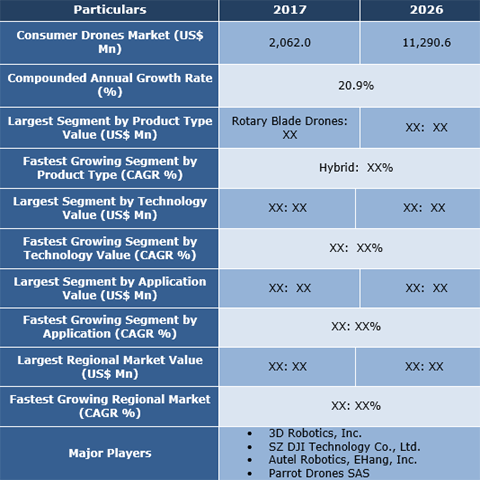 Get a sample copy for more information
"Increased Weight-Carrying Capacity and Better Control Driving Demand for Rotary Blade Consumer Drones"
In 2017, the rotary blade drones segment led the overall consumer drones market worldwide, contributing to nearly 85% of the overall market value in 2017. The segment expected to continue its dominance throughout the forecast period owing to factors such as high durability and robustness coupled with its wide application for photography and drone racing. Rotary blade drones are extensively used and preferred for aerial photography as they facilitate better control. Moreover, another prominent factor aiding the rotary blade drone segment's growth is the fact that these kind of drones are capable of carrying more weight and are easier to control as compared to the fixed wing variants. Therefore, these factors in combination expected to drive the rotary blade drones segment growth during the forecast period.
On the other hand, the Hybrid consumer drones segment growth expected to be substantial during the forecast period. These kind of drones comprises features of both fixed wing and rotary blade. One of the factors complimenting this high growth can be attributed to its high adoption for photogrammetry purposes. With growing consumer drone demand coupled with ease in its operability it is finding increased application for mapping work. Moreover, these drones are capable of taking off vertically and start flight from any spot similar to that of a helicopter, a factor further aiding the segment growth. Other benefits of hybrid consumer drones include higher payloads, long endurance flight and durability.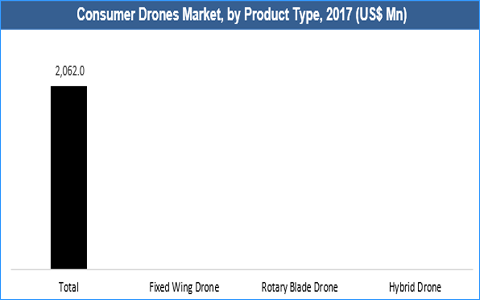 Get a sample copy for more information
"Favorable Government Initiatives Supporting the Consumer Drones Market Growth in North America"
The global consumer drones market was dominated by North America accounting for around 40% of the overall market value in 2017. Factors such as increasing adoption of drones for aerial imaging and covering of events through filming and video has complimented the consumer drones market growth. Moreover, favorable government initiatives have further supported the market growth in the region. For instance, the Federal Aviation Administration's (FAA) relaxation on the use of drones for recreational and non-recreational purposes in the U.S. has been a welcome move for the market growth. Furthermore, the fact that a large number of consumer drone manufacturers such as Horizon Hobby, 3D Robotics and UDI RC among others headquartered in the region has supported market growth.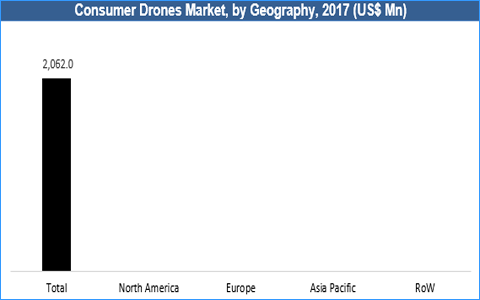 Get a sample copy for more information
"R&D activities to Remain in the Centre Stage in Coming Years"
One of the most common strategies adopted by players in the consumer drones market is research and development, which is directed towards improving the existing products and developing new drones with better functionalities. For instance, recently, DJI launched a new drone called the Spark, which is a palm sized and very light weight drone. One of the features of the new drone is that users can launch it right from their palm due to its small size. Similarly, in 2018, Skydio launched the R1 drone that features a self-positioning action camera. The drone was designed with the purpose to record the person it is following.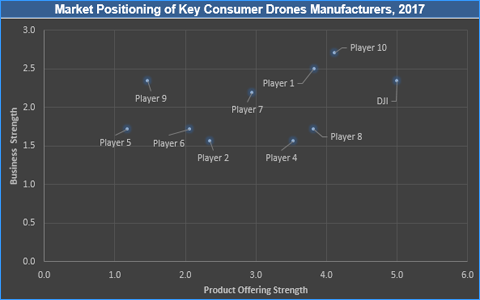 Historical & Forecast Period
This research report presents the analysis of each segment from 2016 to 2026 considering 2017 as the base year for the research. Compounded Annual Growth Rate (CAGR) for each respective segments are calculated for the forecast period from 2018 to 2026.
Report Scope by Segments
The report elucidates the detailed outline of global consumer drones market by categorizing the market in terms of product type, technology, application and geography.
ATTRIBUTE
DETAILS
Research Period
2016-2026
Base Year
2017
Forecast Period
2018-2026
Historical Year
2016
Unit
USD Billion
Segmentation

Product Type (2016–2026; US$ Mn)
• Fixed Wing Drone
• Rotary Blade Drone
• Hybrid Drone

Technology (2016–2026; US$ Mn)
• Remotely Operated Drone
• Semi-autonomous Drone
• Autonomous Drone

Application (2016–2026; US$ Mn)
• Hobbyist and Gaming
• Aerial Photography

Geography Segment (2016–2026; US$ Mn)
• North America (U.S., Canada)
• Europe (U.K., Germany, France, Rest of Europe)
• Asia Pacific (China, Japan, India, Rest of APAC)
• Rest of the World (Middle East & Africa, Latin America)
Key players profiled in the report include 3D Robotics, Inc., SZ DJI Technology Co., Ltd., Autel Robotics, EHang, Inc., Parrot Drones SAS, Yuneec International Co. Ltd., Hobbico, Inc., Guangdong Cheerson Hobby Technology Co.,Ltd, Horizon Hobby, LLC and Mota Group, Inc. among others.
Key questions answered in this report
What was the global consumer drones market size in 2017 and forecast for 2026?
What are the current market trends in the consumer drones market?
What are the various valuable opportunities for the players?
Which are the bestselling consumer drone brands in the market?
Which is the largest regional market for consumer drones?
Which region expected to be the fastest growing and why?
What are new products launched by the leading consumer drone manufacturers?
What are the key strategies adopted by the leading players in market?
What are the technological trends existing in the market?