Key Market Insights
"Continuous adoption of digital solutions for automation and transaction of business processes will boost the market"
The global Digital Transaction Management Market is growing competently, projected to grow at a CAGR of 19.6% during the expected period from 2019 to 2027, starting from US$ 3.85 Bn in 2018.
Market Synopsis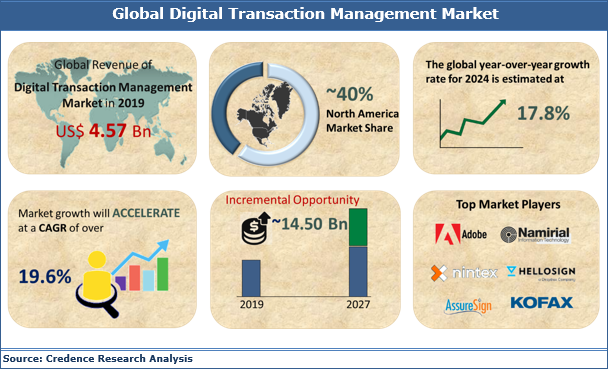 Get a sample copy for more information
Component Analysis
"Intensifying use of digital solutions for payment gateways among industries worldwide will spark market growth"
The digital transaction management market is dominated by hardware segment in 2018 and is projected to maintain its dominance over the forecast period. Additionally, growing demand for Point of Sale (POS) machines for digital transaction management from numerous incumbents from hospitality, retail, and healthcare industries is largely driving the growth of the hardware segment. Moreover, the emergence of contactless cards and electronic signature pads for digital transaction management is also expected to subsidize the market growth. For instance, in July 2018, Mitek, a digital identity verification solutions provider and eDOC Innovations, announced their partnership towards "Mobile Deposit®" and its advanced risk mitigation for "eDOCMobile RDC".
"The increasing trend of technological advancement, customer's demand, and government regulations worldwide will boost the component segment"
Growing advancement in technologies like bar code scanner, GPS system, NFC, coupled with increasing use of internet and mobile services are the powerful enablers for digital transaction system. In addition, distributed ledger technology (DLT), Internet of Things (IoT) based devices, application programming interface (API), point of sale (POS), tokenization, and digital wallets is digitally integrating every industry with payment landscape in order to create a seamless payment gateway system. Increasing customer demand towards non-physical interfaces, including financial services and FinTechs are continuously facilitate a seamless and faster payment services, thereby driving the market for hardware services on a global scale. Moreover, rising government regulations played a crucial role in proliferation and success in digital solutions globally. For instance, introduction of unified payment interface (UPI), a government of India (GoI) initiative have boosted the digital payment system.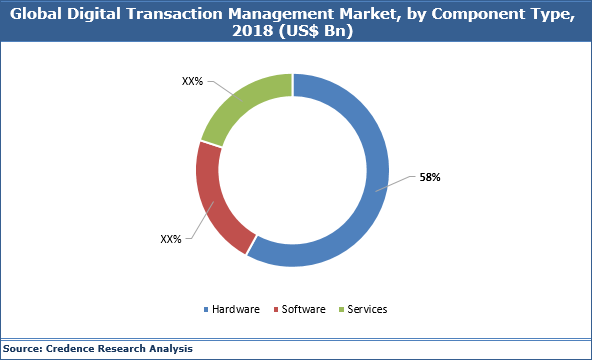 Get a sample copy for more information
Regional Analysis
"Dominance is led by the growing application of digital transactions coupled with presence of global market players."
North America is expected to emerge as a leading region in global digital transaction management market from 2019 to 2027. The region holds a dominance position, owing to increasing application towards digital transaction management solutions in across various industries in developed countries like the U.S. and Canada. Moreover, presence of numerous players in the global digital transaction management market also support the overall growth in the North America region. For instance, Lone Wolf Technology, a residential real estate software solution provider, announced its acquisition with zipLogix™, a transaction management enterprise, in order to provide eSignatures, and electronic forms solutions for the real estate industries across the region. Furthermore, in April 2018, Science Inc., a US-based startup incubator company made its partnership with SIGNiX to enter into the "Blockchain technology" using complex cryptographic constructs for smart contracts called PKI.
In North America, online transactions and payments gateways are growing with (2-3) % quicker than its regional GDP for the past four years, owing to the rapid transaction growth and expansion of interest-margin. Additionally, adoption of e-invoicing is driven by large corporations in order to automate their processes such as "AP and AR" will enhance a faster processing, higher efficiency, and lower costs. Moreover, the market demand is likely to accelerate owing to the adoption and investments in research and development (R&D) on cloud based technologies across developed economies such as the U.S., Canada, and Mexico. The aforementioned factors are projected to boost up the market growth over the forecast period from 2019-2027.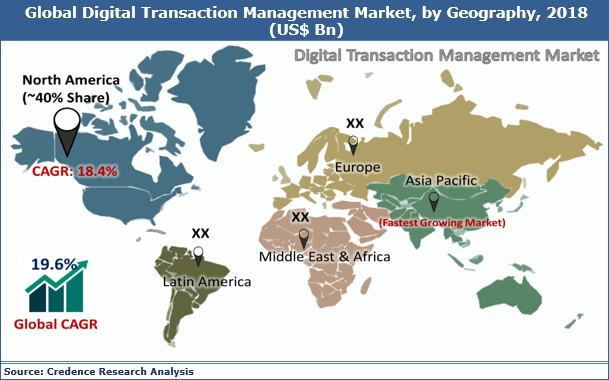 Get a sample copy for more information
List of Companies Covered:
Adobe Systems Incorporated
Namirial SPA
DocuSign Inc.
Nintex Global Ltd.
HELLOSIGN
ZorroSign, Inc.
AssureSign LLC
ThinkSmart LLC
Kofax, Inc.
eOriginal, Inc.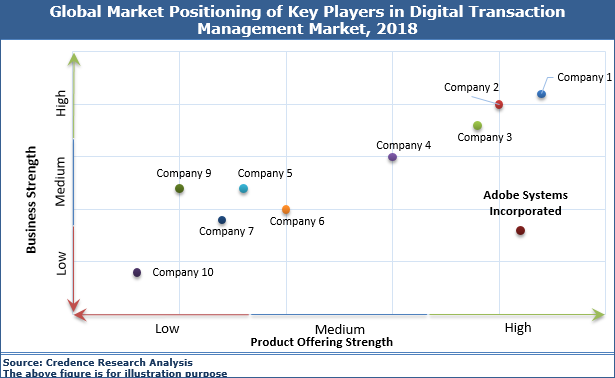 Key Industry Developments:
In February 2020, AssureSign, a solution provider of electronic signature and digital transaction management have announced its leadership position in the "2020 Aragon Research Globe" submit for Digital Transaction Management (DTM).
In January 2017, PandaDoc, a premier digital transaction management solution vendor, provides no-cost templates in order to help organizations with better proposals, quotes, and contract management processes by using PandaDoc's best templates.
In January 2020, eOriginal, Inc. announced its recognition as an industry leader for the fourth consecutive time in The Aragon Research Globe™ for digital transaction management.
In April 2018, eOriginal, Inc. and MERSCORP Holdings, Inc. launched a new solution named "MERS® eNote", in order to accelerate the entry for digital mortgage ecosystem. The solution enable the execution, creation, management, and registration of the eNote or electronic note, to mortgage designers across the industry.
Historical & Forecast Period
This study report represents analysis for each segment from 2017 to 2027 considering 2018 to be the base year. Compounded Annual Growth Rate (CAGR) for each of the respective segments estimated for the forecast period from 2019 to 2027.
Market Segmentation
ATTRIBUTE
DETAILS
Research Period
2017-2027
Base Year
2018
Forecast Period
2019-2027
Historical Year
2017
Unit
USD Billion
Segmentation

Component Type (2017–2027; US$ Bn)
• Hardware
• Software
• Services

Vertical Type (2017–2027; US$ Bn)
• BSFI
• Retail
• Healthcare
• Government
• IT & Telecommunication
• Others (Transportation, Manufacturing, etc.)

End-user (2017–2027; US$ Bn)
• SME
• Large Enterprises

Geography (2017–2027; US$ Bn)
• North America (U.S., Canada)
• Europe (U.K., Germany, Spain, Italy, Rest of Europe)
• Asia Pacific (Japan, China, India, Rest of Asia Pacific)
• Rest of the World (Latin America, Middle East & Africa)
The current report also comprehends qualitative and qualitative market valuation factors such as key market drivers, market trends, restraints and opportunities that give a better market understanding of the overall digital transaction management market. Additionally, the global report also comprises graphical representation of competitive landscape based on their market initiatives and strategies, product portfolio and business strengths.
Key questions answered in this report
What are the current market trends and dynamics in the digital transaction management market and valuable opportunities for emerging players?
Which segment accounts for the fastest CAGR during the forecast period?
Which component type segment holds a larger market share and why?
Are low and middle-income economies investing in the digital transaction management market?
What is the market trend and dynamics in emerging markets such as Asia Pacific, Latin America, and Middle East & Africa?