Industry Outlook
The global market for elastic gaskets was valued at US$ 2,202.1 Mn in 2017 and expected to reach US$ 3,220.3 Mn by 2026, expanding at a CAGR of 4.5% during the forecast period. Asia Pacific was the largest region for elastic gaskets in 2017 and expected to retain its position throughout the forecast period from 2018 to 2026. Further, the region is also expected to generate the fastest growth during the forecast period.
Gasket is a sealing material used between two surfaces to create a static seal that generally prevent leakage and loss of pressure at connection points under compression. Elastic gaskets are gaining more traction across the world owing to increasing demand from automotive industry. Automotive industry is switching to lightweight materials to achieve greater fuel economy, thereby propelling the demand for elastic gasket for high strength sealing of these lightweight materials. Silicone rubber is preferred material used for elastic gasket fabrication. Silicone rubber gaskets offer several advantages over other alternatives owing to its resistance to acids, bases, solvents, chemicals, oils, water, extreme temperatures, UV rays and ozone cracking which makes it an ideal material for several end-use industries.
Factors such as rising motor vehicle production coupled with increasing demand for elastic gaskets from electronic industry owing to superior mechanical, physiochemical as well as desirable electrical properties expected to bolster the market demand in coming years. Further, increasing need to improve performance/efficiency of engineering equipment, huge demand from automotive and electronics manufacturing, advantages of elastic gaskets over other non-metallic gaskets, and introduction of 3D printing technology to produce customized and low cost gaskets are some of the factors boosting the elastic gaskets market growth. However, presence of competitive alternatives such as rubber or plastic o-rings might hamper the elastic gaskets market growth during the forecast period.
Market Synopsis: Value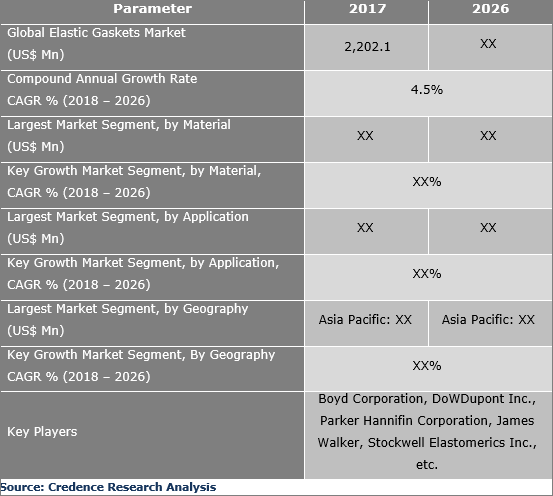 Get a sample copy for more information
"Silicone Material is Expected to Retain its Leading Position Throughout the Forecast Period"
Based on material, the elastic gaskets market is dominated by silicone and expected to retain market dominance throughout the forecast period as well. Silicones are a group of elastomeric materials made from silicone, oxygen, hydrogen, and carbon. Extreme temperature range and low temperature flexibility are characteristics of silicone compounds. Silicones possess excellent resistance to extreme temperatures -50°C to + 232°C. Furthermore, some special compounds resist even higher temperatures. As a group, silicones have poor tensile strength, tear resistance, and abrasion resistance. Silicone based gaskets has good elevated temperature resistance and moderate chemical and oxidation resistance. Silicone is resistant to hot air, ozone, UV radiation, engine and transmission oils, animal and vegetable fats and oils, and brake fluids.. However, silicone based gaskets are more expensive than acrylic and has reasonable adhesion. Silicone compounds are not recommended for dynamic O-ring sealing applications due to relatively low tear strength and high coefficient of friction. Silicone can be compounded to be electrically resistant, conductive, or flame retardant. Many silicone compounds have a higher than normal mold shrinkage. Therefore production molds for silicone products are often different than molds for nitrile.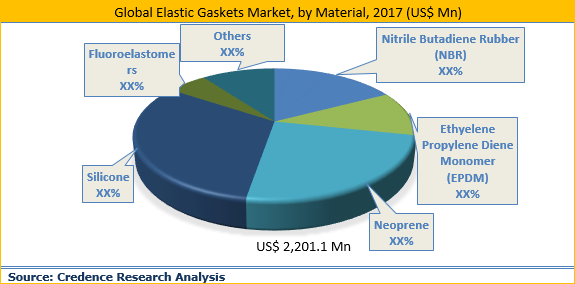 Get a sample copy for more information
"Automotive Application Dominated the Global Elastic Gaskets Market in 2017, and Expected to Retain its Position Throughout the Forecast Period"
Based on application, the global market for elastic gaskets was dominated by the automotive segment in 2017 and the segment is expected to retain market dominance throughout the forecast period as well.
Elastic gaskets are majorly used in the automotive components such as cylinder head, oil chamber, fuel system, cooling system among others. Rise in the global sales of the automotive vehicles is resulting to the rise in the demand for elastic gaskets The global sale of passenger cars rose to US$ 78.8 million in 2017 and expected to show significant growth rate in the coming years. China and U.S. dominated the global automotive markets in terms of both value and volume. This is mainly due to the rise in the disposable income among the middle class population coupled with the increase in the demand for automotive vehicles, which in turn is boosting the growth of the global elastic gaskets market growth during the forecast period.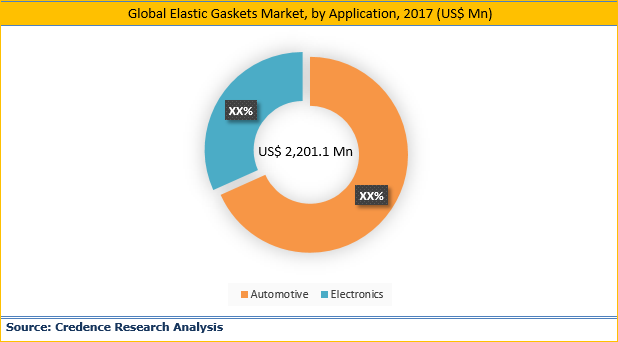 Get a sample copy for more information
"Asia Pacific Expected to Continue Dominating the Elastic Gaskets Market in the Coming Years"
Asia Pacific dominated the global market for Elastic Gaskets in 2017 and expected to display significant trend in the coming years as well. China, India and Japan are the frontrunners to the growth of this industry within Asia Pacific. Asia Pacific is a major hub for automotive vehicles and components. China is the world's largest market for automotive manufacturing. China accounted for more than 30% of the global vehicle production in 2017, which is more than the European Union, U.S. and Japan combined. Over time, the automotive market in China has attracted several established foreign brands expand their presence in the country. The country is also focusing on expanding its domestic production in order to increase the share of its domestic vehicles.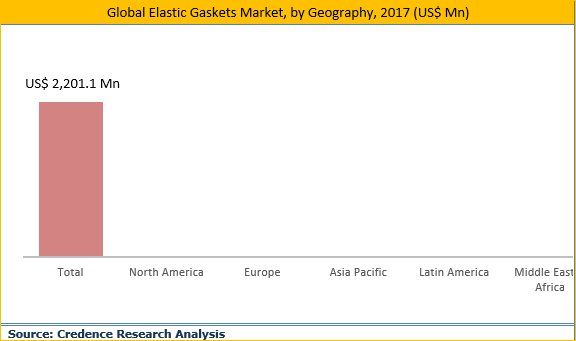 "Acquisition is a Key Strategy Adopted by the Key Players Operating in the Elastic Gaskets Market"
Notable players operating in the global elastic gaskets market include Boyd Corporation, DowDupont Inc., Parker Hannifin Corporation, James Walker, SRP, Stockwell Elastomerics Inc., W.L. Gore & Associates, Dana Holdings Corporation, Elring Klinger A.G., and Denver Rubber Company among others.
In February 2018, Boyd Corporation, a leading player operating in the elastic gaskets market acquired action fabricators, and the acquisition will operate as a division of Boyd Corporation. Action Fabricators has operational presence in Texas, Tennessee and Michigan and this acquisition is expected to improve Boyd's market position in the sectors it operates in. Further, this acquisition is also expected to strengthen the company's position in the elastic gaskets market.
Further, in May 2017, Boyd Corporation also acquired Aavid Thermalloy. The acquired company will operate as a division of Boyd Corporation, thus helping to differentiate the Boyd brand. This transaction will allow Boyd Corporation to gain expertise in passive an active thermal management accretive to key strengths in heat dispersion. New consumers and distribution networks are expected to benefit from the acquisition as it will allow them with access to technical know-how in environmental sealing such as o-rings, display gaskets, self-adhesive gaskets and water and dust ingress seals among others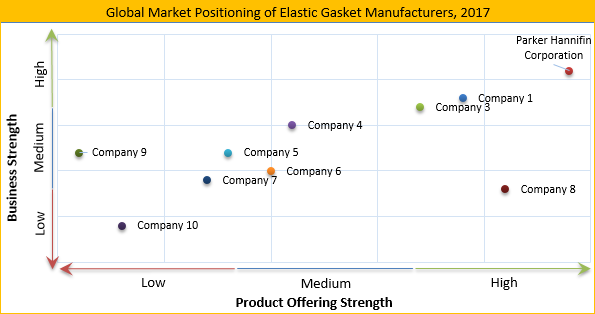 Historical & Forecast Period
Our study analyzed each market segment during the period from 2016 to 2026 with 2017 as the base year. Forecast period between 2018 and 2026 considered for the CAGR calculation.
Report Scope
The report enlightens the thorough outline of global elastic gaskets market by categorizing the market in different segment given below:
ATTRIBUTE
DETAILS
Research Period
2016-2026
Base Year
2017
Forecast Period
2018-2026
Historical Year
2016
Unit
USD Million
Segmentation

Material Segment (2016–2026; US$ Mn)
• Nitrile Butadiene Rubber (NBR)
• Ethylene Propylene Diene Monomer (EPDM)
• Neoprene
• Silicone
• Fluoroelastomers
• Others (natural rubber, styrene butadiene rubber, etc.)

Application Segment (2016-2026; US$ Mn)
• Automotive
o Cylinder Head
o Oil Chamber
o Fuel System
o Cooling System
o Others (exhaust system, electrical system, etc.)
• Electronics
o Enclosure Boxes
o Transformers
o LCD Displays
o Lighting Fixtures
o Others (switches, timers, etc.)

Geography Segment (2016–2026; US$ Mn)
• North America (United States and Canada)
• Europe (U.K., Germany, Rest of Europe)
• Asia Pacific (China, Japan, Rest of Asia Pacific)
• Latin America (Brazil, Mexico, Rest of Latin America)
• Middle East and Africa (GCC, Rest of MEA)
This research report describes leading continents and their major countries, along with profiles of key players operating in overall market and their planned developments. Our report further defines the overall market dynamics such as drivers, challenges, and opportunities prevalent in the market to understand global elastic gaskets market more explicitly. Our in-depth quantitative and quantitative analysis of each segment up to country level highlights revenue pockets and investment opportunities in the market.
Key questions answered in this report
Who are the major manufacturers and distributors operating in the elastic gaskets market?
What are the largest segments in the market during the forecast period from 2018 to 2026?
Which are the fastest growing segments in the market for the forecast period?
What are the current market trends in the elastic gaskets market and valuable opportunities for the players?
How are the regulatory frameworks affecting the global as well as regional markets?
Which are the key players operating in the global market and the strategies adopted by them?
What is the market size and trend in emerging and developed markets?