Industry Outlook
Compression garments apply pressure on the veins, which in turn enhance the blood flow and increase rate of oxygen delivery to the muscles. Compression wear postoperatives and sports garments are so designed to prevent the common problems associated with surgeries and exercise. Factors such as increasing preference to exercise and sports, health and wellbeing, growing rates of asthetic procedures such as liposuction, diabetes and recurrent wound trauma are driving the market for compression garments. The design and compression properties of these garments not just help in boosting performance during exercise, but also assist in delaying fatigue, reducing swelling, avoid muscle tear and injuries, and help attain the desired shape of body after surgery. Due to its consistently growing application after plastic and cosmetic surgeries, women's compression garments are in more demand than men's products. The global demand for compression garments for extremities is high, but the uptake for tops and bottoms is also set to remain steady during the forecast period.
In the developing economies, the demand for compression garments is mainly fueled by the growing cases of diabetes, lymphedema, sedentary lifestyle and related ailments. Realizing the inherent growth opportunities, international sports gear manufacturing brands have also introduced their compression wear in the developed and emerging markets alike. However, in emerging countries, use of compression is not as popular as in the developed countries and their use is mainly concentrated in the metropolitan areas.
Market Synopsis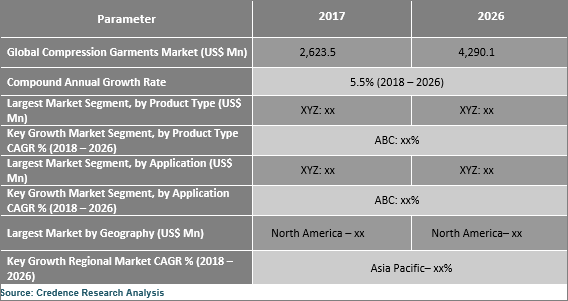 Get a sample copy for more information
"Lower and Upper Extremities Garments to Generate Largest Revenue Share"
Compression garments for extremities form the largest segment in the global market. Higher prevalence of conditions such as lymphedema has always urged sustained demand for compression garments for extremities. Garments such as gauntlets, stockings, pantyhose and sleeves are available in several variations, sizes and compression classes therefore suiting every requirement area. Some other conditions where compression garments are preferred treatment are lipodermatosclerosis, stasis dermatitis (venous eczema), varicose veins (except spider veins), venous edema and venous ulcers (stasis ulcers). Furthermore, rising demand for sleeves and stockings in sports and fitness activities is also augmenting their position in the developed markets. On the other hand, products such as tops, bottoms and facial garments is anticipated to be above the global benchmark during the forecast period. Growing procedure rate of cosmetic procedures such as liposuction and age correction surgeries are driving the demand for these products in the global markets.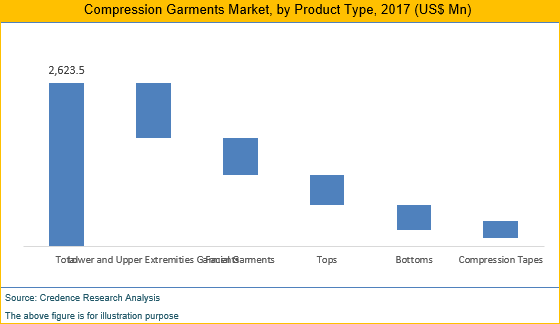 Get a sample copy for more information
"Demand to Increase in Exercise and Sports Activities"
Globally, there has been a significant rise in demand for sports apparels, equipment and accessories. More and more individuals worldwide are engaged in performance and professional sports. Growing incidence of obesity and chronic diseases has also urged the general population to switch from sedentary lifestyle to gym and exercise activities. This consequently has led to growing demand for compression garments in the field of sports. Studies have suggested that the use of compression garments have relatively few ergogenic effects during exercise. The common physical and physiologic effects on users are attenuation of muscle oscillation, better joint awareness, augmented perfusion and higher oxygen use, etc.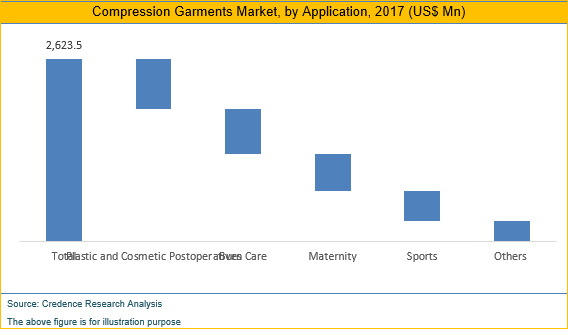 Get a sample copy for more information
"Asia Pacific Estimated to be the Fastest Progressing Regional Market"
North America is anticipated to remain the largest regional market for compression garments during the forecast period. Growing incidence of sports injuries in the young population, obesity, and diabetes are predicted to augment the demand for compression garments in the coming years. Furthermore, similar factors along with growing incidence of conditions such as varicose veins and lymphedema will be driving the Europe compression garments market. It is expected that Asia Pacific market for compression garments will grow at the fastest rate during the forecast period. Countries such as China, India, Australia and Japan will be the largest consumers of compression garments. Surging geriatric population, sports activitis and burgeoning medical tourism for cosmetic and asthetic surgeries in Asia Pacific will the major drivers of this region.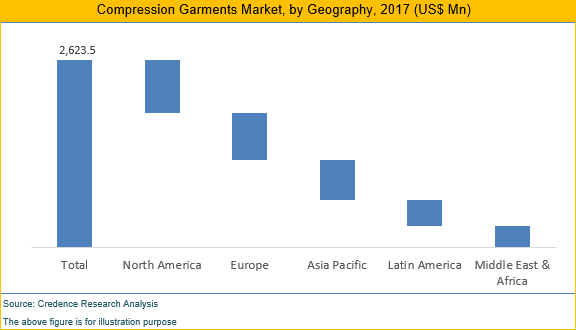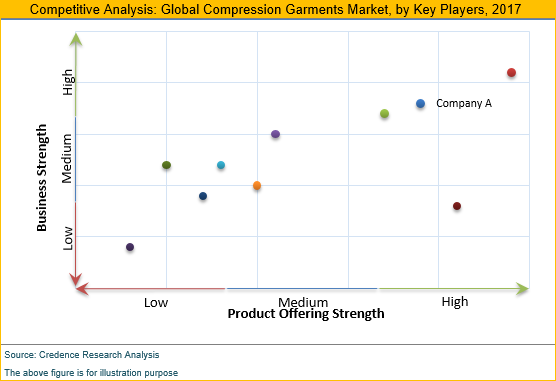 Historical & Forecast Period
This research report presents the analysis of each considered segment for the period from 2016 to 2026, having 2017 as the base year for estimations. Compounded annual growth rates (CAGRs) for each segment are calculated for the forecast period from 2018 to 2026.
Report Scope by Segments
The structural heart devices market report provides quantitative assessment of the industry terms of current and forecasted market size, while also presenting the market dynamics. This market is segmented based on product type, application, and geography.
ATTRIBUTE
DETAILS
Research Period
2016-2026
Base Year
2017
Forecast Period
2018-2026
Historical Year
2016
Unit
USD Million
Segmentation

By Product Type (2016–2026; US$ Mn)
• Full Body Garments
• Lower and Upper Extremities Garments
• Facial Garments
• Tops
• Bottoms
• Compression Tapes

By Application (2016–2026; US$ Mn)
• Plastic and Cosmetic Postoperatives
• Burn Care
• Maternity
• Sports
• Others (therapy purposes, wellbeing, preventive care, pain management, etc.)

Geography Segment (2016–2026; US$ Mn)
• North America (United States and Canada)
• Europe (U.K., Germany, Rest of Europe)
• Asia Pacific (China, Japan, Rest of Asia Pacific)
• Latin America (Brazil, Mexico, Rest of Latin America)
• Middle East and Africa (GCC, Rest of MEA)
This study also includes qualitative information on the prevalent market dynamics such as drivers and restraints. Major market opportunities that can be harnessed by the emerging and existing market players are also discussed in this report. Other market analysis parameters such as competitive landscape of major market players, and attractive investment proposition are also included in this study. Company profiles section discusses major market players on the basis of company overview, financial performance, product portfolio and news. The major companies profiled in this report include McKesson Medical-Surgical Top Holdings, Inc., BSN Medical, Medi GmbH & Co., SIGVARIS Management AG, Julius Zorn, Inc., Medico International, Inc. Spanx., Inc., Bio Compression Systems, Inc., Gottfried Medical, Inc., and Spectrum Healthcare, Inc.
Key questions answered in this report
What are the prime factors driving the growth of the global compression garments market?
Which are the major pain points in the global market and which opportunities can be harnessed for overcoming the market challenges?
What is the current and forecasted market size of the global compression garments industry?
Which product type is estimated to hold the largest revenue share?
Which application area shall progress at the fastest CAGR during the forecast period?