Industry Outlook
The global market value for gems & jewelry is expanding at a CAGR of 5.1% during the forecast period from 2018 to 2026. Asia Pacific led the gems & jewelry market in 2017 and expected to remain dominant during the forecast period. North America expected to be the fastest growing market during the forecast period.
Gems & jewelry comprises different gemstones and jewelry that are made from precious metals such as gold, silver, platinum, bronze, alloy or gemstones that includes diamond ruby, sapphire, pearl, and emerald among others. Demand for gems & jewelry has increased significantly over the past few decades, majorly driven by the millenials. New product designs developed by the manufacturers has resulted in significant growth of the gems & jewelry market over the years, and targeted towards the population of different age groups.
Advancements in jewelry manufacturing process along with availability of different certification bodies such as Bureau of Indian Standards (BIS), Kimberly Process Certification Scheme, Confederation, and hallmarking among others expected to trigger the growth of gems & jewelry market in the coming years. In addition to this, introduction of new and different designs is one of the latest trends that will gain more attention of the consumers in the coming years. Jewelry inspired by the Egyptian, Italian and European cultures are gaining immense popularity among the consumers across the globe.
India is one of the growing markets for gems & jewelry, contributing 7% of the country's GDP and 15% of the total exports. Greater advertisement spending and rising availability of gems & jewelry in organized retail chains are some of the key factors responsible for the steady market growth of gems & jewelry in India. India is deemed to be the hub of gems & jewelry market because of its low cost of production and availability of skilled labor force. Based on the potential of the market growth Government of India has declared gems & jewelry sector as a thrust area for the export promotion. According to Export Promotion Council India exports 75% of the world's polished diamonds. Singapore, China, Russia and Latin America are the major importers of Indian jewelry. Besides India, U.S, UAE and Hong Kong are also the major exporters of gems & Jewelry.
Counterfeit products is an increasingly significant concern in a brand jewelry industry. Major problem is associated with imitation of gemstones, which are hard to distinguish from the real ones. Huge influx of counterfeit products from developing economies particularly hampering the growth of the actual sales and damages the original brand value.
Market Synopsis: Value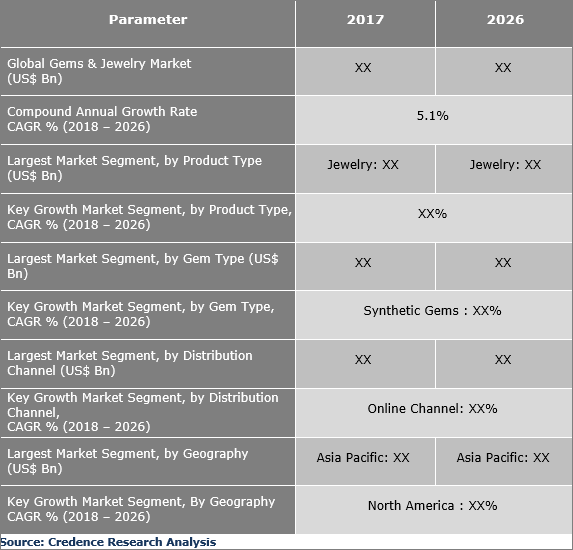 Get a sample copy for more information
"Jewelry Segment Captured Major Chunk of the Market in 2017, and Expected to Display Similar Trend in Coming Years"
In terms of market value, jewelry segment accounted for the major share in 2017. Jewelries are further categorized into studded jewelry and non-studded jewelry.
Innovations towards new and unique designs is one of the key factors boosting demand for this segment. Jewelry segment is growing on account of expanding prominent jewelry brands, such as Tiffany & Co., Cartier and several new entrants such as David Yurman and Pandora. In addition to this, future growth in the jewelry segment is likely to come from other players in who are into high-end leather goods or apparel. For instance, companies such as Hermès, Dior and Louis Vuitton are introducing jewelry collections or expanding their assortment.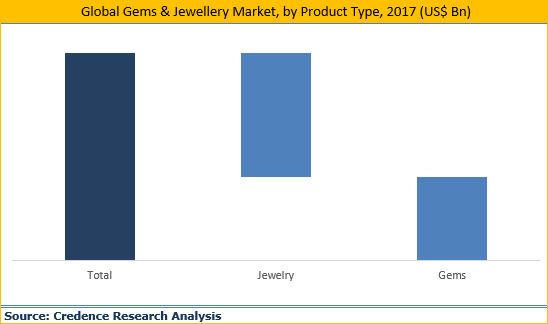 Get a sample copy for more information
"Asia Pacific is Likely to Dominate the Global Gems & Jewelry Market throughout the Forecast Period"
Based on geography, Asia Pacific dominated the market in 2017 and likely to continue the similar trend in the coming years. Gems & jewelry is gaining importance among the population across different age groups, which is a key factor pushing market growth. The key reasons associated with the increasing demand gems & jewelry are premium product launches, organized retailing, and rapid urbanization among others. Moreover, certifications and technological advancements available to the customers are helping the industry to build trust in the minds of the existing consumer base as well as the new consumers. Thus, this will help the growth of the market in the coming years. In addition to this, with the rising demand for new designs, these brands are willingly changing their product portfolios and focusing upon customization as per the preferences of the consumers. The major growing markets present in the Asia Pacific region are China, Vietnam, India, Indonesia, Thailand and Japan. North America expected to be the fastest growing market for gems & jewelry market during the forecast period with U.S spearheading the growth of the market.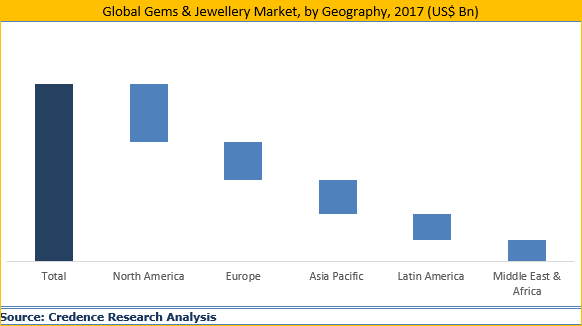 Get a sample copy for more information
"New Product Launch and Introducing Unique Design are the Key Strategies of the Companies Operating in the Market"
The global gems & jewelry market is marked by intense competition from small and major players operating in this market. Strategic acquisitions and merging, product innovations, partnerships and joint ventures, and geographical expansions are some of the key strategies adopted by the leading players to ensure long-term sustenance in the market. Key players operating in the field of gems & jewelry include Chopard, K Mikimoto & Co Ltd., Bulgari S.p.A, Piaget, Graff Diamonds, Tiffany & Co., Buccellati Holding Italia, Van Cleef & Arpels, Société Cartier, Harry Winston, Chow Tai Fook Enterprises Ltd., LVMH, Compagnie Financière Richemont SA, Signet Jewelers Ltd., Tanishq, among others.
Companies such as Chopard regularly adorns celebrities with jewelries for different events in order to grab more customer attention. For instance in 2017 Chopard collaborated with well know musician Rihanna in order to introduce the new "Rihanna Loves Chopard" collections of jewelry.
In May 2018, De Beers Group made an announcement regarding the launch of a company, Lightbox Jewelry and will begin the marketing strategies for a brand of laboratory-grown diamonds that will offer the customers quality, fashionable and studded jewelry designs at an affordable prices. This new line of jewelries will bring something innovative and new to the jewelry sector featuring blue, white and pink lab-grown diamonds in a section of accessibly priced necklace and earing designs.
In July 2018, the French Jewelry brand Boucheron celebrated its 160th aniversery with the introduction of its latest jewelry collection "Nature Triomphante,"that combines efficient skills, scientific techniques and creative innovation. The collection consists of different exceptional pieces but its "Fleurs Eternelles" grabbed more customer attention. The nine unique flower rings are made using real flower petals made with unprecedented techniques and were individually scanned in order to capture their volumes with all the detailing.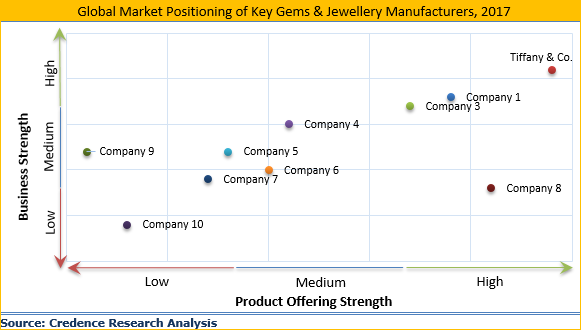 Historical & Forecast Period
Our study analyzed each market segment during the period of 2016 to 2026 with 2017 as the base year. Forecast period between 2018 and 2026 considered for the CAGR calculation.
Report Scope
The report enlightens the thorough outline of global gems & jewelry market by categorizing the market in different segment given below:
ATTRIBUTE
DETAILS
Research Period
2016-2026
Base Year
2017
Forecast Period
2018-2026
Historical Year
2016
Unit
USD Billion
Segmentation

Product Segment (2016–2026; US$ Bn)
• Gems
o Diamond
o Ruby
o Sapphire
o Emerald
o Pearl
o Others (topaz, quartz, black opal, etc.)
• Jewelry
o Gold
o Silver
o Platinum
o Others (bronze, alloy)

Distribution Channel Segment (2016–2026; US$ Bn)
• Online Channel
• Offline Channel
o Organized Retail
o Unorganized Retail

Geography Segment (2016–2026; US$ Bn)
• North America (U.S. and Canada)
• Europe (U.K., Germany, France, Italy, Spain and Rest of Europe)
• Asia Pacific (Japan, China, India, Singapore, Thailand and Rest of Asia Pacific)
• Latin America (Brazil, Mexico, Rest of Latin America)
• Middle East and Africa (GCC, Rest of Middle East & Africa)
This research report describes leading continents and their major countries, along with profiles of key players operating in overall market and their planned developments. Our report further defines the overall market dynamics such as drivers, challenges, and opportunities prevalent in the market to understand global gems & jewelry market more explicitly. Our in-depth quantitative and quantitative analysis of each segment up to country level highlights revenue pockets and investment opportunities in the market.
Key questions answered in this report
Who are the major manufacturers & distributors operating in the gems & jewelry market?
What are the largest segments in the market during the forecast period from 2018 to 2026?
Which are the fastest growing segments in the market during the forecast period?
What are the current market trends in the gems & jewelry market and valuable opportunities for the players?
How are the certifications affecting the global as well as regional markets?
Which are the key players operating in the global market and what are the strategies adopted by them?
What are the revenues, business strategy and product portfolio of the top manufacturers operating in the gems & jewelry market?
What is the market size and trend in emerging and developed