Industry Outlook
A large range of hand hygiene monitoring systems are being made available in the market to help healthcare facilities and associated locations to reduce the risk of healthcare associated infections. These monitoring systems are designed to examine healthcare environment, educate and remind personnel of hand washing events and provide relevant data to drive accurate and precise compliance. While the market penetration of hand hygiene compliance monitoring systems is relatively low than the hand hygiene products, more and more healthcare providers are showing interest in adopting these systems. Moreover, it is opined that the demand for these systems will be peculiarly high in acute care settings. It is also believed that the present adoption rate and growth of the market will continue to further grow as more healthcare providers will opt for these solutions to combat the threat of hospital acquired infections.
The use of electronic monitoring systems present with an automatic, efficient and innovative monitoring alternative to direct observation, therefore helping in driving the true improvement in the area of hand hygiene compliance. Employment of evidence-based electronic measurement has become amply available in the market for continuous and accurate monitoring of hygiene compliance and deliver optimum feedback to healthcare workers and decision makers. Use of electronic hand hygiene compliance monitoring systems also assist in efficient audit of hand hygiene, create new standards, reduce the risk of infections, improve patient outcomes and ultimately reduce healthcare costs.
Market Synopsis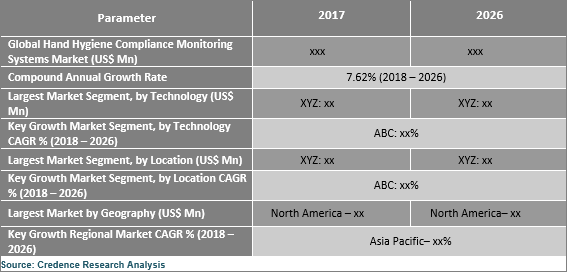 Get a sample copy for more information
"RTLS and activity or group monitoring to be the most prevalent monitoring technologies"
Monitoring of hand hygiene compliance and offering healthcare staff with desired and appropriate feedback regarding their performance are viewed as the integral elements of hand hygiene improvement programs in multidisciplinary settings. Observation analysis performed by trained individuals is currently viewed as the gold standard method for ensuring steady compliance rates. However this method is time consuming and highly prone to error, particularly in large healthcare facilities. Therefore, monitoring of hand hygiene product consumption is also viewed as a useful source of information with respect to the frequency of hand hygiene. Electronic devices placed in hand hygiene product dispensers offer precise information about the frequency of use over time. However, this method is fruitful only in small scale settings with limited number of employees and lesser avenues for observing hand hygiene practices. Electronic hand hygiene compliance monitoring systems utilize wireless systems for monitoring of room entry and exit and other movements of healthcare workers and their rate of use of hand hygiene products. This offers individual and unit-based data on hand hygiene compliance with common indications. This practice also assists in educating, training and adherence of healthcare workers. Some of such systems use tags or badges to the healthcare workers with real-time reminders for hand cleaning during entry and exit from patient rooms and other divisions. Studies also suggest that proper deployment of electronic hand hygiene compliance systems are associated with better hand hygiene compliance and therefore will be more acceptable to caregivers. Though there are several questions with respect to the accuracy, practicality, cost and eventual impact of these systems of compliance, these solutions have a phenomenal promise for improving the hand hygiene practices and improve health outcomes for both patients and healthcare workers.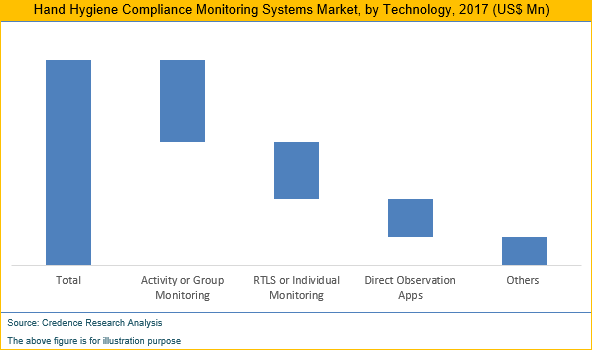 Get a sample copy for more information
"Hospitals is the Largest Usage Area of Hand Hygiene Monitoring Systems"
At present hospitals form the largest usage area for hand hygiene compliance monitoring systems. Larger inpatient settings, multidisciplinary areas, and higher need for ensuring hand hygiene to curb the risk of healthcare associated infections form the key factors supporting the dominance of this segment. Other additional factors characterizing this segment are larger number of healthcare workers moving in these facilities and greater affordability to install expensive monitoring systems. However, it is observed that hospitals are still apprehensive to adopt electronic monitoring partially due to higher reliance on direct observation for many years. Transition from this prevailing model is difficult, but the major issue of handling the risk of healthcare associated infections, increasing costs of treating such patients, lengthening patient stay has urged healthcare administrations seeking new methods of compliance. Acute care settings are the prime area where efficient deployment of hand hygiene compliance monitoring systems will be highly beneficial. Another factor that is challenging the adoption of these solutions in hospital settings is the overarching issue that installation of electronic monitoring will make the healthcare workers feel that they are being constantly watched and they may be penalized for poor compliance. Improving awareness in such groups will enhance the penetration of these solutions in the global markets.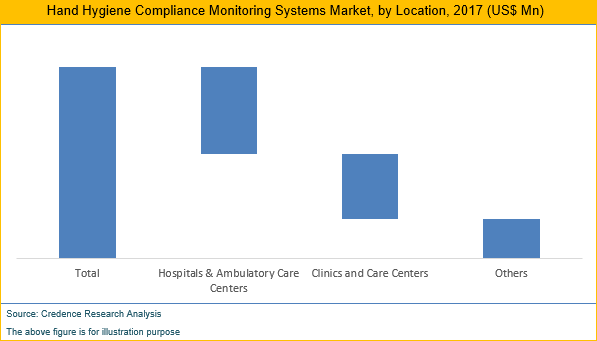 Get a sample copy for more information
"North America to Lead the Global Market"
At present, North America leads the global hand hygiene compliance monitoring systems market both in terms of number of installations and revenue share. Market players and consortiums of such solution providers are engaged in reaching out to decision makers, health insurers, government agencies and infection prevention organizations to educate them on the latest evidence supporting the use of hand hygiene compliance monitoring systems. This is improving their case for wider adoption of monitoring systems as the acceptable and permanent standard of care. Further progress of this market is ensured when guidelines, regulations and recommendations will be changed in favor of adoption of reliable and advanced compliance monitoring systems over the conventional and flawed methods of monitoring.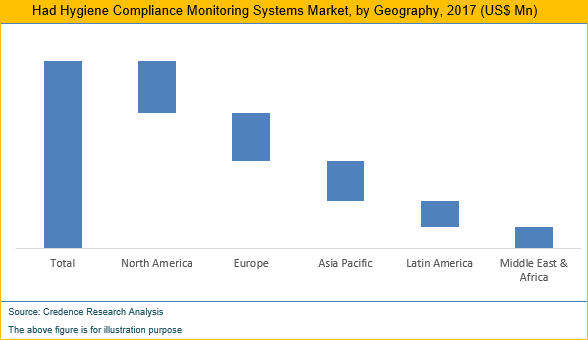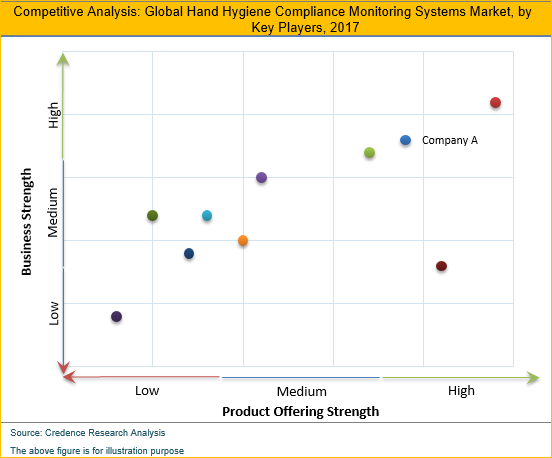 Historical & Forecast Period
This research report presents the analysis of each considered segment for the period from 2016 to 2026, having 2017 as the base year for estimations. Compounded annual growth rates (CAGRs) for each segment are calculated for the forecast period from 2018 to 2026.
Report Scope by Segments
The hand hygiene compliance monitoring systems market report provides quantitative assessment of the industry terms of current and forecasted market size, while also presenting the market dynamics. This market is segmented based on technology type, location, and geography.
ATTRIBUTE
DETAILS
Research Period
2016-2026
Base Year
2017
Forecast Period
2018-2026
Historical Year
2016
Unit
USD Million
Segmentation

By Technology (2016–2026; US$ Mn)
• Activity or Group Monitoring
• RTLS or Individual Monitoring
• Direct Observation Apps
• Others (Video monitoring, motion sensors, patient tracking devices, SMART dispensers, etc.)

By Location (2016–2026; US$ Mn)
• Hospitals & Ambulatory Care Centers
• Clinics and Care Centers
• Others

Geography Segment (2016–2026; US$ Mn)
• North America (United States and Canada)
• Europe (U.K., Germany, Rest of Europe)
• Asia Pacific (China, Japan, Rest of Asia Pacific)
• Latin America (Brazil, Mexico, Rest of Latin America)
• Middle East and Africa (GCC, Rest of MEA)
This report also includes qualitative assessment of the overall market and individual segments in terms of the market dynamics and the prevailing and anticipated market trends. Market attractiveness assessment and competitive landscape analysis are also presented in the report to better understand the competition among the market players and regional trends. Profiling of key players based on their financial information, product portfolio and key developments is done in this report for prime companies such as CenTrak, Halyard Health, Clean Hands - Safe Hands LLC, VIZZIA Technologies, Stanley Healthcare, DebMed (Deb Group), Ecolab, GOJO Industries, BioVigil Healthcare Systems, Inc., Proventix Systems, Inc., and Alliance HC, Inc.
Key questions answered in this report
What is the current and projected market size of the global hand hygiene compliance monitoring systems industry?
What is the future roadmap of this market?
Which technologies are the most sought after to ensure optimum hand hygiene compliance in healthcare settings?
Which type of healthcare facility occupies the largest revenue share, and why?
Who are the major players in the global hand hygiene compliance monitoring systems?
What are the key strategies employed by such players?
Which region is currently enjoying the leading position in the global market?