Heavy-duty wear protection is defined as the additional protection provided to the heavy-duty machines and equipment to protect them against hostile working conditions. A variety of materials and methods are used to prevent machines from heat, magnetic interference, vibration, abrasion, shock and corrosion. The protective material is either coated, wrapped, fastened, welded or covered in order to protect crucial parts which are exposed to the aforementioned conditions. Heavy-duty wear protection aids in preventing the breakdown of expensive equipment consequently, the life span of machinery expands by reducing the total downtime of machines. Owing to the aforementioned merits, numerous companies have been adopting heavy-duty wear protection for their equipment and therefore, the market is poised to demonstrate considerable growth in the following years.
Depending upon the applications and the kind of conditions faced by the heavy-duty machines, a variety of materials are used as a protective medium. Ceramics and other insulating materials are primarily used to prevent damage to the machine caused by exposure to excessive heat. Similarly, materials such as plastics as well as rubber are widely used to reduce the shocks, vibration and corrosion. A wide range of end-use industries including automotive and transportation, oil and gas, power plant, metal industries, construction and mining, among others have started using heavy-duty wear protection methods in-order to prevent premature damage and extend the life span of their equipment. With a wide range of end-user industry applications and consistently growing demand, the market for heavy-duty protection is expected to escalate throughout the forecast period from 2017 to 2025.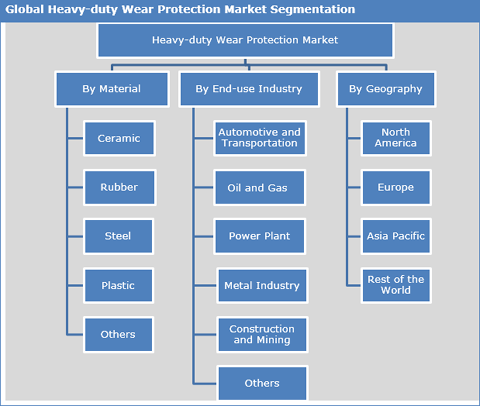 The report titled "Heavy-duty Wear Protection Market- Growth, Future Prospects and Competitive Landscape, 2017-2025" offers strategic insights into the global heavy-duty wear protection market with a focus on the market size and estimates for the duration 2015 to 2025. The said research study covers in-depth analysis of market segments based on material, end-use industry and cross-sectional study across different geographies. The study covers the comparative analysis of each sub-segment for the years 2016-2025. The report also provides a prolific view on market dynamics such as market drivers, restraints, and opportunities.
In order to help strategic decision makers, the report also includes competitive profiling of the leading heavy-duty wear protection manufacturers, their strategies, market positioning and key developments. Some of the major players profiled in the report include Metso Corporation, CeramTec GmbH, ThyssenKrupp Industrial Solutions AG, Kalenborn International GmbH & Co. KG, Bradken Limited, Sulzer ltd., Thejo Engineering Limited, FLSmidth & Co. A/S, Sandvik Construction (Sandvik Group) and Caterpillar, Inc.
Other in-depth analysis provided in the report includes:
Current and future market trends to justify the forthcoming attractive markets within the heavy-duty wear protection industry
Market fuelers, market impediments, and their impact on the market growth
Market inclination insights and key trend analysis for heavy-duty wear protection market
In-depth competitive environment analysis
Trailing 2-Year market size data (2015 – 2016)
Overall, the research study provides a holistic view of the global heavy-duty wear protection market, offering market size and estimates for the period from 2017 to 2025, keeping in mind the above-mentioned factors.