Due to harsh environmental conditions observed in offshore applications, it becomes essential to use air handling units manufactured using corrosion-resistant and light-weight materials. Air handling units, also referred to as air handler, acts as lungs of the overall HVAC system and hence becomes a crucial component of the overall system. In offshore applications, the major concern is to protect the air handling units from salty air, rain and stormy weather aboard the offshore facilities. Anoffshore air handling unit is typically designed in a large metal frame (typically made of aluminum) comprising various components such as fans, filters,heating/cooling elements, silencers and dampers. The outer box is made up of stainless, steel galvanized steel or aluminum alloys in order to ensure better environmental protection.
Air handling units are commonly used across various applications including oil rigs, cargo ships, cruise liners, navy ships and other marine applications. With the overall rising offshore industry worldwide, the demand for air handling units in the sector is estimated to remain strong in the coming years. This is the prime factor bolstering the offshore air handling unit market growth. Due to rising efforts by the manufacturers towards providing energy efficient, light-weight and durable units, the market has emerged quite competitive since the past few years. The market players are currently focused on targeting the cruise liners and yachts segment due to strong anticipated growth in the sector.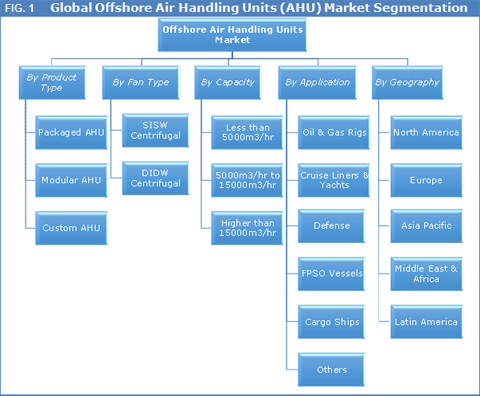 The report titled "GlobalOffshore Air Handling Units Market- Growth, Share, Opportunities and Competitive Analysis, 2016 – 2023" offers strategic insights into the global air handling units market with focus on the offshore applications along with the market size and estimates for the duration 2014 to 2023. The said research study covers in-depth analysis of multiple market segments based on product types, capacity, applications and cross-sectional study across different geographies. The study covers the comparative analysis of different segments for the years 2015&2023. The report also provides a prolific view on market dynamics such as market drivers, restraints and opportunities.
In order to help strategic decision makers, the report also includes competitive profiling of the leading AHU manufacturers, their SCOT (Strength, Challenges, Opportunities and Weaknesses) analysis, market positioning and key developments. Some of the major players profiled in the report are GEA Heat Exchangers Group, Wozair Ltd., Mitsubishi Electric, Johnson Controls, Inc., Systemair Ltd., Heinen and Hopman, Flakt Woods Group, Novenco ASand others. Other in-depth analysis provided in the report includes:
Current and future market trends to justify the forthcoming attractive markets within the offshore air handling units and HVAC industry
Market fuelers, market impediments, and their impact on the market growth
In-depth competitive environment analysis
Trailing 2-Year market size data (2014 – 2015)
SRC (Segment-Region-Country) Analysis
Overall, the research study provides a holistic view of the global offshore air handling units market, offering market size and estimates for the period from 2016 to 2023, keeping in mind the above mentioned factors.