Offshore wind energy farms refer to the electric energy generation plants set-up near the coastal areas with shallow waters. Such wind farms comprise numerous turbines which convert wind energy into electricity which can be transported to on-shore grid through undersea cables. With increasing concerns pertaining to traditional methods of energy generation, there has been an increasing adoption of renewal energy across the world. Wind energy has offered a viable solutions to harness electricity through strong and limitless winds blowing in most regions of the world. Over the past few decades, on-shore wind energy farms had gained immense popularity on account of ease of adoptions and convenience in connecting the wind farm to the local energy grid. However, factors such as higher power generation capacity and minimal need to acquire land have led to the growing adoption of off-shore wind energy farms. Moreover, on account of the high speed nature of off-shore winds, similar turbines are able to generate significantly more power as compared to the on-shore winds. Thereby, off-shore wind energy farms have witnessed increased investments in the recent years.
One of the major factors driving growth in the off-shore wind energy farms market is government initiatives and investments towards cleaner energy generations. Numerous governments, especially in the European region, have been aggressively engaged in increasing their wind energy generation capacity in the recent years. Currently, Europe attributes to about 90% of the overall off-shore wind energy production across the world. Thereby, the off-shore wind energy farm market is primarily driven by activities in countries including UK, Germany, Denmark, Belgium, Netherlands and Sweden, among others. However, with increasing demand from numerous countries such as China, Japan, India and South Korea, the Asia Pacific region is expected to witness significant growth during the forecast period from 2017 to 2025.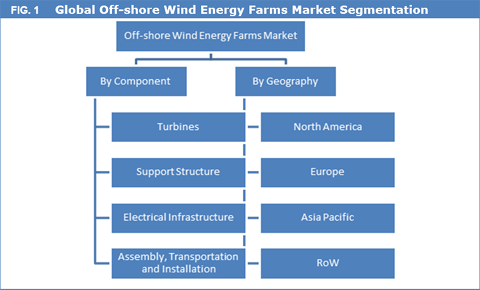 The report titled "Global Off-shore Wind Energy Farms Market- Growth, Future Prospects and Competitive Analysis, 2017 – 2025" offers strategic insights into the global offshore wind energy farms market along with the market size and estimates for the duration 2015 to 2025. The said research study covers in-depth analysis of multiple market segments based on components and cross-sectional study across different geographies and sub-geographies. The study covers the comparative analysis of different segments for the years 2016 & 2025. The report also provides a prolific view on market dynamics such as market drivers, restraints and opportunities. In addition, the report covers a section providing qualitative insights on various government initiatives and future planning towards offshore wind energy generation.
In order to help strategic decision makers, the report also includes competitive profiling of the leading providers in the offshore wind energy industry, market positioning and key developments. Some of the major players profiled in the report are Siemens Wind Power GmbH & Co.KG, DONG Energy A/S, Vestas Wind Systems A/S, GE Renewable Energy, ADWEN Offshore, S.L., Senvion S.A., Samsung Heavy Industries Co. Ltd., Suzlon Energy Limited, Nordex SE and Sinovel Wind Group Co., Ltd.
Other in-depth analysis provided in the report includes:
Current and future market trends to justify the forthcoming attractive markets within the offshore wind energy industry
Market fuelers, market impediments, and their impact on the market growth
In-depth competitive environment analysis
Trailing 2-Year market size data (2015 – 2016)
Overall, the research study provides a holistic view of the global offshore wind energy farms market, offering market size and estimates for the period from 2017 to 2025, keeping in mind the above mentioned factors.