Peracetic acid is the mixture of hydrogen peroxide and acetic acid in a watery solution. It is a colorless liquid having a low pH value and piercing odor. Peracetic acid is produced by either by oxidation of acethaldehyde or by a reaction between acetic acid and hydrogen peroxide.
Peracetic acid is recognition as safe chemical by the U.S. Food and Drug Administration (FDA) and can be used as a preservative and as antimicrobial. Over the past few years, this has established many new application of peracetic acid as food preservatives and microbial disinfectants.
Peracetic acid is used largely in the food industry, where it is applied as a disinfectant and a cleanser. In early years, acetic acid was used for fungi and bacteria removal from vegetables and fruits. In the coming years, rising demand for peracetic acid in food and beverage industries is projected to boost the global demand for peracetic acid.
Peracetic acid is also used for the disinfection of recycled rinsing water for foodstuffs. Currently, peracetic acid is applied to prevent bio film formation in pulp industries and a disinfection of medical supplies. It is also applied as a disinfectant during water purification. Peracetic acid is also used for cooling tower water disinfection; it affectively prevents formation of bio film and controls Legionella bacteria.
Adoption of different strategies is providing the companies a competitive advantage to enhance their market share. Some of the prominent players present in this market are Mitsubishi Gas Chemical Company, Aditya Birla Chemicals, Evonik Industries AG, Kemira Ojy, and Ecolab.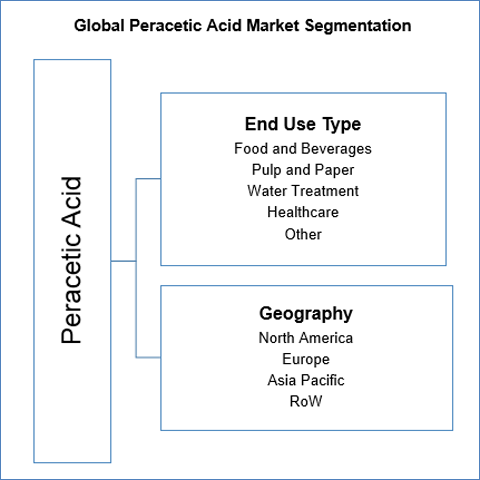 Purpose of the Report
The purpose of this strategic research study titled "Global Peracetic Acid Market" is to provide company executives, industry investors, and industry participants with in-depth insights to enable them make informed strategic decisions regarding the opportunities in the global peracetic acid market.
Target Audience
Industry investors
Raw material suppliers
Distributors
Manufacturers
Retailers
Companies who want to enter the market and companies who want to diversify their product portfolio
USP and Key Offerings
This report analyses the worldwide markets for peracetic acid in USD million & kilo tons by the following end use such as food and beverages, pulp and paper, water treatment, healthcare and others. The report provides separate comprehensive analytics for the North America, Europe, Asia-Pacific and Rest of World (RoW). Annual estimates and forecasts are provided for the period 2014 through 2022 and market growth rate is calculated from 2015 to 2022. Market data and analytics are derived from primary and secondary research. We have considered demand side approach of the market. Competitive analysis is primarily based on public domain information including company URLs and company annual report.
Other in-depth analyses provided in the report include:
Current and future market trends to justify the forthcoming attractive markets within peracetic acid market
Market drivers, market restraints, and their impact on the market growth
In-depth competitive analysis of players present in the market
SRC (Segment-Region-Country) Analysis
Overall, the research study provides a holistic view of the global peracetic acid market, of growth offering market size and estimates for the period from 2015 to 2022, keeping in mind the above mentioned factors.