"Need for Transportation through Railways is Driving the Rail Gangways Market"
Globally, the rail gangways market is expected to grow with a CAGR of 6.3% during the forecast period from 2019 to 2027. Gangways are defined as a narrow passage, which is used for joining parts. In terms of railways, the rail gangways are defined as a connection between the coaches, which allows the passenger to move from one coach to another. In railways, the gangways are used in metros, subways, and suburban railways. The gangways consist of a bridge system, an internal ceiling, and flexible sidewalls. Some of the benefits of gangways in railways are that it allows the passengers to move from one car (coach) to another that is from crowded to uncrowned cars that allows the users to have a proper space for adjustment. Additionally, the rail gangways make a large share of unused space in a usable form.
Globally, railways make an integral part of transportation systems and governments across the globe are investing largely to develop advanced systems that ensure safety and efficacy. As the number of passengers is increasing across the globe, there is an increasing demand for significant travel medium. Hence, there is development in the railway infrastructure, which ultimately drives the market for rail gangways, globally. Factors such as increasing government investment in the development of high-speed trains, and increasing research to enhance passenger safety are also fueling the growth of this market.
Market Synopsis
Get a sample copy for more information
"Rail Gangways in Two-Piece Gangways in its Product Type Segment Continue Dominating the Market"
In 2018, the overall rail gangways market was led by the two-piece gangways segment with more than 30.0% share in global market value. This is due to increase in the number of travelers across the globe is increasing, moreover, increasing demand of the user for safe and spaciousness in trains is a major factor which is driving the market globally.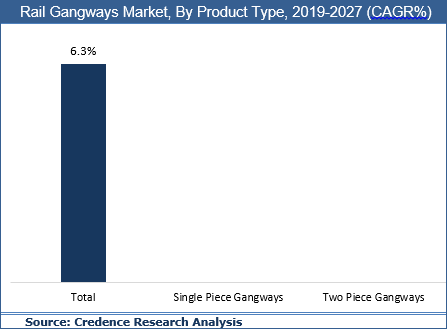 Get a sample copy for more information
"Europe Dominates the Market by Region"
Rail gangways market was led by Europe due to huge railway transportation sector here and a high level of sophistication. The European region accounted for more than 1/3rd of the market revenue in 2018. The advancement in technology, growing population and high investments made by the European countries for the development of railways in the region also contributes to the growth of the market. However, Asia-Pacific was the second-largest market in 2018 and is expected to be the fastest growing region during the upcoming years.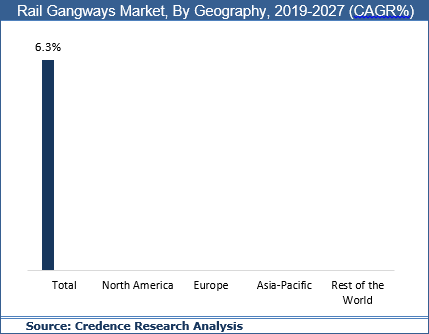 Get a sample copy for more information
Some of the key players operating in the rail gangways market include Narita Mfg. Ltd., HuMner, Airflow Equipment (India) Pvt. Limited, Chongqing Hengtai Electromechanical Equipment Co., Ltd., Schliess- und Sicherungssysteme GmbH, Dellner Couplers AB, Hutchinson, ATG AUTOTECHNIK GmbH and Bellow, Bus (Pty) Ltd, among others.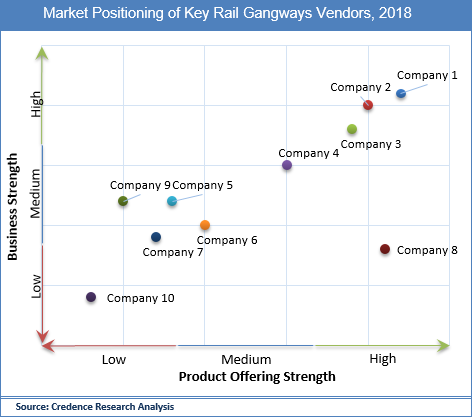 Historical & Forecast Period
This research report presents the analysis of each segment from 2017 to 2027 considering 2018 as the base year for the research. Compounded Annual Growth Rate (CAGR) for each respective segment calculated for the forecast period from 2019 to 2027.
Report Scope by Segments
The rail gangways market report provides market size and estimates based on market dynamics and key trends observed in the industry. The report provides a holistic view of global rail gangways market based on material type, product type, train type and geography. Key segments covered in the report are as follows:
ATTRIBUTE
DETAILS
Research Period
2017-2027
Base Year
2018
Forecast Period
2019-2027
Historical Year
2017
Unit
USD Million
Segmentation

Material Type Segment (2017–2027; US$ Mn)
• Steel
• Aluminum
• Alloys
• Composites

Product Type Segment (2017–2027; US$ Mn)
• Single Piece Gangways
• Two Piece Gangways

Train Type (2017–2027; US$ Mn)
• Passenger Train
• Metro/Subway Train
• High Speed Train
• Special Train

Geography Segment (2017–2027; US$ Mn)
• North America (U.S., Rest of North America)
• Europe (U.K., Germany, France, Rest of Europe)
• Asia Pacific (China, Japan, India, Rest of Asia Pacific)
• Rest of the World (Middle East & Africa, Latin America)
Key questions answered in this report
What was the market size of rail gangways in 2018 and forecast up to 2027?
Which is the largest regional market for passenger in train type?
What are the major trends followed in rail gangways market across different regions?
Who are the key rail gangways companies leading the market?
What are the key strategies adopted by the leading rail gangways companies in market?
Unique data points of this report
Statistics on rail gangways penetration and spending worldwide
Recent trends across different regions in terms of adoption of various types of rail gangways
Notable developments going on in rail gangways market
Attractive investment proposition for segments as well as geography
Comparative scenario for all the segments for years 2018 (actual) and 2027 (forecast)