Industry Outlook
Fast paced lifestyle and growing demand for ready-to-eat and frozen food products encouraged refrigerated trailers market to register market value of US$ 5.97 Bn in 2017 and estimated to touch US$ 8.99 Bn by 2026 with a compound annual growth rate of 4.7%. Growing demand for refrigerated trailers contributed by a number of factors besides aforementioned dynamics. Factors such as stringent government regulatory guidelines for food safety & wastage and application of refrigerated trailers for medical & healthcare sectors guided the market on the positive growth track. With almost no alternatives to aid, several end-user have to abide by refrigerated trailers for supplying articles that require refrigeration during transportation. No doubt the market expected to register big number in terms of market value throughout the forecast period from 2018 to 2026.
Market Synopsis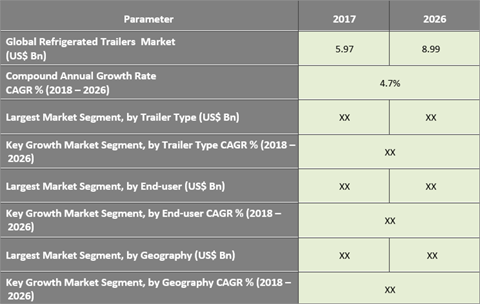 Get a sample copy for more information
Chiller Trailers Zooming Ahead of Sub-zero Trailers
In 2017, chiller refrigerated trailers stood supreme in terms of market value compared to sub-zero trailers. Rapidly changing lifestyles across the globe have stimulated the demand for ready-to-eat foodstuffs, beverages and other cold edible range of products. This certainly helped chiller trailers to bud as these are extensively used to transport foodstuffs requiring temperature above 0°C. Foodstuffs such as fruits, vegetable, dairy, confectionaries and medical applications depend upon such chiller trailers for transportation without affecting their consumption quality. Sub-zero trailers are generally used to transport meat, fish and frozen foodstuffs. Although the consumption rate of meat & fish is more compared to individual other end-user, the combined demand for all end-user helped chiller trailers to hold a major share over sub-zero trailer in overall refrigerated trailers market.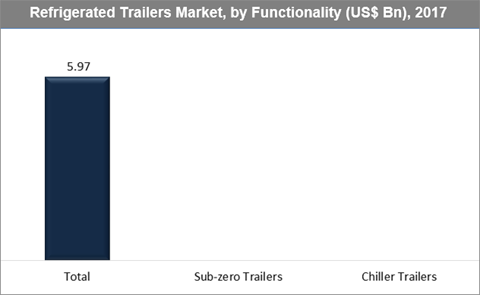 Get a sample copy for more information
Meat & Fish Commands an Upper-hand Over Greens & Fruits to Lead the Market
The astonishing demand and consumption of meat & fish testify the dominance of the segment in overall refrigerated trailers market in 2017. With countries such as the U.S., Kuwait, Australia and New Zealand among other have specific meat consumption over 100Kg per person per year, the need for transporting meat and fish has drastically encouraged the demand for refrigerated trailers. Along with consumption rate, local government regulation for food preservation, transportation, consumption quality and wastage left cold chain participants no other alternative but to incorporate advanced and latest refrigerated trailers for transportation. Fruits & vegetables and dairy products trail meat & fish segment but not with a great margin. Flourishing hospitality sectors stimulated demand for exotic fruits and vegetables and dairy products. Both the end-user constitutes a major share individually in overall refrigerated trailers market. Beside edibles, medical and healthcare segment is exploring the power of refrigerated trailers and hence is one of the lucrative segment to watch out in terms of market value and growth. Others segment consists of flora, baked goods and confectionaries and beverages among others projected to show consistent growth throughout the forecast period from 2018 to 2026.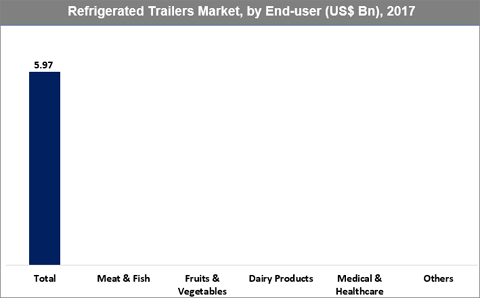 Get a sample copy for more information
North America and Europe Characterise more than 50% of the Total Refrigerated Trailers Market
Heavy consumption of meat, fish and dairy products coupled with rigorous food safety and wastage guidelines guided Europe and North America to top of the market podium. The combined market value of both the regions constitutes more than 50% of the total market share. The dominance of Europe projected to continue throughout the forecast period with North America Trailing closely. Climatic condition, low yielding developed countries and growing tourism and hospitality sectors are few of the several factors responsible for the market growth. Asia Pacific is the home to few of the fastest growing economies including China and India. With economic development demand for cold chain supply is also witnessing significant growth in these countries. Consequently, the region projected to grow with CAGR above North America and Europe in coming years.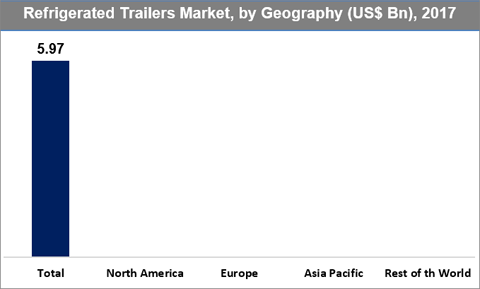 Market Segmentation
ATTRIBUTE
DETAILS
Research Period
2016-2026
Base Year
2017
Forecast Period
2018-2026
Historical Year
2016
Unit
USD Billion
Segmentation

By Functionality (2016–2026; US$ Bn)
• Sub-zero Trailer
• Chiller Trailer

By Number of Axle (2016–2026; US$ Bn)
• Single Axle
• Multi-axle

By End-user (2016–2026; US$ Bn)
• Meat & Fish
• Fruits & Vegetables
• Dairy Products
• Medical & Healthcare
• Others (Flora, Baked Goods, Beverages, etc.)

Geography Segment (2016–2026; US$ Bn)
• North America (U.S. and Canada)
• Europe (U.K., Germany, France, and Rest of Europe)
• Asia Pacific (Japan, China, India, and Rest of Asia Pacific)
• Rest of World (Middle East & Africa (MEA), Latin America)
Refrigerated Trailers Companies Needs to Cope up with Dynamic Advancements to Stay Competitive
Government regulation for food safety and wastage are more stringent than ever and in order to survive the competition, refrigerated trailer manufacturers have to be on their toes in terms of product up gradation. Designing energy efficient insulated cabins and making arrangement such as anti-microbial transportation systems expected to help manufacturers to some extent. However, price wars with local manufacturers and lack of brand awareness in developing nations is a major hindrance for big manufacturers. Some of the most influential techniques and avenues are highlighted in this research study to help manufacturers maintain their position and growth in revenue. Some of the refrigerated trailer manufacturing giants profiled in this research study include Great Dane LLC, Fahrzeugwerk Bernard KRONE GmbH, Wabash National Commercial Trailer Product, Utility Trailer Manufacturing Company, Kogel Trailer GmbH & Co. KG, Schmitz Cargobull AG., Montracon Ltd., Lamberet Refrigerated SAS, Gray & Adams Ltd., and Randon Implementos among others.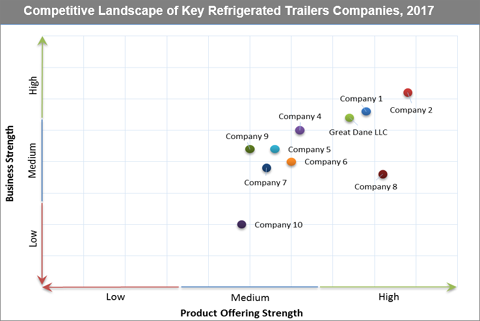 Key questions answered in this report
What are the latest trends in the refrigerated trailers market and potential opportunities for the players?
How government regulation and strategies for food safety and wastage will affect the global as well as regional refrigerated trailers market?
Which are the largest and fastest growing segment in terms of trailer type, number of axles, and end-user?
Which is the most attractive geographical region/country for overall refrigerated trailers market?
How will evolving HVAC technology play a vital role in overall refrigerated trailers market in coming years?
What is the market size and trends in developing regions such as Asia Pacific, Middle East & Africa, and Latin America?