Industry Outlook
Cargo shipping or maritime transportation of goods played an important role in shaping the present day world. Before aviation, transportation of good through vast seas and oceans were the only mode of transport to connect and trade between continents. The shipping industry is witnessing a consistent growth since its early inception and is on its epitome in recent few years. Consistently growing global trade through ships has certainly encouraged the need for shipping containers across the globe. Shipping containers are secure and provide a medium to carry a variety of cargo with ease. Owing to its significance in shipping industry, the demand for shipping containers is expected to stay healthy throughout the forecast period.
Market Synopsis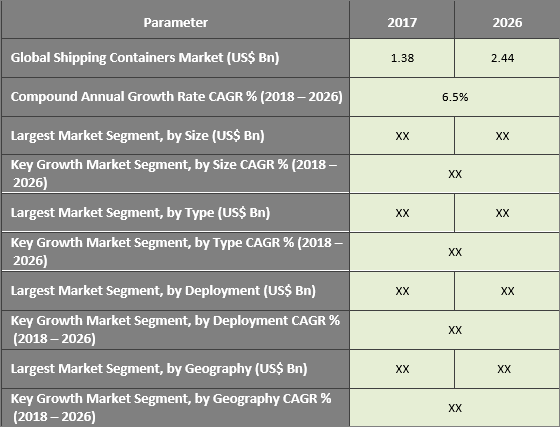 Get a sample copy for more information
"Large Containers have a Clear Dominance Over the Small and High Cube Containers in Terms of Market Value"
Based on the size, shipping containers are classified into small containers with a length of 20 feet, large containers with a length of 40 feet and high cube containers. In shipping containers market large shipping containers claim a considerable market share of 2/3rd of the total number of shipping containers across the globe. These shipping containers have considerably high storage capacity and thus, it is preferred by the majority of shipping companies. Small container trails large container in terms of market value as well as volume. These containers are as reliable as the large variants and available for less price. However, lack of storage capacity has dragged the growth potential of small containers. High cube containers are special containers with added height to accommodate more cargo. High cube containers are special type of containers used for very specific application such as shipping of cars and other such cargo.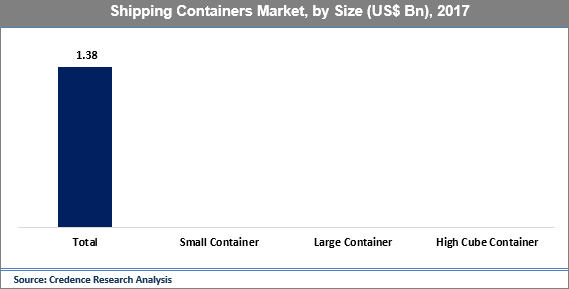 Get a sample copy for more information
"Dry Container to Maintain its Supremacy over Other Container Types in Coming Year"
By far in 2017, dry containers claims the majority of market share in the overall shipping containers market. These are the most commonly available shipping containers are used to transport number of build items through sea, rails, roads and any other transportation medium. These are simply corrugated steel containers and can be customized in a number of ways suiting the cargo requirements. Refrigerated containers are used to transport food, vegetable, and fauna over a longer distance. With perpetually growing world trade and lowering transportation time, refrigerated containers are gaining momentum in terms of market.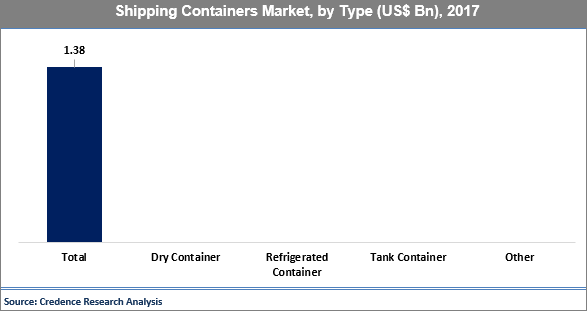 Get a sample copy for more information
"Owing to China, Asia Pacific Reign Supreme in the Global Shipping Containers Market "
Unarguably China manufacturers the majority of shipping containers used across the globe. China's share in global market is more than 90% and also host the world's most busy port, Shanghai in terms of twenty-foot equivalent unit (TEU) in 2017. Owing to the aforementioned factors, Asia Pacific reign as the most lucrative region among others in shipping containers market. Other regions including Europe and North America expected to contribute little in coming years as these regions are unable to match the lower labor rates in Asia Pacific.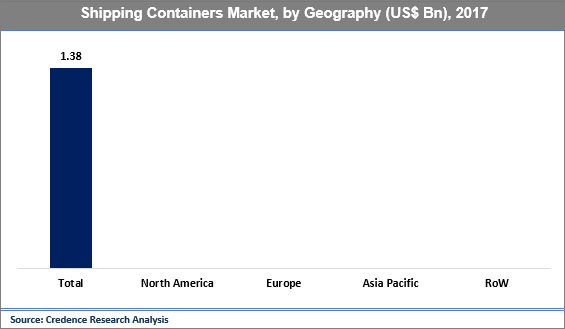 Market Segmentation
ATTRIBUTE
DETAILS
Research Period
2016-2026
Base Year
2017
Forecast Period
2018-2026
Historical Year
2016
Unit
USD Billion
Segmentation

By Size (2016–2026; US$ Bn)
• Small Container (20 Feet)
• Large Container (40 Feet)
• High Cube Container

By Type (2016–2026; US$ Bn)
• Dry Container
• Refrigerated Container
• Tank Container
• Others (Flat Rack Containers, Tunnel Container, Special Purpose Containers, etc.)

By Deployment (2016–2026; US$ Bn)
• On-shore Container
• Off-shore Container

Geography Segment (2016–2026; US$ Bn)
• North America (U.S. and Canada)
• Europe (U.K., Germany, France, and Rest of Europe)
• Asia Pacific (Japan, China, India, and Rest of Asia Pacific)
• Rest of World (Middle East & Africa (MEA), Latin America)
Competitive Landscape
The research study covers some of the leading shipping container including Maersk Container Industry AS, TLS Offshore Containers International Pvt. Ltd., China International Marine Containers (Group) Ltd. (CIMC), W&K Containers Inc., Singamas Container Holdings Limited, YMC Container Solutions, Sea Box Inc., Dong Fang International Container (Hong Kong) Co. Ltd., CXIC Group Containers Company Limited, Storstac Inc., Jindo Co. Ltd., and MSC Mediterranean Shipping Company S.A. Shipping containers market is quite fragmented with respect to several Asia Pacific companies appealing their dominance. The market is expected to remain saturated with very few new entrants projected to enter the mainstream. However, with consistently growing demand for shipping containers will keep container manufacturers on their toes. These companies have to overcome some issues such as fluctuating material cost and availability of affordable labor in order to maintain their profit share and market position.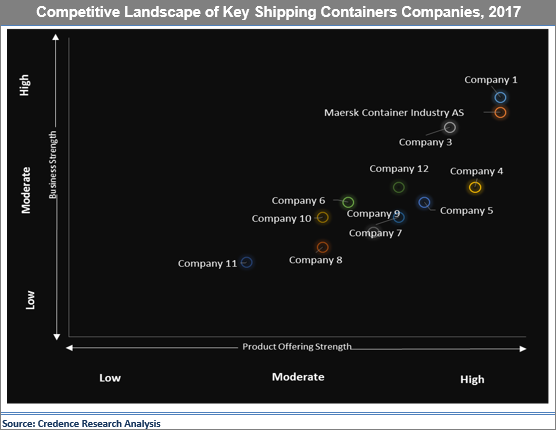 Key questions answered in this report
How exponential world trade and globalization aided shipping container market to flourish?
How growth of end-use industries & global marketplaces is supplementing shipping container market to grow?
What are different types of shipping container based on their size, type & deployment and what is their standing in terms of market value?
How vital is the growth of maritime transportation and shipping industry is and what is its effect on the sales of shipping container?
What role does Asia Pacific as global leader in shipping containers market in coming years?