"Growing Penetration of RFID Technology along with Increasing Affordability to Drive the RFID Electronic Locks Market"
Wide choices of making life easier for users by developing technologies are increasing the demand for smart buildings day by day. Therefore, smart facilities with advanced security measures has become a major driving factor for RFID electronic locks market. The market set to grow with significant CAGR during the forecast period from 2018 to 2026, accounted for US$ 3.25 Bn in 2017. RFID locks built to secure the asset with smart and fast operation along with enhanced security. Required information encoded on the RFID chip and each time the permissible gadget encounters lock, the mod chip pass on the reports analyzing the data. The RFID electronic locks market primarily driven by the swiftly rising penetration of RFID technology across the end-users. Factors such as steadily diminishing price and wide applications has guaranteed strong market growth over the period. RFID electronic locks offered with wide price range initiating as low as US$ 20 to more than US$ 1000, pertaining particular application. The market deeply determined by retail and corporate offices comprising to more than 1/3rd of the market value generated worldwide. Prime retail companies such as Metro AG, Target Corporation and Walmart, Inc. have already regulated the use of RFID technology for effective asset and goods safety.
Market Synopsis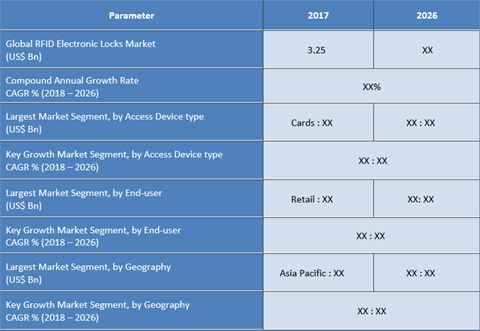 Get a sample copy for more information
"Cards to Dominate the Market; Mobile Phones Segment to Register the Highest Growth"
With standard smart card mode, the system keeps locked until opened with the key card that has access rights to the asset. Information regarded permissible entity encoded on the cards and each time the person encounters, the systems unlocks after analyzing authorized data. These cards also used as multifunctional tool as with some modification it widens the application area. Along with locking functionality these cards used as identity cards in corporate offices, retail and other sectors. Similarly, following cashless transaction mode, such cards used for transaction with encoded customer identity. Nevertheless, in the following years, the mobile phones segment expected to register the highest growth rate. With advancement in Near Field Communication (NFC) technology, mobile phones are witnessing rapid traction as a new approach to the alternative access devices. Rapidly growing smartphone users with application of RFID locking functionality expected to surge the higher growth of segment compared to other devices.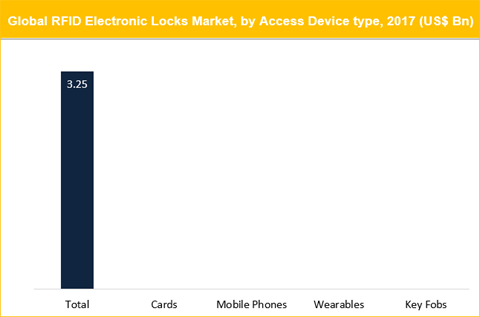 Get a sample copy for more information
"Steady Growth of End-user Industry to Ensure Fastest Growth of RFID Electronic Locks Market in Asia Pacific"
Asia Pacific expected to exhibit comparatively higher market growth throughout the forecast period, principally due to development of end-user industries. Asia Pacific incorporates the flourishing retail sector, demonstrating nearly 5% growth rate every year since 2015. Similarly, industrial and commercial sector in China, Japan, South Korea and India demonstrating promising growth since last few years. These countries expected to remain the most lucrative markets on account of rapidly growing automotive, hospitality and transportation & logistics sectors here. The Asia Pacific region closely followed by North America due to higher adoption in smart applications. Similarly, Europe expected to enroll robust growth rate due to rapidly growing healthcare, corporates and banking & finance sector among others. Swift growth of end-use industries along with growing smart security techniques, RFID electronic locks market expected to witness comparatively higher growth across the globe.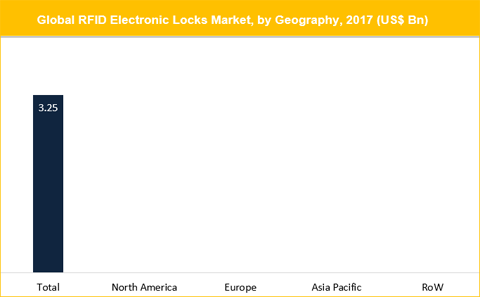 Get a sample copy for more information
"Mergers & Acquisition to Remain the Key Strategy"
RFID electronic locks market intensely fragmented in nature with major players such as Assa Abloy Group, Dormakaba Holdings AG and Allegion plc. among others demonstrating about 30% of overall market shares. Gaining critical mass is a key differentiator in this market. Players are aiming for mergers & acquisition to widespread the customer reach for absorbing maximum shares in global market. For instance, Assa Abboy Group has made over 200 acquisition in door locking systems business since its inception. Prime instances of acquisition in RFID electronic lock systems include acquisition of Aontec Teoranta by Assa Abloy Group; acquisition of Creativesystems by TYCO International PLC; alliance of Dormakaba Holdings AG with Epproach Communications. Similarly innovation in product offering becoming key strategy for continued sustainable growth of major players. For instance, in June 2018, Dormakaba Holdings AG announced Bluetooth Low Energy (BLE) enabled access control systems offering functionality through mobile phones. Similarly, in March 2018, Assa Abloy group expanded innovative RFID lock technology to DIN and SIS doors with new addition of products. Key players of global RFID electronic locks market includes Assa Abloy Group, TYCO International PLC, Siemens AG, Honeywell International Inc., Godrej & Boyce (G n B), NestWell Technologies, United Technologies Corporation, Vivint, Inc., Samsung Electronics Co. Ltd., Dormakaba Holdings AG, Spectrum Brands Holdings, Inc., Allegion plc., Hettich Holding GmbH & Co., Onity, Inc., SALTO Systems S.L. and Others.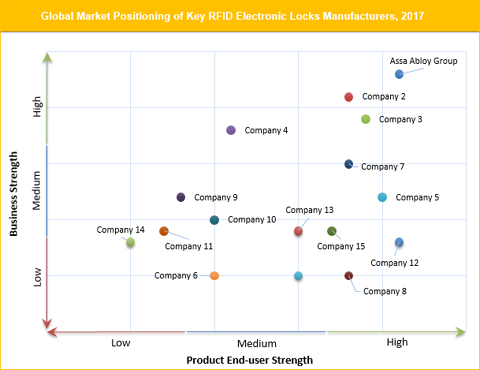 Historical & Forecast Period
This research report presents the analysis of each segment from 2016 to 2026 considering 2017 as the base year for the research. Compounded Annual Growth Rate (CAGR) for each respective segments calculated for the forecast period from 2018 to 2026.
Report Scope by Segments
RFID electronic locks market report provides market size and estimates based on market dynamics and key trends observed in the industry. The report provides a holistic view of global RFID electronic locks market based on access device type, end-user and geography. Key segments covered in the report are as follows:
ATTRIBUTE
DETAILS
Research Period
2016-2026
Base Year
2017
Forecast Period
2018-2026
Historical Year
2016
Unit
USD Billion
Segmentation

Access Device type Segment (2016–2026; US$ Bn)
• Cards
• Mobile Phones
• Wearable
• Key Fobs

End-user Segment (2016–2026; US$ Bn)
• Government & Defense
• Corporates
• Banking & Finance
• Healthcare
• Residential
• Retail
• Hospitality
• Automotive
• Others (Transportation & Logistics, Industrial etc.)

Geography Segment (2016–2026; US$ Bn)
• North America (U.S. and Rest of North America)
• Europe (U.K., Germany, France, and Rest of Europe)
• Asia Pacific (Japan, China, India, and Rest of Asia Pacific)
• Rest of World (Middle East & Africa (MEA), Latin America)
Key questions answered in this report
What was the market size of RFID electronic locks in 2017 and forecast up to 2026?
Which is largest regional market for RFID electronic locks?
What are the key market trends observed in the RFID electronic locks market?
Outlook of smart security industry?
Which is the most promising access device type and end-user in RFID electronic locks market?
Who are the key players leading the market?
What are the key strategies adopted by the leading players in market?
What are the key RFID technology trends across different geographies and sub-geographies?