"Ever-rising Internet Traffic Worldwide to Bolster the Demand for WDM Technology"
Wavelength division multiplexers (WDM) market expected to hit US$ 35.40 Bn by 2026, expanding with a promising CAGR of 11.0% during the forecast period from 2018 to 2026. Principally governed by Asia Pacific, WDM market driven by rising need for high volume of data transfer capacity. The market has been witnessing rapid growth due to constant rise in internet traffic and popularizing concept of WDM technology. The internet traffic exhibited a CAGR of more than 25% throughout the period from 2013 to 2016. Amidst the growing demand for network bandwidth, fiber optic cable efficiency enhancing technology, called as WDM, considered among the most promising alternatives for providing additional bandwidth required. Rapidly growing count of Internet users and network traffic across the world, Internet providers are now aiming for feasible ways to cater ever-rising demand for network bandwidth. Thus, WDM technology is set to witness immense growth in the forecasted years.
Market Synopsis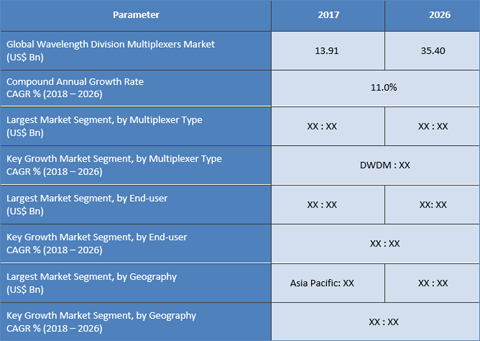 "Dense Wavelength Division Multiplexer (DWDM) Leads the Market & Accounted to Retain Its Dominant Position"
Dense Wavelength Division Multiplexer (DWDM) leads the overall market, accounting for more than 50% of the global market value. Ability to amplify all wavelengths at once, without first converting those to electrical signals, as well as ability to carry signals of different speeds & types simultaneously and transparently over the fiber, makes DWDM more favorable among end-users. DWDM spaces the wavelengths more closely than Coarse Wavelength Division Multiplexer (CWDM), and therefore has a greater overall capacity. DWDM's fast & flexible provisioning of protocol and transparent, protected, data-centric services, along with the capability to offer new & higher-speed services at less cost delivers additional value in the metropolitan market. This would ensure strong growth for DWDM segment through the forecast period.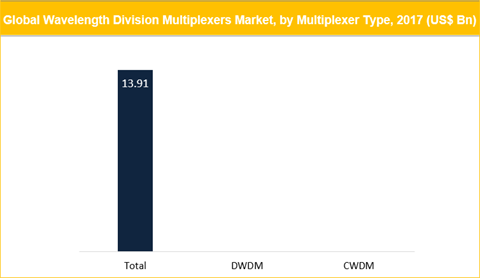 "Burgeoning Countries of Asia Pacific to Ensure Fastest Growth of the Region throughout the Forecast Period"
Currently, Asia Pacific leads the market accounting for more than 1/3rd of the overall market value worldwide. IT & telecom market in Asia Pacific witnessed about 9.3% year on year growth in 2016, driven by strong evolution in smartphones, desktops and other smart communication device markets. The WDM market here primarily backed by China due to growing penetration of fiber optics network. According to China's Ministry of Industry and Information Technology (MIIT), the Country laid over 2.6 Bn kilometers of optical fiber in 2015. MIIT expected over 80% of broadband users in China based on optical fiber network in 2017. As well as, burgeoning countries such as Japan, South Korea, India and Singapore among others are set to ensure strong market growth of the region throughout the forecast period. Increasing initiatives such as Asia Pacific Information Superhighway (APIS) aiming to ensure the availability & affordability of broadband Internet across Asia Pacific countries, which also promote terrestrial & submarine fiber optic connectivity. Rapidly rising demand for fiber optic technology and need for increasing its data carrying capacity paves demand for subsequent WDM technology in the region.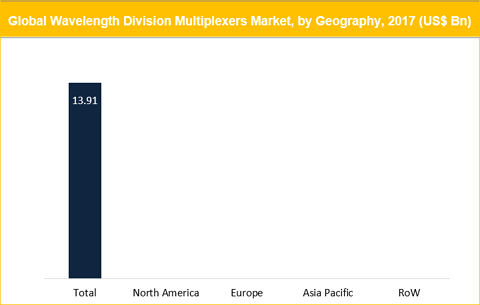 "Alliances with Domestic Players to Remain the Key Strategy"
The overall WDM market fragmented in nature with presence of significant number of Internet network providers. The market comprises enormous number of domestic firms serving limited territories of market. These companies deliver majority of Internet network service, thus restraining the scope of international players. Most commonly adopted strategy by global players is acquisition or alliances with domestic fiber optic network providers. This aids the companies to expand their WDM technology service offering for fiber optic network, thereby increasing reach to more number of customers. Major instances include acquisition of Silicon Photonics of IMEC BV by Huawei Technologies Co., Ltd., acquisition of Pirelli Optical Systems by Cisco Systems Inc., alliance of Telenor ASA with ZTE Corporation. Key players profiled in the report include Adva Optical Networking, SE, Adtran, Inc., Aliathon Technologies Ltd., Alcatel – Lucent, Cisco Systems Inc., Ciena Corporation, Fujitsu Ltd., Huawei Technologies Co. Ltd., , ZTE Corporation, Infinera Corporation, JDS Uniphase Corporation, OZ Optics Ltd. and others.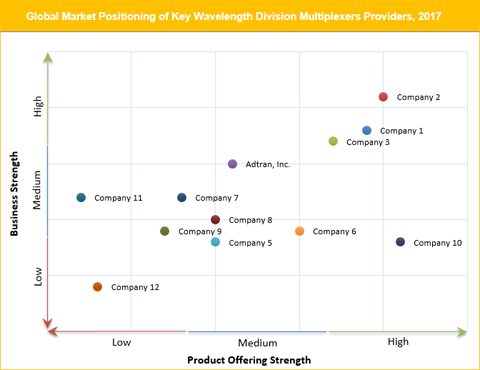 Historical & Forecast Period
2016 – Historical Year
2017 – Base Year
2018-2026 – Forecast Period
This research report presents the analysis of each segment from 2016 to 2026 considering 2017 as the base year for the research. Compounded Annual Growth Rate (CAGR) for each respective segments calculated for the forecast period from 2018 to 2026.
Report Scope by Segments
Wavelength division multiplexers market report provides market size and estimates based on market dynamics and key trends observed in the industry. The report provides a holistic view of global wavelength division multiplexers market based on multiplexer type, end-use and geography. Key segments covered in the report are as follows:
ATTRIBUTE
DETAILS
Research Period
2016-2026
Base Year
2017
Forecast Period
2018-2026
Historical Year
2016
Unit
USD Billion
Segmentation

Multiplexer Type Segment (2016–2026; US$ Bn)
• Dense Wavelength Division Multiplexer (DWDM)
• Coarse Wavelength Division Multiplexer (CWDM)

End-use Segment (2016–2026; US$ Bn)
• IT & Telecom
• Banking Financial Services & Insurance (BFSI)
• Academics & Institutes
• Manufacturing & Operations
• Logistics
• Hospitality
• Retail
• Healthcare

Geography Segment (2016–2026; US$ Bn)
• North America (U.S. and Rest of North America)
• Europe (U.K., Germany, France, and Rest of Europe)
• Asia Pacific (Japan, China, India, and Rest of Asia Pacific)
• Rest of World (Middle East & Africa (MEA), Latin America)
Key questions answered in this report
What was the market size of WDM in 2017 and forecast up to 2026?
Which is largest regional market for WDM?
What are the key market trends observed in the WDM market and outlook for fiber optic technology?
Which is the most promising multiplexer type and end-use in WDM market?
Who are the key players leading the market?
What are the key strategies adopted by the leading players in market?
What are the key internet usage trends across different geographies and sub-geographies?