Manufacturing Industry to Bolster the Demand for Infrared Sensors Market
Infrared sensors market set to reach US$ 592.5 Mn by 2026, growing with promising CAGR of 7.5% throughout the forecasted period from 2018 to 2026. Primarily governed by Asia Pacific, infrared sensors market is highly driven by increasing usage of sensing technology in manufacturing industry. The infrared sensors market demonstrated swift growth in these industries, due to its flame or leak detection application. With rapidly growing manufacturing industry, that exhibited a CAGR of over 10% from 2010 to 2017; subsequent infrared sensors market to witness significant growth over the forecast period. Infrared sensors enable to monitor wide range of ambient conditions such as pressure, environmental weather conditions, temperature (infrared maps), fire, gas, sound, humidity, electrical characteristics, vibration, soil makeup, presence & absence of objects, object movement, speed, direction and location & size of an object among others. Growing penetration of infrared sensors in manufacturing, oil & gas, automotive and other industries credited to the government mandates aimed at improving safety and building healthier working environment for resources. Almost all public & private sector organizations aiming to invest heavily in building safe environment by using devices with sensing technology. For instance, the ShaleSafe Corporation working on project with aim to develop real time, automated monitoring system which would offer immediate detection of any decay in gas extraction process by using infrared sensors. Thus, with growing investment for ensuring safe working environment along with affordable price offering of infrared sensors, the market estimated to witness immense growth across forecasted years.
Market Synopsis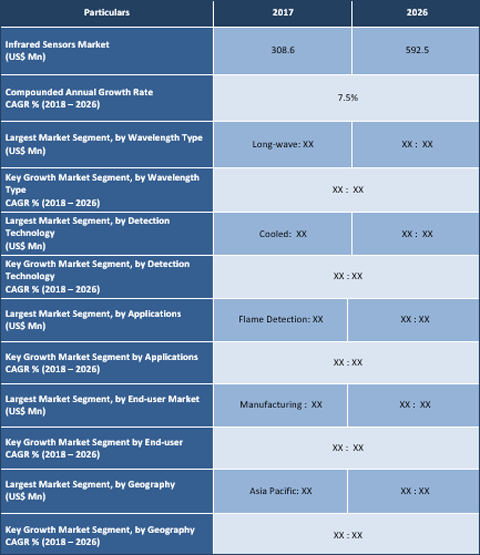 Long-Wave Infrared Sensors to Continue Leading the Market
Long-wave infrared sensors segment dominate the overall market. In 2017, segment accounted for more than 40% of the global infrared sensors market value. Long-wave infrared sensors majorly find application in manufacturing, mining, aerospace & defense and automobile sectors. In addition, rising threat of theft, crime, bank robbery and growing awareness about benefits of infrared sensing devices among customers ensured surge in adoption of long-wave infrared sensors. Similarly, increasing investment in surveillance and defense sectors by most of the countries paves significant demand for long wave infrared sensors.
Asia Pacific Leads the Market & Expected to Continue the Trend as Fastest Growing Regional Market
Asia Pacific leads the infrared sensors market accounting for close to 1/3rd of the overall market value worldwide. Market growth in the region primarily backed by Japan, China, India, Korea and Taiwan due to rapid growth in manufacturing, automotive, consumer electronics and other industry verticals. Japan possess strong base of key leading manufacturers of infrared sensors such as Murata Manufacturing Co., Ltd., Nippon Avionics Co., Ltd. and others. Market growth in the region further supported by lowering prices of infrared sensors. With continuous sinking prices of sensors, adoption of infrared sensing technology for applications such as surface feature detection, flame detection, numerous processes of automobile & manufacturing industries, expected to surge the demand from region.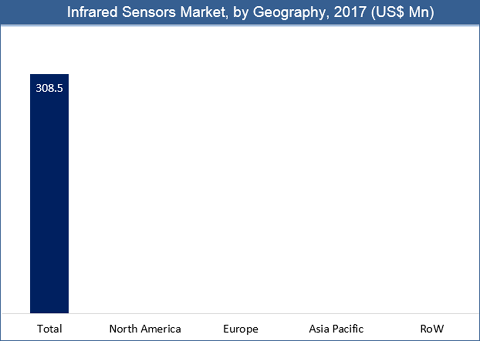 Research & Development to Remain the Key Strategy
Infrared sensors market is highly competitive in nature. Number of players are looking for globalization of business to enhance their reach to customers. As well as, growing investment on research & development is vital strategy implied by major players in infrared sensors market. Major instances include, Bosch Security Systems increased their investment in research & development for sensing technology by 30% in 2017 compared previous year. Required significant initial investment and technical competency are the major barriers for new entrants in infrared sensors market. Some of the major players profiled in the report include Excelitas Technologies Corporation, Bosch Security Systems, Inc., Nippon Avionics Co., Ltd., General Dynamics Corporation, Infratec Gmbh Infrarotsensorik Und Messtechnik, FLIR Systems, Inc., Honeywell International Inc., Raytheon Company, Hamamatsu Photonics K.K., OMRON Corporation, Texas Instruments Inc. and others.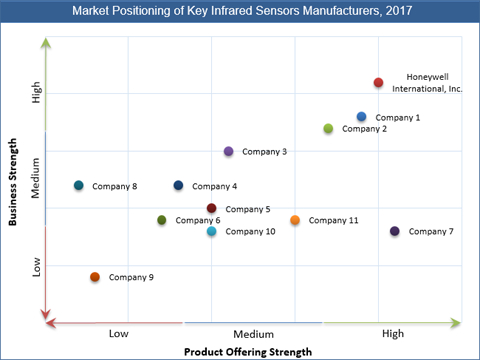 Historical & Forecast Period
2016 – Historical Year
2017 – Base Year
2018-2026 – Forecast Period
This research report presents the analysis of each segment from 2016 to 2026 considering 2017 as the base year for the research. Compounded Annual Growth Rate (CAGR) for each respective segments calculated for the forecast period from 2018 to 2026.
Report Scope by Segments
Infrared Sensors Market report provides market size and estimates based on market dynamics and key trends observed in the industry. The report provides a holistic view of global infrared sensors market based on wavelength type, detection technology, applications, end-user and geography. Key segments covered in the report are as follows:
Wavelength Type Segment (2016–2026; US$ Mn)
Short Wave
Medium Wave
Long Wave
Detection Technology Segment (2016–2026; US$ Mn)
Applications Segment (2016–2026; US$ Mn)
Climatology
Surface Feature Detection
Barcode Decoding
Flame Detection
In Vivo Imaging
End-user Segment (2016–2026; US$ Mn)
Consumer Electronics
Mining
Aerospace & Defense
Oil & Gas
Automotive
Manufacturing
Telecommunication
Chemicals
Healthcare
Geography Segment (2016–2026; US$ Mn)
North America


United States
Rest of North America

Europe


United Kingdom
Germany
France
Rest of Europe

Asia Pacific (APAC)


China
Japan
India
Rest of APAC

Rest of the World (RoW)


Middle East and Africa (MEA)
Latin America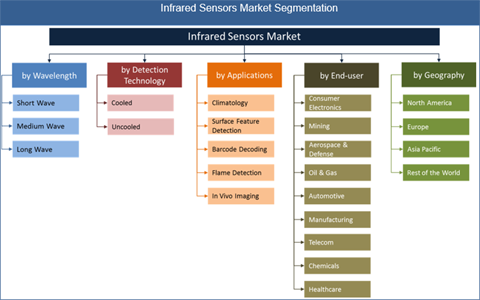 Key questions answered in this report
What was the market size of infrared sensors in 2017 and forecast up to 2026?
Which is the largest regional market for infrared sensors?
What are the key market trends observed in the infrared sensors market and outlook for sensing technology?
Which is the most promising wavelength type, detection technology and end-user in infrared sensors market?
Who are the key players leading the market?
What are the key strategies adopted by the leading players in market?