Key Market Insights
"Sustainable infrastructure promoting the global white cement market"
The mounting focus on environmental sustainability has influenced the use of white cement across the globe. The growing use of white cement due to its heat-reflecting properties and beautiful appearance of artwork are driving the global white cement market in recent years. Moreover, white cement is currently an ideal choice for architectural works due to freedom of choice of colors, textures, shapes, sizes, and patterns to accommodate a multitude of applications that takes their artistic expression to a higher level.
Further, there is a high demand for white cement in countries with a hot climate. Egypt is one of the largest producers of white cement having a production capacity of around 2.7 Mt/yr. Also, several governments across the globe are initiating policies to promote green architecture that helps to lower the carbon emission and reduce the local temperature by reducing albedo. Considering these benefits, many builders are adopting white cement in building construction.
However, some of the limiting factors include high capital cost and green fund and market awareness. Moreover, only a few countries of the world have mandatory energy efficiency standards, mainly in Singapore and Thailand. Further, low electricity prices in some Asian countries do not encourage energy-saving practices in building construction. This has negatively impacted the market. Further, the high cost of production and limited utilization in heavy construction activities is obstructing the growth of the market. Overall, the global white cement market is US$ 8.03 Bn in 2018 and expected to reach US$ 11.93 Bn by 2027, growing at a CAGR of 4.56% from 2019 to 2027.
Market Snapshot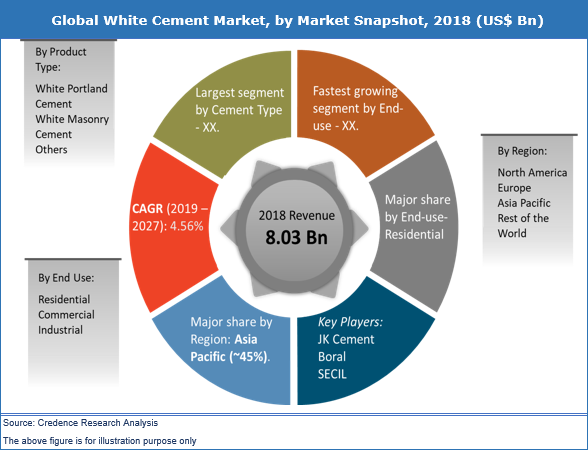 Get a sample copy for more information
End-use Segment Analysis
"Residential segment accounted for the fastest growth rate"
The building and construction industry is driving at a high pace which is creating a good demand for the white cement market in 2018. Rapid urbanization across developing regions of the world viz. the Asia Pacific along with growing disposable income is influencing the demand for white cement across the region. Further, the rising demand for personal housing in India, China, ASEAN, Middle East, and Latin America has positively impacted the market in 2018. It is estimated that the current trend to further rise during the forecast period thereby, expanding the market share of the residential segment.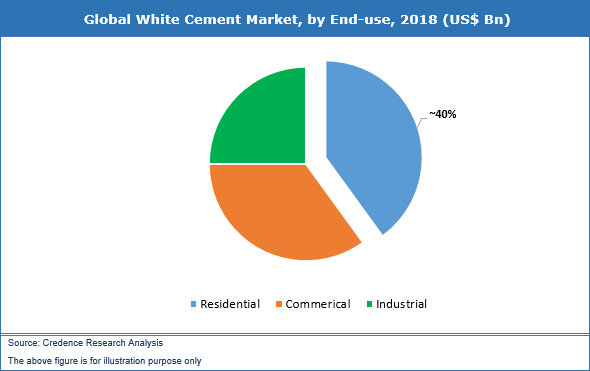 Get a sample copy for more information
Regional Analysis
"Rapid urbanization is driving the Asia Pacific market"
With the growing economic development, Asia Pacific is going through rapid urbanization. With increasing construction and reconstruction activities in countries such as India, China, Indonesia, and ASEAN, there is a high demand for white cement. Further, increasing foreign direct investment in the rapidly growing Asia Pacific is influencing the industrial development in the region. Moreover, government initiatives such as smart cities and affordable homes for millions has a growing demand for white cement in India. This has further expanded the regional white cement market share. Overall, the Asia Pacific estimated to be the most attractive to the region for investment and is the fastest-growing region during the forecast period.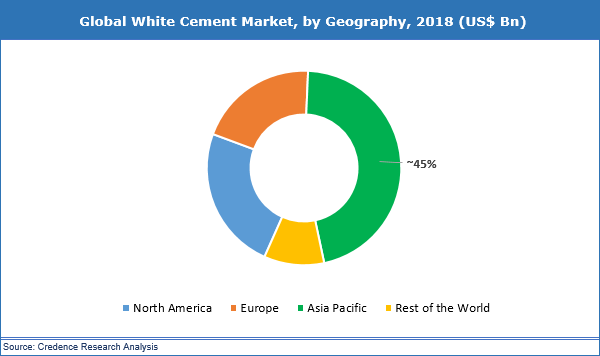 Get a sample copy for more information
"Emerging partnership trend is keeping the market competitive"
The overall white cement market is fragmented and market players are focusing on new product launch and acquisition of other players to boost their market position. Some of the leading global players included in the reports are Çimsa Çimento Sanayi ve Ticaret A.Ş. (Turkey), Cementir Holding N.V. (Italy), JK Cement Ltd (India), UltraTech Cement Ltd. (India) and LafargeHolcim (Switzerland). Following is the list of companies covered in this report.
List of Companies Covered:
Cementir Holding N.V.
UltraTech Cement Ltd.
SOTACIB
SECIL
Adana Çimento (OYAK Çimento)
Cementos Portland Valderrivas
Boral
SESCO CEMENT CORP.
and Others
Key Industry Development:
In March 2019, Çimsa Çimento Sanayi ve Ticaret A.Ş. signed an acquisition agreement of Buñol, one of the most technologically advanced plants in Europe. With this acquisition, Cimsa's production capacity increased by 40% and enhanced its presence in Europe. In the future, the company has plans to develop a strong export network in Europe, North Africa, and South America and increase its geographical reach.
In October 2019, Al Jouf Cement signed an agreement with Riga Company to convert its second production line to white cement. This new line has increased the production capacity of the company and helping to increase its share in the market.
In July 2019, LafargeHolcim announced that it had upgraded its production fleet with automation, robotics, artificial intelligence, predictive maintenance and digital twin technologies for its entire production process. This Industry 4.0 revolution, helped the company to improve its operational efficiency by 15 to 20%.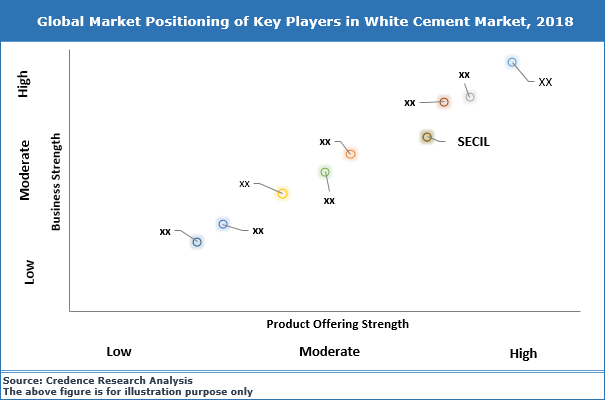 Historical & Forecast Period
The research report presents the analysis of each segment from 2017 to 2027 considering 2018 as the base year for the research. Compounded annual growth rate (CAGR) for each respective segments calculated for the forecast period from 2019 to 2027.
Market Segmentation
ATTRIBUTE
DETAILS
Research Period
2017-2027
Base Year
2018
Forecast Period
2019-2027
Historical Year
2017
Unit
USD Billion
Segmentation

Cement Type Segment (2017-2027; US$ Bn)
• White Portland Cement
• White Masonry Cement
• Others

End-use Segment (2017-2027; US$ Bn)
• Residential
• Commercial
• Industrial

Geography Segment (2017-2027; US$ Bn)
• North America (U.S., Rest of North America)
• Europe (U.K., Germany, France, Italy, Rest of Europe)
• Asia Pacific (Japan, China, India, Rest of APAC)
• Rest of the World (Middle East & Africa, Latin America)
The current report also comprehends qualitative market valuation factors such as key market drivers, market trends, restraints and opportunities that give a better market understanding of the global white cement market. Additionally, the global report also comprises a graphical representation of a competitive landscape based on their market initiatives and strategies, product portfolio and business strengths.
Unique data points of this report
Recent trends across different regions in terms of development of white cement market
Attractive investment proposition for application segment as well as geography
Key questions answered in this report
What was the market size of white cement market in 2018 and forecast up to 2027?
What are the key factors driving the global white cement market?
What are the key market trends and high-growth opportunities observed in the white cement market?
Which is the largest regional market for white cement market?
Which segment will grow at a faster pace? Why?
Which region will drive the market growth? Why?
Which players are leading the white cement market?
What are the key strategies adopted by the leading players operating in the market?