"Rapidly Transforming Video Game Industry to Stimulate the Demand for 3D Gaming Console Market"
3D gaming console market set to grow with CAGR of 14.2% during the forecast period from 2018 to 2026. Video game industry has undergone significant transformation in recent years and enhanced gaming experience by multiple times compared to last decade. The gaming industry is at the vanguard of technology and it appears infallible in terms of market value. Global video gaming industry registered market value of US$ 116 Bn in 2017. Further, internet connectivity development presents multi-dimensional growth potential for the video game industry. Efficient internet connectivity is providing platform for gamers to connect at global level and enhance the gaming experience. Manufacturers are considering particular regional market in research and development to cater specific requirements of avid gamers. For instance, Wii Fit by Nintendo originally developed for the Japanese market and pure online gaming consoles were designed for European market considering specific requirements. With rapid development of gaming industry, 3D gaming consoles market expected to witness significant surge in following years.
Market Synopsis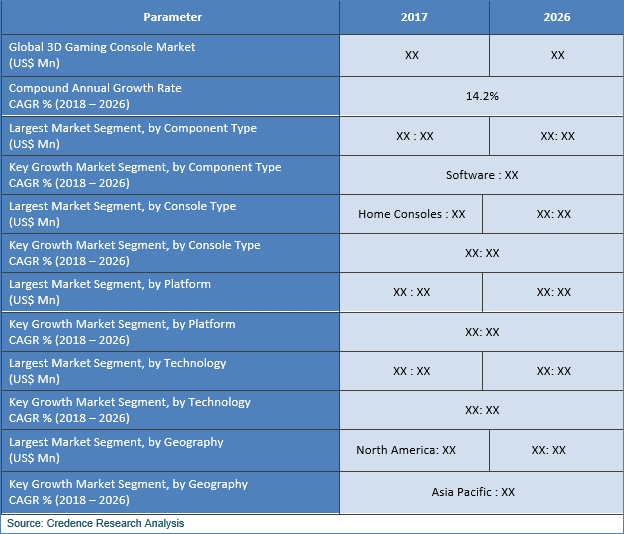 Get a sample copy for more information
"Software Segment to Witness Higher Growth Rate in 3D Gaming Console Market"
Software segment expected to experience higher growth rate compare to hardware segment across the world. In-house software development domain, third party contractors or independent developers participate extensively in software development for 3D gaming consoles. In-house developers are owned by publishers and therefore usually have less autonomy, thereby enjoys higher funding security than their counterparts. Consumers' expectations of high-gloss, graphic intensive games, has seen the higher costs of developing a video game software. Rising costs have forced a shift in this upstream market as independent developers are struggling financially to compete. Further, Garage Games, one of the largest Independent developers stated that lack of access to open platforms or tools in console software development is a considerable obstacle. With developers struggling for financial backing and larger firms recognizing competitive advantages in the sole rights over top developers, this industry experiences high levels of mergers and acquisitions. For instance, Microsoft successfully acquired Rare an In-House Developer from Nintendo; further it purchased Loinshead, a former Third Party Contractor.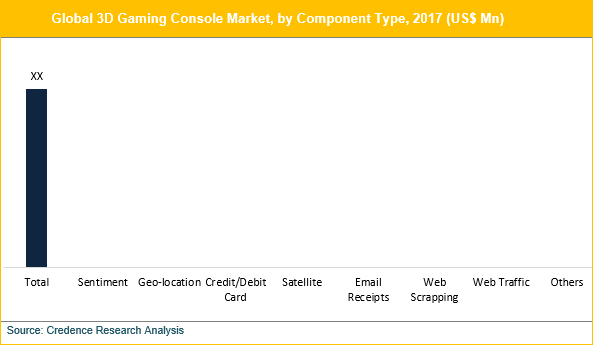 Get a sample copy for more information
"Early Adoption of 3D Technology to Ensure Dominating Position of North America Market"
Presently, North America is the front-runner in the overall 3D gaming console market. North America is the headquarters of Microsoft Corporation, the leading IT Company in the world, engaged in manufacturing, developing, supporting and licensing of 3D console software products. Additionally, region accounted as the largest retail market in the world for gaming consoles with a sales volume of 12.27 Mn units in 2017, a worldwide market share of 37%. Further Asia Pacific expected to experience higher growth rate across the forecast period. Japan houses two of the big three console manufacturers Sony Interactive Entertainment Inc. and Nintendo Co. Ltd., thereby producing over 85% of the global console business. This equates to a strong upstream and downstream market of gaming industry in Japan. However, in recent years, Japanese market has declined due to the rigorous sales of second-hand products and upcoming markets like China, India and Vietnam may soon replace it as the focal point for Asia Pacific region.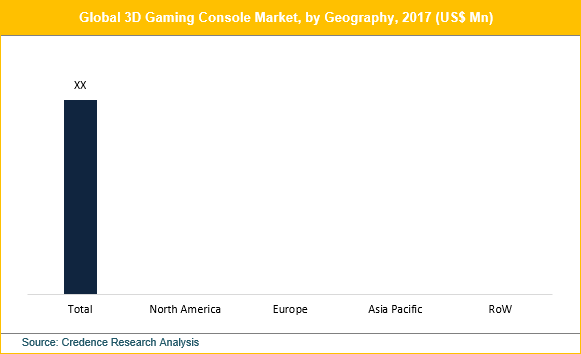 Get a sample copy for more information
"Improving Gaming Experience with Technology Advancement to Remain Key Strategy for 3D Gaming Console Providers"
The 3D gaming console market is growing steadily from generation to generation with very few numbers of players leading the market. Each console manufacturer have their own established online markets that is accessible using the specific console. Introduction of microchips enabled consoles to run by a single chip, thereby making production of consoles simpler and opening the market opportunities for new market entrants. After 5th and 6th generation of gaming consoles, Sony Interactive Entertainment Inc. and Microsoft Corporation entered the market. In 2017, Sony Interactive Entertainment Inc. ruled the market with capturing over 40% of all console sales. Many of the world's largest firms are not global but regionally based. For instance, Sony Interactive Entertainment Inc. classified as a truly global company; Microsoft Corporation categorized as home-region oriented; and Nintendo, which sells over 50% of both its software and hardware in the USA, categorized as host-region oriented. Key players of global 3D gaming console market include Electronic Arts Inc., Activision Publishing Inc., Kaneva LLC, Avatar Reality Inc., Linden Lab Inc., Oculus VR, Microsoft Corporation, Nintendo Co., Guillemot Corporation S.A. Sony Computer Entertainment, Logitech International S.A., and others.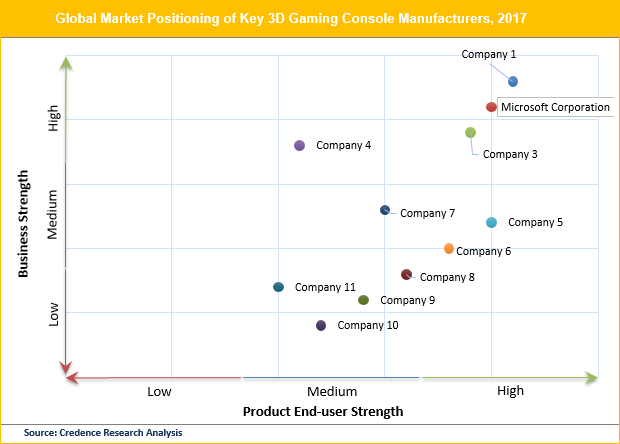 Historical & Forecast Period
This research report presents the analysis of each segment from 2016 to 2026 considering 2017 as the base year for the research. Compounded Annual Growth Rate (CAGR) for each respective segments calculated for the forecast period from 2018 to 2026.
Report Scope by Segments
3D gaming console market report provides market size and estimates based on market dynamics and key trends observed in the industry. The report provides a holistic view of global 3D gaming console market based on component type, console type, platform type, technology and geography. Key segments covered in the report are as follows:
ATTRIBUTE
DETAILS
Research Period
2016-2026
Base Year
2017
Forecast Period
2018-2026
Historical Year
2016
Unit
USD Million
Segmentation

Component Type Segment (2016–2026; US$ Mn)
• Hardware
• Software

Console Type Segment (2016–2026; US$ Mn)
• Home Console
• Handheld Console
• Micro Console
• Dedicated Console

Platform Type Segment (2016–2026; US$ Mn)
• Microsoft Xbox
• Sony PlayStation
• Nintendo

Technology Segment (2016–2026; US$ Mn)
• Polarized Shutter
• Virtual & Augmented Reality
• Xbox IllumiRoom
• Autostereoscopy
• Active Shutter Technology
• Leap Motion Technology
• Others (Oculus Rift, Holodeck etc.)

Geography Segment (2016–2026; US$ Mn)
• North America (U.S. and Rest of North America)
• Europe (U.K., Germany, France, and Rest of Europe)
• Asia Pacific (Japan, China, India, and Rest of Asia Pacific)
• Rest of World (Middle East & Africa (MEA), Latin America)
Key questions answered in this report
What was the market size of 3D gaming console in 2017 and forecast up to 2026?
Which is largest regional market for 3D gaming console?
What are the key market trends observed in the 3D gaming console market and outlook for gaming industry?
Which are the most promising component type, console type, platform, and technology in 3D gaming console market?
Who are the key players leading the market?
What are the key strategies adopted by the leading players in market?
What are the key gaming industry trends across different geographies and sub-geographies?