"Active Pharmaceutical Ingredient Market to Exhibit Profitable Growth during the Forecast Period"
The global active pharmaceutical ingredient market is growing significantly, valuing at US$ 152.6 Bn in 2017 and expected to reach US$ 273.7 Bn by 2026. Worldwide growing chronic diseases along with rising incidences for respiratory, cardiovascular, and oncology drives the overall market growth during the forecast period. In addition, new technological progresses in biologics & other specialty drugs along with favorable public and private funding in the pharmaceutical sector across various developing countries will further assist in the API market growth. Increase in manufacturing for synthetic and biological active ingredients is growing at a significant rate; API manufacturers have been manufacturing their own medications to increase overall revenues. However, due to stringency in regulations & quality checks, new players are unable to enter the market. For example, in 2013, unbranded drugs represented over 80% of the physician recommended drugs being circulated, fundamentally because of their low cost for patients, payers, and the healthcare insurance system in the U.S. Also, the rise in the interest for generic prescriptions worldwide is one of the major drivers in the global API market during the forecast period.
A major focus on commercializing generic drugs and lessening cost expenses by outsourcing R&D exercises from top manufacturers worldwide can enhance the effectiveness of the growth of API products significantly. Technological developments in synthetic chemical API, small molecules, steroidal & carbohydrate drugs and peptides in therapeutic treatment procedures are enhancing the demand majorly in Europe and Asia Pacific.
Market Synopsis
Get a sample copy for more information
"Synthetic Chemical API Type Segment is expected to Register Higher Growth by the End of 2026"
Synthetic chemical API type held the largest market share in 2017, increase in manufacturing by utilizing enhanced molecular applications have contributed maximum revenue share in the global market. Increasing applications for synthetic drugs and rise in non-communicable disorders with high mortality rate in the recent years is going to increase the demand for synthetic drugs and biologics in the coming years. As indicated by WHO, Non-Communicable Disease fact sheet 2017, equivalent to around 70% of all expiries worldwide. However, high complexity occurs while the manufacturing along with high cost. The biological API segment is also growing at a significant pace, it is further classified into vaccines, monoclonal antibodies and recombinant proteins. Extensive R&D on advanced protein based molecular therapies and biosimilar drugs is enhancing the growth of biological API during the forecast period. Also, increasing demand for biologics in developing nations is also growing significantly.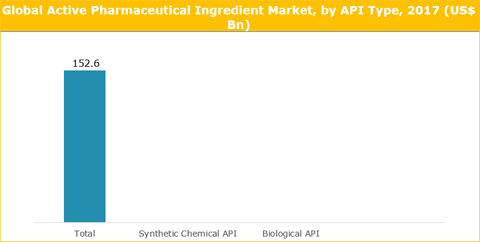 Get a sample copy for more information
"The Branded Drugs Segment is expected to Register Higher Growth by the End of 2026"
The demand for branded drugs has influenced globally, increasing acceptance from the end user along with enhanced applications in field of oncology, cardiology, anti-inflammatory, gastrointestinal and neurological disorders has shown significant growth of branded drugs in recent years. New product launch, innovative delivery formulation techniques, and production of brand new chemical entities in branded drugs is gaining traction in the global market.
Manufacturers are also focused on targeted delivery and extended release of proven APIs, also they are collaborating with start-ups and research institutes, focusing on unmet oncology needs of high prevalence in Asia Pacific region. Rising interest for novel drug discovery and progressions in the field of biotechnology, molecular science and genomics is developing at a greater pace. Also, populated pipeline for branded drugs combined with patent expiry of a few different drugs and expanded use on healthcare services are additionally driving the market development during the forecast period. Nevertheless, massive investments, gradual shift of branded drugs to generic drugs sales & marketing and overdue processing of federal regulations are hindering the market growth.
The cost-viability of generic medications has given it an upper hand over branded drugs in the market. Moreover, the members in the business inventory network system, for example, retail pharmacies, wholesalers, drug stores, and hospital pharmacies additionally have an advantage from the overall sale and demand for generic drugs globally, since it altogether increases the net revenue & profit margin. This has developed as a key development driver for the generic drugs industry. Generic drug manufacturers likewise receive licensing authorization and partnering business strategies with small scale manufacturers to dispatch new drugs or medications effectively and provide full assurance that their market flourishes in the domestic & international market.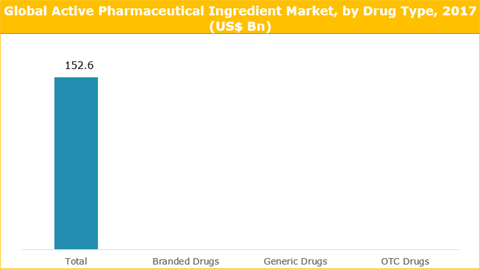 Get a sample copy for more information
"Contract Manufacturing for API Market Is Showing Promising Growth in the Developing Nations"
There is the developing requirement for cutting edge procedures and technology advancements, which have demonstrated exceptionally viable in meeting regulatory necessities internationally. Top pharmaceutical and drug manufacturers (branded/generic) of the world are increasingly looking at Asian companies, mainly in India and China as their strategic knowledge growth partners at all levels of supply & value chain, be it in the form of contract research, contract manufacturing, preclinical, clinical trials or of late, contract selling and contract marketing.
Also, the pharmaceutical organizations have been coordinating their needs toward the core areas of competency, hence, prefer not to dispense available resources, expertise, and technology on formulating the final dose of medicines. Excessive cost of production is the primary factor for the decrease in market share in North America region, wherein, an expanded number of organizations are setting up manufacturing offices in the developing nations, or working through contract manufacturing. For example, China has improved its overall capacity for API manufacturing although India is a superior destination for drug discovery, drug formulation development and contract manufacturing. There is a solid and continued spending on processing and manufacturing capabilities in the biopharmaceutical and biosimilar segment, great opportunity for pharma-biotech players to spur revenue growth during the forecast period. Other external factors driving the overall API market is the overall demand for new production technologies in the bio-pharma segment, rising consolidation of big pharmaceutical giants, demand for expertise in drug discovery, biologics and injectable dose formulations, and expansion of contact manufacturing into early stages of drug manufacturing.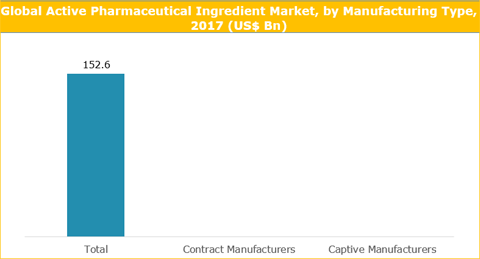 "Presence of Established Pharmaceutical Manufacturers Holds North America in Dominant Position"
North America holds maximum market share in 2017 due to the presence of top manufacturers for branded generics in the U.S & Canada. Also, increasing prevalence for cancer & numerous chronic diseases, growing population, and development of novel drugs along with rise in manufacturing capacity expansion is further going to spur revenue growth during the forecast period.
Countries in Asia Pacific region such as India and China is expected to register moderately significant CAGR over the forecast period due to increasing number of partnerships with top bio-pharma players, private & public funding for new drug formulation technologies, drug discovery and growing awareness among the end users about new branded drugs is gaining traction in the market. Additionally, high prevalence of cancer, increase adoption rate of generic medications in emerging economies, new technology advancement with improved drug efficacy at low cost and rising demand for biologics expected to drive the active pharmaceutical ingredient market during the forecast period.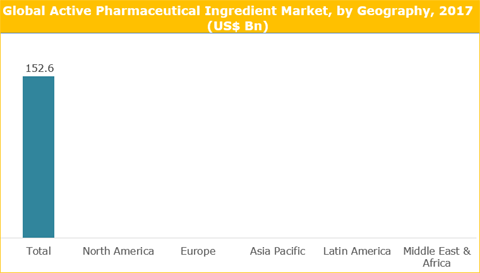 "Dominance of Established Multinational Players with Strong API Type Portfolio Makes Market Penetration Difficult For Emerging Players"
Major players in the active pharmaceutical ingredient market are Pfizer, Inc., Sanofi, Boehringer Ingelheim, Novartis International AG, Bristol-Myers Squibb, Eli Lilly and Company, GlaxoSmithKline plc, Merck & Co., Inc. and AbbVie Inc., Lonza Group and others. These companies are mainly focused on new product development, partnerships and expansion of their manufacturing capacity to further generate maximum share in the global API market.
For instance, in February 2018, Rising Pharmaceuticals (ACETO Corporation subsidiary) launched Atenolol tablets (25mg, 50mg, and 100mg) for hypertension. It is a generic form of the reference drug, TENORMIN (Alvogen Malta Operations LTD).
In January 2018, as an innovation strategy, Sterling Pharma Solutions expanded its manufacturing capacity in the Asian international market making new developments in API production and design with major growth experienced in the Japan market.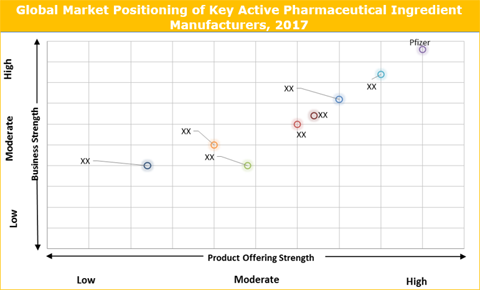 Historical & Forecast Period
This study report represents analysis for each segment from 2016 to 2026 considering 2017 to be the base year. Compounded Annual Growth Rate (CAGR) for each of the respective segments estimated for the forecast period from 2018 to 2026.
Report Scope by Segments
ATTRIBUTE
DETAILS
Research Period
2016-2026
Base Year
2017
Forecast Period
2018-2026
Historical Year
2016
Unit
USD Billion
Segmentation

By API Type Segment (2016–2026; US$ Bn)
• Synthetic Chemical API
• Biological API

By Drug Type Segment (2016–2026; US$ Bn)
• Branded Drugs
• Generic Drugs
• OTC Drugs

By Manufacturing Type (2016–2026; US$ Bn)
• Contract Manufacturers
• Captive Manufacturers

Geography Segment (2016–2026; US$ Bn)
• North America (United States and Canada)
• Europe (U.K., Germany, Rest of Europe)
• Asia Pacific (China, Japan, Rest of Asia Pacific)
• Latin America (Brazil, Mexico, Rest of Latin America)
• Middle East and Africa (GCC, Rest of MEA)
The present report also comprehends qualitative and quantitative market valuation factors such as key market drivers, market trends, restraints and opportunities that provides a better understanding of the overall active pharmaceutical ingredient market. Additionally, the report also encompasses graphical representation of competitive landscape based on their market inventiveness and strategies, API Type portfolio and business strengths. Key industrial players profiled in the study report are Teva Pharmaceutical Industries Ltd., Pfizer, Inc., Sanofi, Boehringer Ingelheim, Novartis International AG, Bristol-Myers Squibb, Eli Lilly and Company, GlaxoSmithKline plc, Merck & Co., Inc. and AbbVie Inc., Lonza Group and others.
Key questions answered in this report
What are the current market trends and dynamics in the active pharmaceutical ingredient market and valuable opportunities for emerging players?
Market positioning of major key players operating in the market?
Which segment accounts for the fastest CAGR during the forecast period?
Which Drug Type holds a larger market share and why?
What is the impact of high cost of branded drugs on the active pharmaceutical ingredient market?
Are low and middle-income economies investing in the active pharmaceutical ingredient market?
What is the market trend and dynamics in emerging markets such as Japan, Latin America and Middle East & Africa?