Air quality monitoring equipment enables continuous and on-demand assessment of both indoor and outdoor air quality. Air quality monitoring equipment makes use of various sensors which detect the presence of various pollutant particles either chemical, physical or biological. The combination of a number of sensors enables the equipment to provide with a comprehensive report on the air quality within and around any facility. Air quality monitoring has become imperative in various settings due to rising pollution levels and increasing need to maintain safe and secure environment. Air quality monitoring systems have found numerous indoor and outdoor applications in the recent years. Indoor applications of air quality monitoring equipment include assessment of environment in various residential and industrial settings including pharmaceuticals, food and beverages, chemicals and healthcare, among others. Furthermore, indoor air quality monitoring equipment work in tandem with various heating, ventilation and air conditioning (HVAC) systems in order to maintain indoor air within safe pollution levels. Outdoor applications of air quality monitoring equipment include various government bodies and health agencies monitoring outdoor air quality to ensure better public health. Furthermore, outdoor air quality is also monitored at various industrial and processing sites to ensure safe environment compliance as per various government norms.
Air quality monitoring equipment make use of various technologies such as CO2 sensors, energy recovery ventilation (ERV), demand-controlled ventilation (DCV), ultraviolet germicidal irradiation (UVGI), dedicated outdoor air systems (DOASs), underfloor air distribution (UFAD) and displacement ventilation (DV). With rising levels of pollution and introduction of stringent government policies across the world, there has been growing demand for comprehensive air quality monitoring solutions in various industries. Moreover, rising need to maintain safe and secure working environment in various end-use industries such as healthcare, pharmaceuticals, chemicals, food and beverages, among others has resulting in the higher adoption of air quality monitoring equipment in the industrial sector.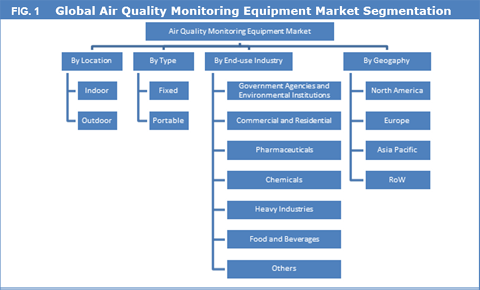 The report titled "Global Air Quality Monitoring Equipment Market- Growth, Future Prospects and Competitive Analysis, 2017 – 2025" offers strategic insights into the global air quality monitoring equipment market along with the market size and estimates for the duration 2015 to 2025. The said research study covers in-depth analysis of multiple market segments based on application location, type and cross-sectional study across different geographies and sub-geographies. The study covers the comparative analysis of different segments for the years 2016 & 2025. The report also provides a prolific view on market dynamics such as market drivers, restraints and opportunities. In addition, the report covers a section providing qualitative and quantitative insights on the usage of various sensors used to detect and major the presence of different types of pollutants.
In order to help strategic decision makers, the report also includes competitive profiling of the leading providers in the air quality monitoring equipment industry, market positioning and key developments. Some of the major players profiled in the report are Thermo Fisher Scientific, Inc., TSI Incorporated, The 3M Company, Tisch Environmental, Inc., Cerex Monitoring Solutions, LLC., Teledyne Technologies, Inc., Siemens AG, HORIBA, Ltd., Merck KGaA, Testo SE & Co. KGaA, Wuhan Cubic Optoelectronics Co., Ltd. and Aeroqual Limited.
Other in-depth analysis provided in the report includes:
Current and future market trends to justify the forthcoming attractive markets within the air quality monitoring industry
Market fuelers, market impediments, and their impact on the market growth
In-depth competitive environment analysis
Trailing 2-Year market size data (2015 – 2016)
Overall, the research study provides a holistic view of the global air quality monitoring equipment market, offering market size and estimates for the period from 2017 to 2025, keeping in mind the above mentioned factors.