"Proliferating Data Generation to Bolster Data Analytics Outsourcing Market"
The global data analytics outsourcing market was worth US$ 2.73 Bn in 2018 and is projected to grow at CAGR of 21.84% during forecast period from 2019 to 2027. Data analytics is the process of collecting, scrutinizing and evaluating data in order to draw meaningful information and informative conclusions from it, so as to help businesses make effective strategic decisions. Data analytics is a time consuming and tedious process that demands complete attention and contextual domain expertise. Majority of organizations struggle with converting even a small amount of data into useful information and also lack skilled personnel for the job. Outsourcing data analytics services; on the other hand, provide qualitative and quantitative data analysis techniques, better toolsets, more flexibility, specialized expertise and services. It also benefits organizations save their time and money along with improved productivity.
Exponential rise in volume and variety of data generation is major driving factor for data analytics outsourcing market growth. Similarly, significant decrease in data storage costs over the years augmented the demand for data analytics outsourcing. With rising deployment of enterprise software systems such as Customer Relationship Management (CRM), Supply Chain Management (SCM) and Enterprise Resource Planning (ERP), large amount of data is generated pertaining to operations, consumers and vendors. Effective inventory management in supply chain for optimized production in large companies is projected to propel market growth over the forecast period. Organizations widely realize the staggering impact of data-driven business decisions in improving their profitability. Updated data analytics tools and techniques offered by data analytics service vendors pushes organizations to outsource them, thereby accelerating market growth. Furthermore, handling and analyzing structured and unstructured information in the form of big data is a cumbersome task and will act as key market driver during forecast period.
Constant cybercrime threats along with security & privacy of enterprise data are restraints in increased data analytics outsourcing market penetration. Data analytics service vendors are constantly focusing on upgrading their offerings in order to avoid probable fiasco and provide safe, secure and accurate solutions.
Market Snapshot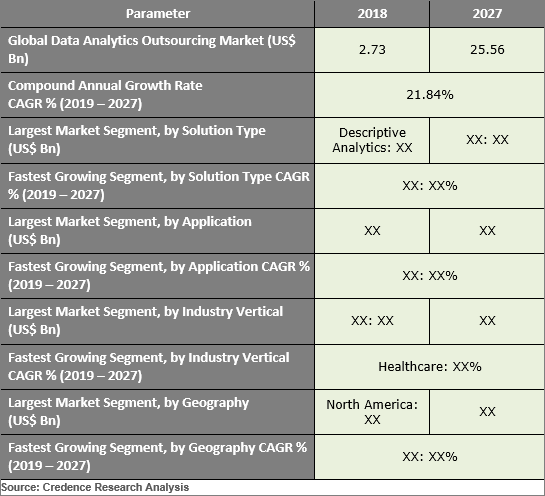 Get a sample copy for more information
"Descriptive Analytics accounted for the Largest Market Share in 2018"
Based on solution type, descriptive analytics reaped major share in the overall revenue of data analytics outsourcing market in 2018. Organizations use descriptive analytics when they need to aggregately understand their ongoing business scenario. Descriptive analytics summarizes & describes raw data and interprets it in an easy-to-understand form. It analyses past events and help organizations understand near-future implications. Presently, organizations across the world use descriptive analytics in determining tangible data such as stocks available in inventory or number of transactions in a calendar year. However, prescriptive analytics, a relatively new field of data analytics, is projected to have increased market share during forecast period as it attempts to quantify possible outcomes before the decisions are made.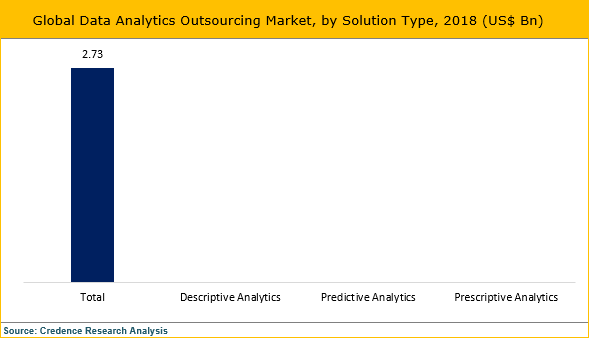 Get a sample copy for more information
"North America Reaped Largest Market Share in 2018"
The global data analytics outsourcing market, based on geography was led by North America in 2018. North America, closely followed by Europe, is primary adopter of advanced manufacturing and Industry 4.0. Similarly, advanced digital technologies such as IoT, big data, artificial intelligence, machine learning and cognitive learning among others find wide adoption among major companies across the region. All the aforementioned technologies are highly data inclusive and generate data in enormous amount. Skilled analysts offering expertise in particular fields are needed for processing such huge amount of data to provide a conclusive business solution. Majority of organizations prefer outsourcing data analytics from Asian countries owing to rapid growth of IT infrastructure across the region and availability of low-cost and skilled workforce.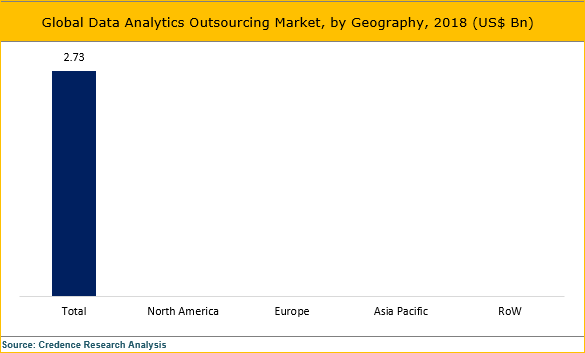 Get a sample copy for more information
Competitive Insights
Major players in data analytics outsourcing market are adopting several strategies such as advanced service offerings, mergers & acquisitions, partnerships & joint ventures and geographic expansion to gain competitive leverage in stringent market competition. Key vendors profiled in the data analytics outsourcing market include Tata Consultancy Services, Ltd., Infosys, Ltd., Capgemini SE, IBM Corporation, Accenture, plc., Mu Sigma, Inc., Fractal Analytics, Inc., HCL Technologies, Ltd., Genpact, Ltd., ZS Associates, Inc. and Opera Solutions, LLC. among others.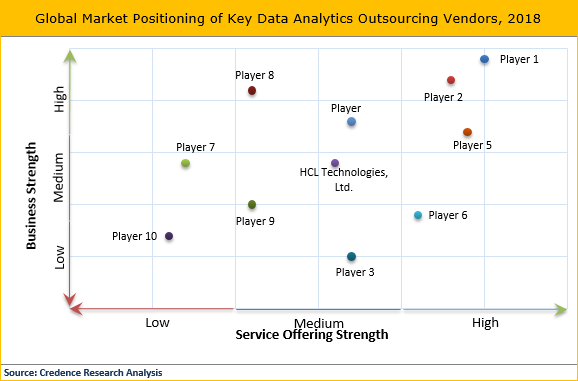 Historical & Forecast Period
The research report presents the analysis of each segment from 2019 to 2027 considering 2018 as the base year for the research. Compound Annual Growth Rate (CAGR) for each respective segment is calculated for the forecast period from 2019 to 2027.
Report Scope by Segments
Data analytics outsourcing market report provides market size and estimates based on market dynamics and key trends observed in the industry. The report provides a holistic view of global data analytics outsourcing market based on solution type, application, industry verticals and geography. Key segments covered in the report are as follows:
ATTRIBUTE
DETAILS
Research Period
2017-2027
Base Year
2018
Forecast Period
2019-2027
Historical Year
2017
Unit
USD Billion
Segmentation

Solution Type Segment (2019 - 2027; US$ Bn)
• Descriptive Analytics
• Predictive Analytics
• Prescriptive Analytics

Application Segment (2019 - 2027; US$ Bn)
• Customer & Marketing Analytics
• Finance & Risk Management Analytics
• Supply Chain Analytics
• Social Media Analytics
• Others (Operational Analytics, Real-time Analytics; etc.)

Industry Verticals Segment (2019 - 2027; US$ Bn)
• Banks, Financial Services & Insurance (BFSI)
• Telecommunication
• Retail
• Healthcare
• Manufacturing
• Media & Entertainment
• Others (Government Firms, Education; etc.)

Geography Segment (2019 - 2027; US$ Bn)
• North America (U.S., Rest of North America)
• Europe (U.K., Germany, France, Rest of Europe)
• Asia Pacific (Japan, China, India, Rest of APAC)
• Rest of the World (Middle East & Africa, Latin America)
Key questions answered in this report
What was the market size of data analytics outsourcing market in 2018 and forecast up to 2027?
What are the key factors driving the global data analytics outsourcing market?
What are the key market trends and high-growth opportunities observed in the data analytics outsourcing market?
Which is the largest regional market for data analytics outsourcing?
Which segment will grow at a faster pace? Why?
Which region will drive the market growth? Why?
Which players are leading the data analytics outsourcing market?
What are the key strategies adopted by the major players operating in the market?