"Dental Restorative Supplies Market to Exhibit Lucrative Growth during the Forecast Period"
The global dental restorative supplies market is growing significantly, was valued at US$ 3,852.0 Mn in 2017 and expected to attain US$ 6,649.4 Mn by 2026. Worldwide growing dental procedures, treatment with advanced restorative materials and minimally invasive therapies along with growing prevalence of tooth decay, loss of a tooth, and dental infection among children drives the overall market growth during the forecast period. For instance, as indicated by the Oral Health Foundation, from 2010 to 2015 more than 20% of the young population were admitted in dental hospitals & clinics because of dental caries. Additionally, in 2016, as per the American Society for Nutrition, around 47% of the adult population in the U.S. had a periodontal infection. Moreover, the rising dental tourism in developing economies, increasing healthcare expenditure, adoption of new biomaterials, direct & indirect restorative material and regenerative material fuels the demand for overall dental restorative supplies market.
In addition, new technological progress in denture materials, CAD/CAM systems, new product launch and favorable private & public initiatives in the dental industry across various developing countries will further assist in the overall growth.
Other major trends influencing the growth of the market include, increasing dental practices and higher enrollment of candidates in dental courses worldwide, gradual shift from individual practices to multi-group organizations and corporate dental organizations. Additionally, advancement in computer-assisted implant dentistry (shift to cloud platform), outsourcing of restorative procedures, and usage of advanced impression materials and fabrication elements in cosmetic industry would drive the market further.
Market Synopsis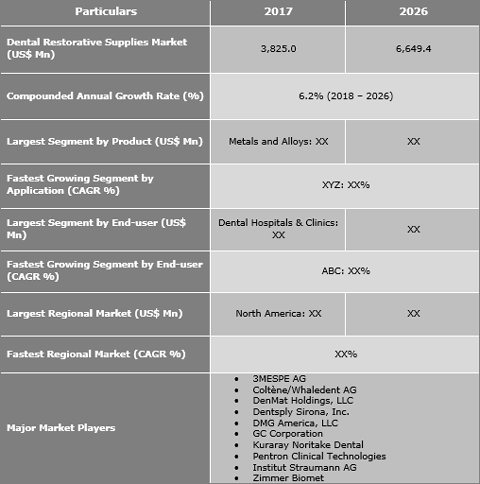 Get a sample copy for more information
"Composite Material Type Segment is expected to Register Higher Growth by the End of 2026"
International sales of dental restorative supplies will have a positive impact due to expanding technological interventions in the dental industry. This viewpoint is further fuelled with developing edentulous populace that favors dental restorative systems and unanchored denture materials. The wide range of products in the market incorporate profoundly aesthetic composites, fluoride-containing compomers and easy to use amalgam materials, empowering dental experts to meet the fluctuating demand of dental clients and the diverse requirements in the dental practice segment. Increasing popularity of composite resins along with self-adhering flowable composites, smart composites, and bulk-fill flowables are expanding interest in the end user segment. The composite fillings in dental restorations are benefiting patients from the change away from traditional dental amalgams. Additive manufacturing is also transforming the dental restoration industry, increased applications of S82 Fluorcanasite, Zirconia, Lithium Disilicate, Cention N and other advanced biomaterials is gaining traction during the forecast period.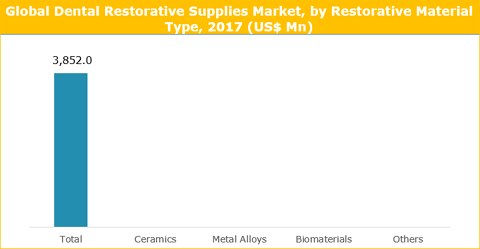 Get a sample copy for more information
"Increasing Applications for Impression Materials, Denture Material and Biomaterials"
There is an increase in dental surgical procedures in emerging economies along with the high prevalence of tooth decay, adoption of new restorative materials with enhanced applications by utilizing biomaterials, bonding materials, impression materials, and composite materials. Increasing utilization of 3D printing technology, compound usage for customized denture and expendable pattern materials, new product launches, and maximum utilization of dental amalgams in developing economies is further going to spur revenue growth during the forecast period. Recently, layering restoration practices have been functionally utilized by several dental clinicians. Other applications contributing the growth of the market include, introduction of nanohybrid composites and dental nanocomposites, launch of self-etching bonding agents, usage of composite restoratives for high-esthetics indications and bonded amalgam for easy-to-place posterior restorations. Additionally, increased applications for impression materials, glass ionomers, dental ceramics and metal & alloy (gold and silver) is also going to spur revenue growth during the forecast period.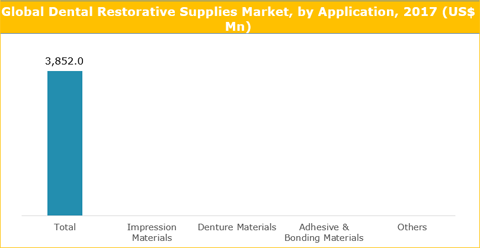 Get a sample copy for more information
"The Dental Clinics Segment is expected to Register Higher Growth by the End of 2026"
Overall demand for dental restorative supplies in dental clinics expected to grow at a reasonably healthy rate. Moreover, changing consumer approach towards dental aesthetics, tooth decay treatment along with increasing procedures in the dental hospitals and clinics is generating maximum share during the forecast period.
In addition, expanded use of customized or fabricated elements, usage of composite materials and advanced biomaterials along with computer-aided systems for better and long-term results are driving the worldwide dental restorative supplies in the end user segment. However, higher cost of treatment, surgery along with fewer outcomes in various dental prosthetic cases due to lack of supplies and equipment are hampering the development of dental restorative supplies market.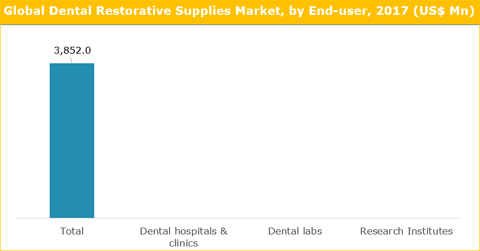 "Increasing Prevalence of Tooth Decay and the Presence of Established Players Holds North America in Dominant Position"
North America to contribute maximum revenue share in the overall growth of the dental restorative supplies market attributed to aging population, rising surgical procedures and higher adoption of branded materials. Major factors contributing the maximum revenue generation include, increasing awareness and programs held by top trained and skilled dental professionals, maximum reimbursement coverage, higher patient safety and the presence of top key manufacturers in the U.S. As per the data from American Dental Association, national dental expenditures in the U.S rose from US$ 114 billion in 2014 and touched US$ around 117 billion in 2015. Major external factors enhancing the overall dental restorative supplies industry include, the high prevalence of tooth decay among children globally, increased spending on oral care globally, advancements in the restorative materials, increasing partnerships, growing dental tourism and demand for aesthetic restorations in the cosmetic dentistry. However, in low and middle economies of Africa, Asia, and Latin America, availability of preventive dental treatment is limited. Lack of skilled dental professionals, poor supply chain, less accessibility of advanced products and high cost along with no or very less reimbursement structure is limiting the overall growth of the market.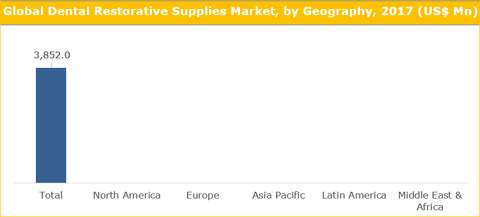 "Dominance of Multinational Manufacturers with Strong Product Portfolio in the Developed Regions"
Major players in the dental restorative supplies market are Dentsply Sirona, Inc., 3MESPE AG, Coltène, DenMat Holdings, LLC, DMG America, LLC, GC Corporation, Kuraray Noritake Dental, Pentron Clinical Technologies, Institut Straumann AG, Zimmer Biomet, and others. Top manufacturers are implementing growth strategies along with new technology assessment in advanced biomaterials, new product launch partnerships with dental hospitals & medical technology companies. For instance, in Feb 2016, DENTSPLY International Inc. completed its full merger with Sirona Dental Systems, Inc. (one of the largest manufacturers of dental solutions), In Sep 2018, Kuraray Noritake Dental introduced KATANA bonding kit, which encompasses CLEARFIL Universal Bond Quick and PANAVIA SA Cement Plus. In 2016, Zimmer Biomet launched the 3.1 mmD eztetic implant and 3i T3 short implants. In March 2017, Aalign technology announced new teen solution with the launch of Invisalign teen with mandibular advancement.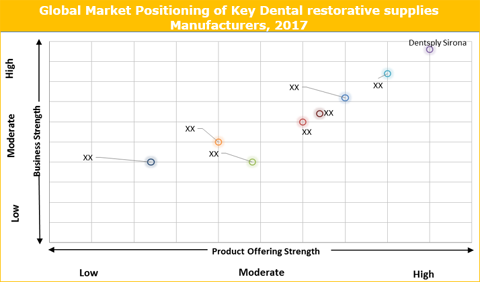 Historical & Forecast Period
This study report represents analysis for each segment from 2016 to 2026 considering 2017 to be the base year. Compounded Annual Growth Rate (CAGR) for each of the respective segments estimated for the forecast period from 2018 to 2026.
Report Scope by Segments
ATTRIBUTE
DETAILS
Research Period
2016-2026
Base Year
2017
Forecast Period
2018-2026
Historical Year
2016
Unit
USD Million
Segmentation

Restorative Material Type (2016–2026; US$ Mn)
• Ceramics
• Metal Alloys
• Biomaterials
• Composite Materials
• Others (Composite resin, Glass Ionomer Cement and Compomers)

Application Segment (2016–2026; US$ Mn)
• Impression Materials
• Denture Materials
• Adhesive & Bonding Materials
• Others (Fabricated Materials, Endodontic Materials And Implants)

End-user Segment (2016–2026; US$ Mn)
• Dental hospitals & clinics
• Dental labs
• Research Institutes

Geography Segment (2016–2026; US$ Mn)
• North America (United States and Canada)
• Europe (U.K., Germany, Rest of Europe)
• Asia Pacific (China, Japan, Rest of Asia Pacific)
• Latin America (Brazil, Mexico, Rest of Latin America)
• Middle East and Africa (GCC, Rest of MEA)
The current report also comprehends qualitative and qualitative market valuation factors such as key market drivers, market trends, restraints and opportunities that gives a better market understanding of the overall dental restorative supplies market. Additionally, the global report also comprises graphical representation of competitive landscape based on their market initiatives and strategies, product portfolio and business strengths.
Key questions answered in this report
What are the current market trends and dynamics in the dental restorative supplies market and valuable opportunities for emerging players?
Market positioning of major key players operating in the market?
Which segment accounts for the fastest CAGR during the forecast period?
Which end-user holds a larger market share and why?
What is the impact of high cost of implants and surgery on the dental restorative supplies market?
Are low and middle-income economies investing in the dental restorative supplies market?
What is the market trend and dynamics in emerging markets such as Japan, Latin America and Middle East & Africa?