Industry Outlook
Dental biomaterials market accounted for a market value of US$ 6,042.5 Mn in 2017 and projected to grow at a CAGR of 7.3% during the forecast period from 2018 to 2026. According to World Health Organization (WHO), dental caries is one of the major public health issues in most of the developed countries, as the disease affects 60-90% of children and the majority of adults. Currently, the distribution and severity of dental caries may differ in various parts of the world and sometimes within the region or country.
Market Synopsis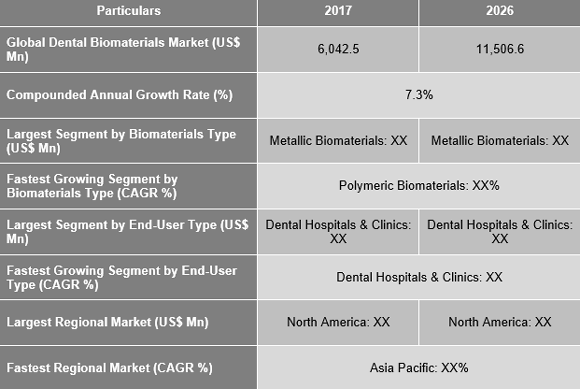 Get a sample copy for more information
"Polymeric biomaterials is the fastest growing segment due to high product compatibility, flexibility, strength, and resistance"
During the forecast period from 2018 to 2026, polymeric biomaterials expected to be the fastest growing segment due to key market drivers such as high product durability reduced risks of infection compared to other materials, and material flexibility provides ease in shape formation. More specifically polymeric biomaterials used in dentistry for their unique antimicrobial & drug delivery properties in preventive, regenerative, and restorative therapies to reduce friction and corrosion. In addition to that, the key properties possessed by polymeric biomaterials are biocompatibility, good resilience, lightweight, easy fabrication, and high corrosion resistance.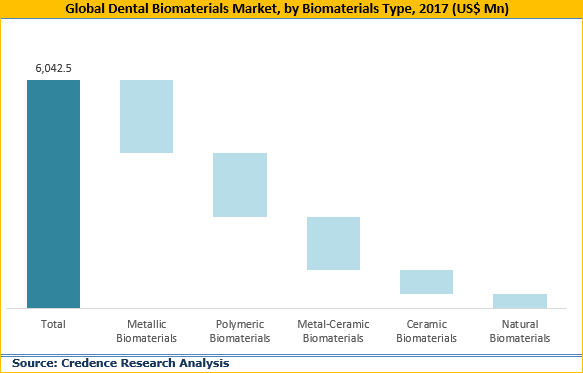 Get a sample copy for more information
"Rising number of dental hospitals & clinics along with high awareness related to early diagnosis & treatment of dental disorders"
Dental hospitals & clinics segment dominated the overall market in the year 2017 and will maintain its position from 2018 to 2026. Patients visiting dental hospitals & clinics facing dental or oral problems are most of the times suffering from diabetes. In diabetes, tooth decaying can also turn life threatening if left untreated. Hence, government & non-government organizations promoting oral & dental care as one of the most crucial care practiced by diabetic patients. Dental hospitals & clinics segment is dominating the market due to key factors such as availability of modern diagnostic systems & treatment support under a single roof, and presence of qualified doctors that provide dental care in a skillful manner.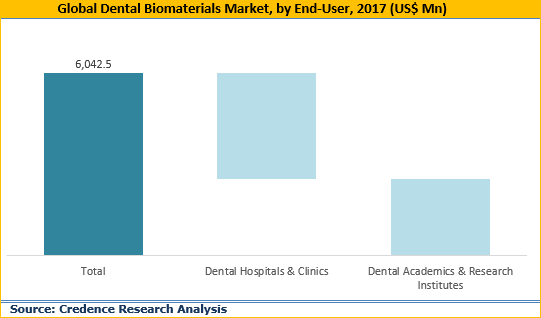 Get a sample copy for more information
"Increasing awareness related to dental care, developing dental infrastructure & high penetration of different types of dental biomaterials make Asia Pacific the fastest growing region in dental biomaterials industry
During the forecast period from 2018 to 2026, Asia Pacific claimed as the fastest growing dental biomaterials market. The major market driving factors assisting the significant growth of this region are mounting prevalence & awareness of dental disorders in developed & developing countries, evolving dental care infrastructure in major developing countries such as China & India, and high accessibility assisting the adoption of latest dental biomaterials. Asia Pacific has highest diabetic population due to which awareness campaigns related to dental care effectively carried out in the region that leads to a noticeable increase in diagnosis rate of dental disorders and ultimately assisting the growth in treatment rate.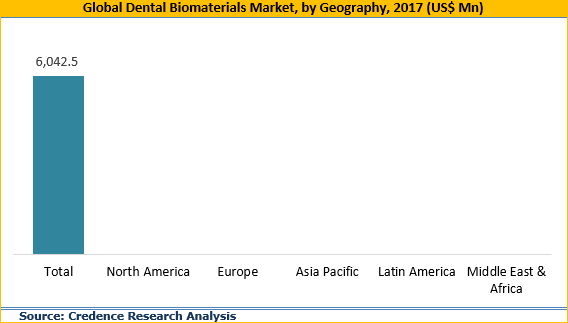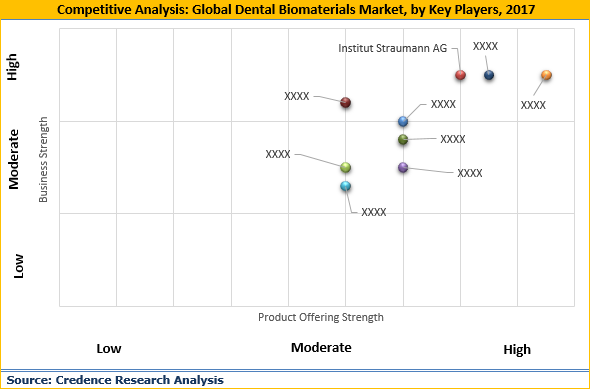 Historical & Forecast Period
The dental biomaterials market analyzed considering current market trends for base year 2017 and based on future trends CAGRs calculated for the forecast period from 2018 to 2026.
Report Scope by Segments
This report comprises broad qualitative and quantitative information related to the vital market dynamics (opportunities, drivers, & restraints) specific to regional as well as country-level data on dental biomaterials market. A detailed study of the global dental biomaterials market covered in the report by segmenting the global dental biomaterials market based on biomaterials type, end-users, and geography. This report will assist the industry stakeholders to take crucial decisions and executing strategies in the dental biomaterials market.
ATTRIBUTE
DETAILS
Research Period
2017-2027
Base Year
2018
Forecast Period
2019-2027
Historical Year
2017
Unit
USD Million
Segmentation

Biomaterials Type Segment (2016–2026; US$ Mn)
• Metallic Biomaterials
o Titanium
o Stainless Steel
o Chromium Alloys
o Other Metallic Materials (Gold, Nickel, etc.)
• Ceramic Biomaterials
o Silica - based Ceramics
o Glass-Ceramics
o High Strength Core Ceramics
• Polymeric Biomaterials
o Polyethylene (PE)
o Polymethyl Methacrylate (PMMA)
o Polycarbonate (PC)
o Polyethylene Glycol (PEG)
o Polyurethane (PUR)
o Other Polymers (PLLA, PCL, Ppy, etc.)
• Metal-Ceramic Biomaterials
• Natural Biomaterials

End-User Segment (2016–2026; US$ Mn)
• Dental Hospitals & Clinics
• Dental Academics & Research Institutes

Geography Segment (2016–2026; US$ Mn)
• North America (U.S., Canada)
• Europe (U.K., Germany, Rest of Europe)
• Asia Pacific (Japan, China, South Korea, Rest of APAC)
• Latin America (Brazil, Mexico, Rest of LATAM)
• Middle East and Africa (GCC, Rest of MEA)
This report explains about the major assessment factors including market dynamics to get an extensive understanding about the global dental biomaterials market. Furthermore, the major companies analyzed thoroughly in this report based on attributes such as business strength, financial overview, product portfolio, recent developments, and recent market strategies. The report also comprises attractive investment proposition that is result of exhaustive geographical study carried out based on PESTEL analysis. Key companies present in the report are Dentsply Sirona, Inc., Institut Straumann AG, 3M Company, Zimmer Biomet Holdings, Inc., Geistlich Pharma AG, Danaher Corporation, and Royal DSM among others.
Key questions answered in this report
Which is the highly demanded dental biomaterial type in the market & Why?
What are the current market strategies devised & practiced by major companies present in dental biomaterials market?
Which are the highly attractive regions and countries leading and swiftly growing in dental biomaterials market?
Which is the largest and fastest growing dental biomaterials type globally?
What is the competitive landscape of dental biomaterials market and strategies of key players present in this industry?