Electricity supply has become a lifeline for the modern day living as well as industrial sector. Almost every operation in industrial manufacturing and processing, construction, power generation, and many other fields cannot be executed without a safe and uninterrupted supply of electricity. Different methods are used in nascent times to generate electricity which includes thermal power plants, hydroelectric power plants, a non-conventional method for generating power and nuclear power plants. However, one of the major concerns for the electricity network is to maintain the electric cables in hostile conditions such as high temperature, electromagnetic interference, ionizing radiation, moisture, oxidization, and others. Normal electric conductor cable is incapable of sustaining the aforesaid conditions. Consequently, mineral insulated cables are being increasingly preferred over conventional cables so as to overcome the aforementioned issues.
Mineral insulated cable is a copper conductor cable enclosed in either copper or stainless steel sheath. The intervening space between the conductor and sheath is filled with magnesium oxide, which acts as an insulator for the conductor. Magnesium oxide restricts any kind of foreign intervention with the copper conductors. Thus, any kind of oxidization, electric or thermal conduction and radiation interference are avoided, thereby ensuring optimum efficiency of these cables.
The rise in power generation capacity is the most significant factor fuelling the adoption of mineral insulated cables. These cables are capable of withstanding heavy electricity load with robust protective insulated sheet. This ensures seamless conduction of electricity with minimal possibilities of short-circuit and fire. Consequently, mineral insulated cables are extensively used in electricity supply network in nuclear power plants as well as industrial manufacturing & processing sectors. Apart from these, mineral insulated cables are also used in other applications such as fire protection equipment, oil & gas rigs, construction and several others.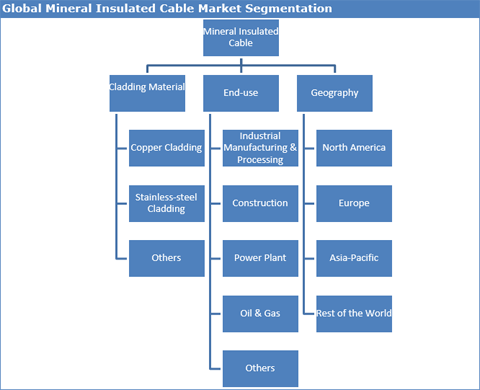 The report titled "Mineral Insulated Cable Market - Growth, Future Prospects and Competitive Landscape, 2017–2025" offers strategic insights into the global mineral insulated cable market with a focus on the market size and estimates for the duration 2015 to 2025. The said research study covers in-depth analysis of multiple market segments based on cladding material, end-use and cross-sectional study across different geographies. The study covers the comparative analysis of different segments for the years 2016 & 2025. The report also provides a prolific view on market dynamics such as market drivers, restraints, and opportunities.
In order to help strategic decision makers, the report also includes competitive profiling of the leading mineral insulated cable manufacturers, their business strategies, and market positioning and key developments. Some of the major players profiled in the report Ari Industries, Nexans S.A., KME Group, Watlow Electric Manufacturing Co., Raychem HTS, Temperature Technology Ltd., Sumitomo Group, The Emerson Electric Company, Zhejiang Taisuo Technology Co. Ltd., Arthur J. Hurley Company, Inc., Mil GmbH, M.I. Cable Technologies, Inc., OMEGA Engineering, Inc., Trasor Corporation, and others. Other in-depth analysis provided in the report includes:
Current and future market trends to justify the forthcoming attractive markets within the mineral insulated cable.
Market drivers, market restraints, and their impact on the market growth
In-depth competitive environment analysis
Trailing 2-Year market size data (2015 – 2016)
SRC (Segment-Region-Country) Analysis
Overall, the research study provides a holistic view of the global mineral insulated cable, offering market size and estimates for the period from 2017 to 2025, keeping in mind the above-mentioned factors.