Key Market Insights
"Increase use of paperboard and ban on use of plastic will spur the market revenue growth"
The global paperboard market accounted for US$ 184.64 Bn in 2018 and is anticipated to grow to US$ 273.19 Bn growing at a CAGR of 4.5% throughout the forecast period from 2019 to 2027. In 2018, in terms of volume market register sales of 93.15 Mn MT and anticipated to reach 108.89 Mn MT expanding at a CAGR of 1.8%.
Growth of the global paperboard market is expected to be driven by a combination of factors including rising environmental concerns, ban on use of plastic, recyclability of paper, and increasing awareness for sustainable packaging among others. The global paper consumption is at unsustainable levels and is steadily increasing especially in Asia and Africa region. This in turn is boosting the demand of paperboard market. Increasing usage of paperboard in packaging globally is boosting the demand of the market. There are several different paperboard available and find usage in different industries. Rapid advancements in accessibility and quality of digital printing on paperboard empowers and augments agility for food brands which is further bolstering the demand of paperboard market.
Additionally, the growing trend to use recycled paper and paperboard with a worldwide recycling rate of more than 55% is propelling the use of paperboard. Over the past 50 years paperboard production and consumption has shifted from the North America and Europe region to Asia Pacific. Increasing use of recycled fiber reduces paperboards production footprint and preserves environmental quality. Thus, proliferating the growth of paperboard market. Paperboard offers various benefits including performance and flexibility, consumer appeal and sustainability. For instance, According to statistics provided by the US EPA (Environmental Protection Agency), paper and paperboard packaging contributes approximately 3/4th of packaging material recovered for recycling in the US which is significantly greater than other packaging materials.
Market Synopsis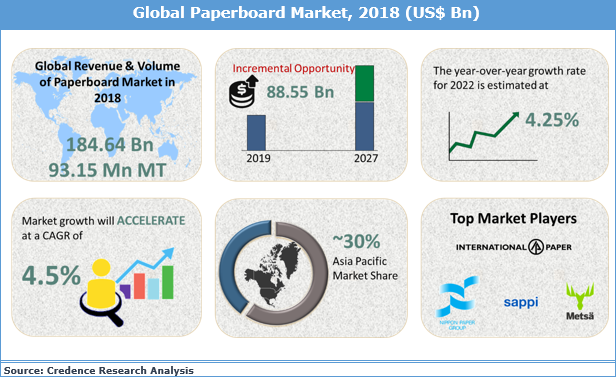 Get a sample copy for more information
Grade Analysis
"Solid bleached sulfate to dominate the market throughout the forecast period."
Based on grade, the paperboard market is classified into solid bleached sulfate, coated unbleached kraft paperboard, uncoated recycled paperboard, and coated recycled paperboard. The solid bleached sulfate segment dominated the global paperboard market accounting for more than 30% of market share. This can be associated with the wide usage of it in various applications including, medical packaging, cosmetic and perfume packaging, aseptic drink packaging, frozen food packaging, milk and juice gable top cartons and stand up displays among others.
In contrast, coated recycled paperboard segment expected to grow rapidly during the forecast period. These paperboard find applications in soap and laundry detergent packaging, cookie and cracker packaging, paper goods packaging, and cereal box packaging among others.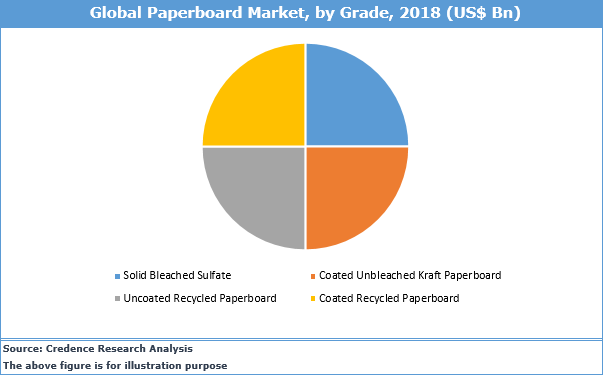 Get a sample copy for more information
End-user Analysis
"Food & beverage segment expected to dominate the market during the forecast period"
On the basis of end-user, the global paperboard market is further classified into food and beverages, medical packaging, personal & home care, others (shoe packaging, stationary, etc.). The food and beverage segment dominated the paperboard market and is anticipated to retain its position throughout the forecast period. The segment accounted for more than 40% share in terms of revenue and more than 35% share in terms of volume. Owing to the increasing world population, rising food and beverage consumption, and increasing number use of packed foods globally is expected to boost the market demand in this segment.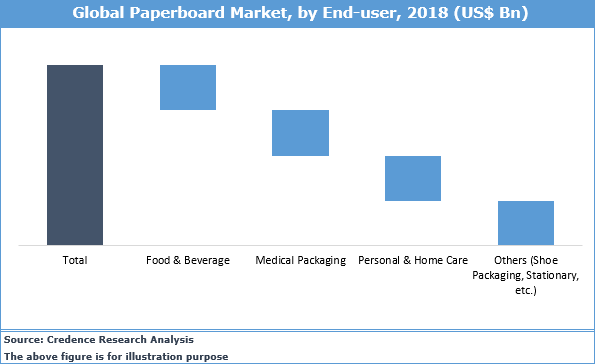 Get a sample copy for more information
Regional Analysis
"Rising environmental concerns to bolster the growth in Asia Pacific region"
In 2018, Asia Pacific region led the global paperboard market and contributed more than 30% of revenue generated globally and more than 35% in volume terms. This can be associated to, rising industrialization, increasing population and surge in manufacturing industries in the emerging countries such as China, and India among others. The consumption of paper is slightly declining in North America region it is significantly rising in the Asia Pacific region and driving planned expansion of the paper and paperboard industry.
In contrast, Rest of the world region is anticipated to expand at a significant growth rate. Owing to the ongoing industrialization in the region coupled with presence of large forest areas in the region especially in Africa region. Thus, bolstering the market growth.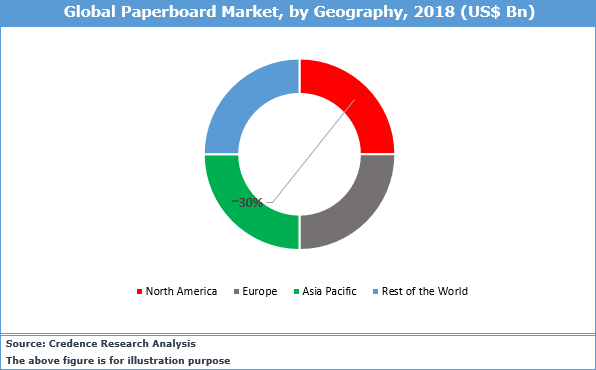 List of Companies Covered:
Metsa Group
Sappi Limited
Caraustar and Cascades Inc.
Oji Holdings Corporation
Nippon Paper Industries Co. Ltd.
International Paper Company
ITC Limited
Paper Works Industries
Shandong Bohui Paper Group Co., Ltd
Kappa Group plc.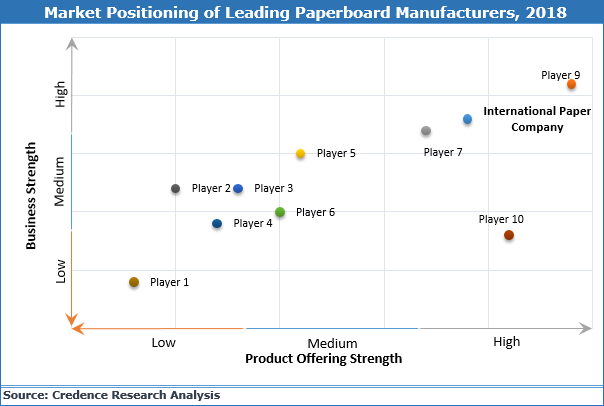 Key Industry Development:
In March 2019, Sappi Limited announced the commercialization of two new packaging products Proto and Spectro. These products have high-quality print capabilities and consistency.
Historical & Forecast Period
This study report represents analysis for each segment from 2017 to 2027 considering 2018 to be the base year. Compounded Annual Growth Rate (CAGR) for each of the respective segments estimated for the forecast period from 2019 to 2027.
Market Segmentation
ATTRIBUTE
DETAILS
Research Period
2017-2027
Base Year
2018
Forecast Period
2019-2027
Historical Year
2017
Unit
USD Billion
Segmentation

Grade Segment (2017–2027; US$ Bn)
• Solid Bleached Sulfate
• Coated Unbleached Kraft Paperboard
• Uncoated Recycled Paperboard
• Coated Recycled Paperboard

Application Segment (2017–2027; US$ Bn)
• Graphic printing
• Packaging

End-user Segment (2017-2027; US Bn)
• Food & Beverage
• Medical Packaging
• Personal & Home Care
• Others (Shoe Packaging, Stationary, etc.)

Geography Segment (2017–2027; US$ Bn)
• North America (U.S., Rest of North America)
• Europe (U.K., Germany, Russia, Rest of Europe)
• Asia Pacific (Japan, China, India, Rest of Asia Pacific)
• Rest of the World (Middle East & Africa, Latin America)
The current report also comprehends qualitative and qualitative market valuation factors such as key market drivers, market trends, restraints and opportunities that gives a better market understanding of the overall Paperboard market. Additionally, the global report also comprises graphical representation of competitive landscape based on their market initiatives and strategies, product portfolio and business strengths.
Key questions answered in this report
What are the current market trends and dynamics in the paperboard market and valuable opportunities for emerging players?
Estimated forecast and market projections up to 2027
Which segment accounts for the fastest CAGR during the forecast period?
Which application segment holds a larger market share and why?
Are low and middle-income economies investing in the paperboard market?
Which is largest regional market for paperboard?
What is the market trend and dynamics in emerging markets such as Asia Pacific, Latin America and Middle East & Africa?
Worldwide market value of the Paperboard market in 2017 and 2018
Which are the key trends driving the global paperboard market growth?
Who are the leading service providers in the paperboard market worldwide?