During the last decade global availability of pepper has increased substantially. There are three types of pepper, black, white and green. The two main types of pepper sold are black and white. Black peppercorns are dried ripe berries of the Piper nigrum plant and white peppercorns that are dehusked berries. Green pepper are preserved in brine or vinegar and sometimes sold as a delicacy.
Worldwide, Vietnam is the largest producer of pepper accounting for more than 32% of total world production followed by India and Indonesia with about more than 15% share each. Vietnam is the only country whose production is witnessing growth from the last decade while other producing countries witnessed either a drop or stagnation in output. The major benefit of Vietnam is their vast production and the highest productivity across the world. India and Indonesia are the largest importers of pepper followed by China and Malaysia.
Pepper due to its antibacterial properties is used to preserve food. It is a rich source of various nutrients such as iron, vitamin-C, manganese, vitamin K, potassium, and dietary fiber. Black pepper is also an excellent anti-inflammatory agent. An antioxidant like pepper can prevent or repair the damage caused by the free radicals and thus help to prevent cancer, cardiovascular diseases and liver problems.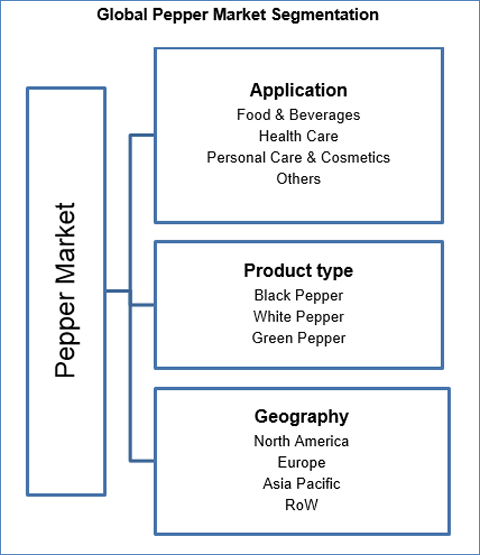 The report titled "Global Pepper Market- Growth, Share, Opportunities and Competitive Analysis, 2016 – 2023" offers strategic insights into the global pepper market along with the market size and estimates for the duration 2013 to 2023. The said research study covers in-depth analysis of multiple market segments based on types, applications and cross-sectional study across different geographies. The study covers the comparative analysis of different segments for the years 2015 & 2023. The report also provides a prolific view on market dynamics such as market drivers, restraints and opportunities.
In order to help the strategic decision makers, the report also includes profiles of the leading pepper manufacturers, their SCOT (Strength, Challenges, Opportunities and Weaknesses) analysis and key developments. The major players profiled in the report are Baria Pepper, Catch, Everest Spices, Akar Indo, British Pepper and Spice, McCormick, MDH, DM AGRO, Visimex, and Brazil Trade Business. Further, the report also covers market positioning of the key players operating in the pepper market. Other in-depth analysis provided in the report includes:
Current and future market trends to justify the forthcoming attractive markets within the pepper industry
Market fuelers, market impediments, and their impact on the market growth
In-depth competitive environment analysis
Trailing 2-Year market size data (2013 – 2014)
SRC (Segment-Region-Country) Analysis
Overall, the research study provides a holistic view of the global pepper market, offering market size and estimates for the period from 2015 to 2023, keeping in mind the above mentioned factors.