Industry Outlook
The development journey of plasma cutting machines is quite significant since its first introduction in the 1950s. As a non-conventional machining process, plasma cutting is one of the most widely used machining processes fro different conducting metals and allows across variety of industries. Modern plasma cutting machines are termed as high definition fully-integrated CNC plasma machines capable of generating immaculate accuracies with a user-friendly interface. Perpetual development in matching methods and introduction of advanced control system helped plasma cutting machines market to registered market growth at a considerable CAGR of 5.8% throughout the forecast period from 2018 to 2026
Market Synopsis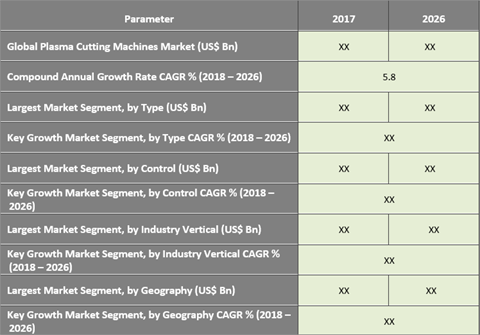 Get a sample copy for more information
"Single Flow Plasma to Make Way for Duel Flow Plasma Cutting Machines During the Forecast"
At present single flow plasma cutting machines dominate the global market in terms of market value. The system uses only a single gas, generally air or nitrogen to produce and cools down the plasma. The process lacks presence of another gas which can be used as a shielding gas to protect nozzle from molten metal often leading to short nozzle life. However, the technology is rapidly being replaced by duel flow plasma nozzles owing to greater accuracy and long operational life. Duel flow plasma cutting machines are being incorporated rapidly across several industry verticals and are soon expected to take over conventional single flow plasma in next few years.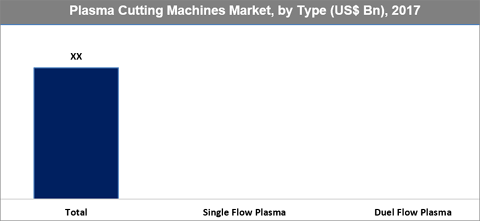 Get a sample copy for more information
"CNC Plasma Cutting Machines Creating Positive Impact on Production Rate and Product Quality"
On the basis of control, plasma cutting machines are broadly classified into manual and CNC plasma cutting machines. Manual plasma cutting machines including permanent and bench machines required a skilled human operator to direct the plasma nozzle to desired locations. Dealing with extreme temperature and accurately directing the nozzle is a tedious task and often lead to inaccuracies in final products such as tapered holes and imperfect straight cuts. Moreover, introduction of computerized numerical control (CNC) plasma cutting machines completely transformed the scenario in non-conventional machining. CNC plasma cutting machines are capable of producing accurate cuts and hole and can be extensively used for drag cutting with minimum requirements for product finishing. Owing to the aforementioned merits CNC plasma cutting machines dominated the overall plasma cutting machines market in terms of market value and expected to retain its dominance throughout the forecast period. Manual plasma cutting machines projected to grow with a sluggish growth rate owing to its limited application in small workshops and portable applications.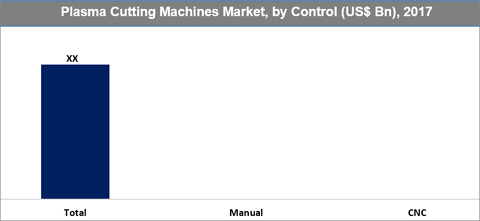 Get a sample copy for more information
"Automotive Emerged at the most Dominating Industry Vertical in Terms of Market Value"
Plasma cutting machines are extensively used in industries dealing with cutting and forming of heavy metals such as steel, aluminum, brass, and copper. Automotive industry is a major market share holder in plasma cutting machines market in terms of market value. The industry deals with metal sheets of varying thickness and needs a viable solution to accurately cut the sheets in desired shape. Besides automotive, industrial manufacturing and aerospace & defense also incorporated plasma cutting machines on considerable scale. Automotive industry vertical projected to retain its dominance over the market owing to the continuous growth in demand for modern automobiles.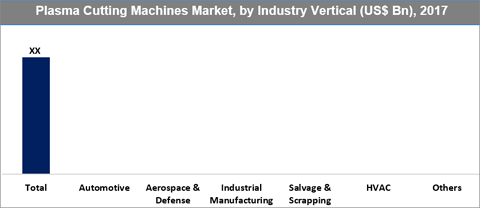 "Asia Pacific Emerged as the New Market Leader in Plasma Cutting Machines Market"
Asia Pacific is home to some of the most productive and rapidly developing countries. Manufacturing and automotive sector in Asia Pacific are making significant leaps and the developing countries in region expected to proliferate consistent in coming years. Flourishing industrial manufacturing and automotive industries, especially in China, India, Japan, and South Korea, provided a fruitful environment for plasma cutting machines market. Asia Pacific is closely followed by North America and Europe in terms of market value in 2017.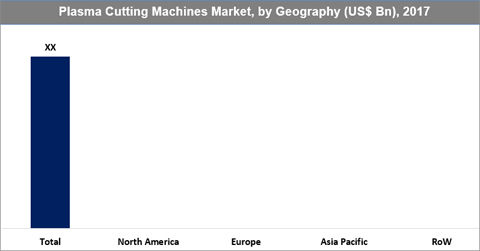 Market Segmentation
ATTRIBUTE
DETAILS
Research Period
2016-2026
Base Year
2017
Forecast Period
2018-2026
Historical Year
2016
Unit
USD Million
Segmentation

by Type(2016–2026; US$ Bn)
• Single Flow Plasma
• Duel Flow Plasma

by Control (2016–2026; US$ Bn)
• Manual
• CNC

by Industry Vertical (2016–2026; US$ Bn)
• Automotive
• Aerospace & Defense
• Industrial Manufacturing
• Salvage & Scrapping
• HVAC
• Others (Workshops, Construction, etc.)

Geography Segment (2016–2026; US$ Mn)
• North America (U.S. and Rest of North America)
• Europe (U.K., Germany, France, and Rest of Europe)
• Asia Pacific (Japan, China, India, and Rest of Asia Pacific)
• Rest of World (Middle East & Africa (MEA), Latin America)
"Product Versatility Engaged Several Local and International Players into a Cut-throat Competition"
Long-term merits of plasma cutting machines encouraged several industry verticals to incorporate the machining system into their production line. This attracted several machine tool manufacturers to introduce their featured machines into market making the market highly fragmented. A stiff competition among local and international players has been observed in plasma cutting machines market and the competition expected to aggravate further in coming years. The research study discusses the key business strategies adopted by the most prominent players participating in plasma cutting machines market. Some of the companies profiled in the reports include AJAN ELEKTRONIK, Automated Cutting Machinery, C&G Systems, ERMAKSAN, Esprit Automation, HACO, Hornet Cutting Systems, Miller Electric Mfg, MultiCam, SICK, SPIRO International, The Lincoln Electric Company, Voortman Steel Machinery, and among others.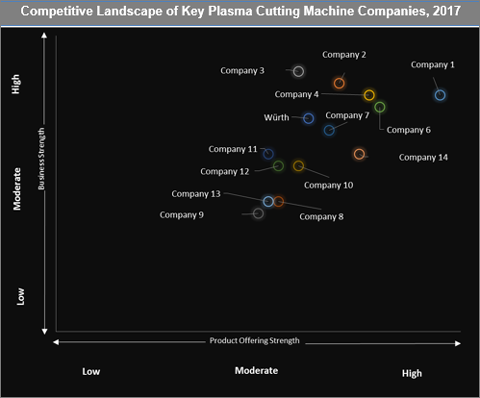 Key questions answered in this report
What are the most recent trends in the plasma cutting machine market and promising opportunities for the players?
How material thickness and introduction of new alloys made an impact on the global as well as regional plasma cutting machine market?
Which are the largest and fastest growing segment in terms of type, control, and industry verticals?
Which are most beneficial geographical region/country for overall plasma cutting machine market?
What is the market size and trends in developing regions such as Asia Pacific, Middle East & Africa, and Latin America?