Polybenzimidazole (PBI) fiber is defined as the synthetic textile fiber which possess high chemical resistance and is inflammable in air. PBI fiber does not exhibit any melting point and therefore does not drip when exposed to flame and even at temperatures of 560˚C. In the textile industry PBI fiber is witnessing strong demand as they retain their strength without infringement even when exposed to extreme higher temperatures. In any case, under outrageous conditions, the fiber emanates little smoke. Additionally, the better thermal stability of polybenzimidazole enhances its demand in high-performance protective apparel such as protective gloves, firefighter's gear, welders' apparel, astronaut space suits, and aircraft wall fabrics. Therefore, industry players such as Celanese Corporation in collaboration with NASA have designed PBI textiles for its utilization in space suits and vehicles. Currently, polybenzimidazole fibers are also witnessing its application in membrane of fuel cells. In civil engineering, 100% pure or blended PBI fibers are deployed for applications such as plastic reinforcements.
The market is witnessing significant growth owing to its surging demand for the production of light weight and enhanced demand for safety and security. Moreover, the attractive textile and tactile performance exhibited by these fibers in comparison with other synthetic fiber also surges the market growth. However, high costs associated with the production of PBI fibers deter market to an extent.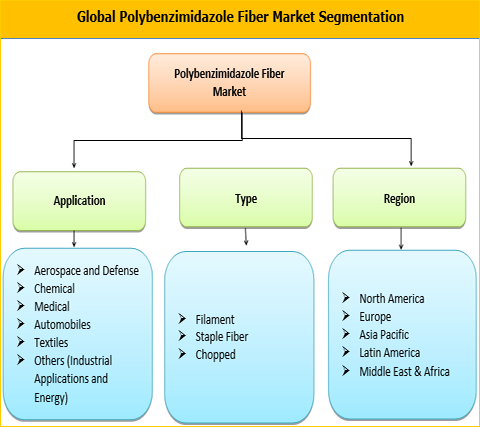 On the basis of type, the market is categorized into PBI filament and PBI staple fiber. On the basis of application, the market is further categorized into aerospace and defense, chemical, medical, automobiles, textiles and others (Industrial uses and energy). Polybenzimidazole Fiber market is further categorized on the basis of geography as North America, Europe, Asia Pacific, Latin America (LATAM) and Middle East & Africa (MEA). In 2016, North America, dominated the market growth and is expected to maintain its dominance during the forecasted period due to massive demand for PBI fibers from end-use industries such as automotive and aerospace. Additionally, the high liquid oxygen index along with its high chemical resistance and moisture regain properties make PBI an ideal fiber for fire blocking purposes such as safety and flame retardant fabrics. However, Asia-Pacific is projected to grow at a rapid pace as this region being the largest consumers of high performance fibers owing to rising end-user base in this region. Furthermore, growing inclination of leading manufacturers from U.S. and Europe over Asia-Pacific region in order to expand their business is another factor bolstering the market growth.
Some of the key players operating in the market include Atkins & Pearce, Bally Ribbon Mills (BRM), TenCate Protective Fabrics, PBI Performance Products, Dupont, Celanese Corporation and other notable players.