Modern day automobile are designed to exhibit high performance features such as exceptional speed and improved overall efficiency. However, with the enhancement of performance parameters, it becomes essential to incorporate the related safety system in automobile vehicles. Automotive braking system is one of the most such crucial and integral components of any automobile vehicle. In order to regulate the vehicle speed and reduce vehicle stopping distance, advanced braking systems are required. Each braking system is designed and preferred based on their application and working conditions. In order to suffice the safety challenges automotive braking systems are now manufactured incorporating electronics and additional features for efficient, economical and durable braking system.
The overall automotive braking system market is strongly driven by the ever-increasing demand for on road vehicles. Post-recession, the automotive industry worldwide has exhibited positive signs of recovery in recent years. Consumption of luxury and semi-luxury high performance vehicles has risen significantly over the period of time. Subsequently, need for efficient braking system for vehicles including passenger cars, light commercial vehicle, heavy commercial vehicles as well as two wheelers are perpetually increasing. This would continue to spur the automotive braking system market considerably in the coming years.
Automotive braking systems are segmented according to their type, working medium, technology and vehicles types. According to type, braking systems are classified as disk brake system and drum brake system. On the basis of vehicle class, the market is classified into passenger cars, light commercial vehicles (LCV), heavy commercial vehicles (HCV) and two wheelers. Automotive brake systems are segmented, based on the mode of operation, as hydraulic brake system and pneumatic (air) brake systems.On the basis of geographic regions, the automotive braking system is segmented into – North America, Europe, Asia Pacific, Middle East & Africa (MEA), Latin America. At present, Asia Pacific leads the automotive braking system market. The market here is majorly governed by countries such as China, Japan, South Korea and India, Having huge automotive industry.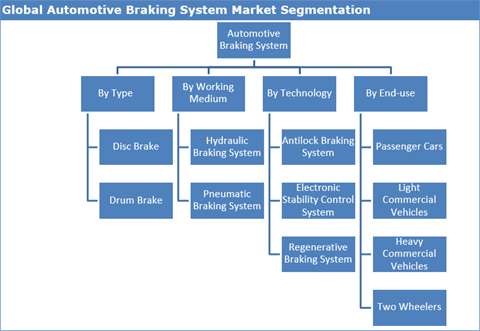 The report titled "Automotive Braking System Market- Growth, Future Prospects and Competitive Landscape, 2016 - 2024 offers strategic insights into the global automotive braking system market with focus on the market size and estimates for the duration 2014 to 2024. The said research study covers in-depth analysis of multiple market segments based on product types, working medium, technology, end-use and cross-sectional study across different geographies. The study covers the comparative analysis of different segments for the years 2015 & 2024. The report also provides a prolific view on market dynamics such as market drivers, restraints and opportunities.
In order to help strategic decision makers, the report also includes competitive profiling of the leading automotive braking system manufacturers, their strategies, market positioning and key developments. Some of the major players profiled in the report include Continental AG, Robert Bosch GmbH, ZF TRW, HallaMando Corp., RW Automotive Holdings Corp., Aisin-Seiki Co. Ltd., Akebono Brake Industry Co. Ltd., Brembo S.P.A., CA Traffic Limited, Knorr Bremse AG, Advics Group, Haldex, and others. Other in-depth analysis provided in the report includes:
Current and future market trends to justify the forthcoming attractive markets within the automotive braking system.
Market fullers, market impediments, and their impact on the market growth
In-depth competitive environment analysis
Trailing 2-Year market size data (2014 – 2015)
SRC (Segment-Region-Country) Analysis
Overall, the research study provides a holistic view of the global automotive braking system, offering market size and estimates for the period from 2016 to 2024, keeping in mind the above mentioned factors.