With advancements in technology, printed electronics have become more flexible, secure, and cost effective, all of which have made their application attractive across wide range of end-use industries. Printed electronics have the ability to reduce cost and technical limitations, especially those associated with mass production of electronics. Printed electronics also need less input materials and energy to work, thereby benefitting device manufacturers across different verticals. In addition, printed electronics enable electronic functionality to be delivered on to a wider range of substrates as compared to conventional rigid electronic fabrication mechanisms.Printed electronics have paved the way for flexible electronics. Subsequent rise in demand for flexible electronics is driving the printed electronics market.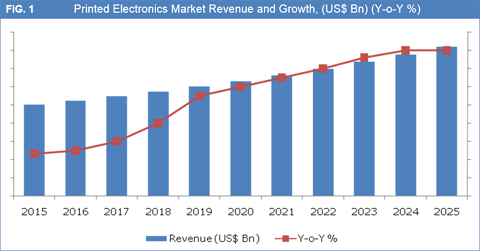 The global printed electronics market is classified into following categories:
By Technology

Gravure
Screen Printing
Flexography
Off-set Lithography
Inkjet Printing
Others

By End-use Application

Consumer Electronics
Retail & Packaging
Automotive
Aerospace
Healthcare
Others

By Device Type

Smart Cards
RFID Tags
Sensors
OLED
Photovoltaics
Lighting
Others

By Region

North America

The U.S.
Rest of North America

Europe

The U.K.
Germany
France
Rest of Europ

Asia-Pacific (APAC)

India
China
Japan
Rest of APAC

Rest of the World

Latin America
Middle East and Africa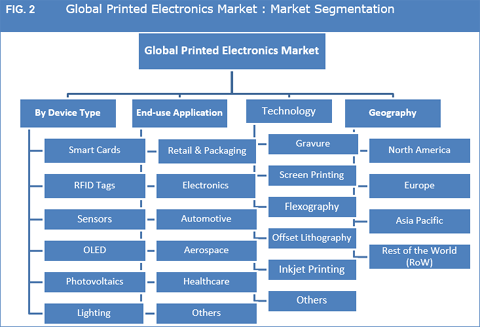 The research study titled "Global Printed Electronics Market – Growth, Future Prospects and Competitive Analysis, 2017 – 2025" offers strategic insights into the global printed electronics industry along with the market size and estimates for the duration 2015 to 2025. The said research study covers in-depth analysis of market segments based on technology, device type, end-use application, and cross-sectional study across different geographies and sub-geographical regions. The study covers the comparative analysis of different segments for the years 2016 & 2025. The report also provides a prolific view on market dynamics such as market drivers, restraints and opportunities. In addition, the report includes a section providing insights on the key trends followed in the market.
In order to help strategic decision makers, the report also includes competitive profiling of the leading printed electronics vendors, their business strategy analysis, market positioning, and key developments. Some of the major players profiled in the report are E Ink Holdings Inc., Thin Film Electronics ASA, T+ink, Inc., NovaCentrix, BASF SE, GSI Technologies LLC, Optomec Inc., E. I. du Pont de Nemours and Company, Vorbeck Materials Corporation, Inc., Intrinsiq Materials, Inc., Agfa-Gevaert N.V., and Samsung Electronics Co., Ltd. among others. Apart from the company profiles, the report includes a section covering the competitive landscape wherein the market positioning of the companies has been discussed. The section also provides a view of key business strategies adopted by the leading market players. Other in-depth analysis provided in the report includes:
Current and future market trends to justify the forthcoming attractive markets within the global printed electronics industry
Comparative analysis for different segments for the years 2016 & 2025
Market fuelers, market impediments, and their impact on the market growth
In-depth competitive environment analysis including the positioning of market players and their business strategy analysis
Trailing 2-Year market size data (2015 – 2016)
SRC (Segment-Region-Country) Analysis
Overall, the research study provides a holistic view of the global printed electronics market, offering market size and estimates for the period from 2017 to 2025, keeping in mind the above mentioned factors.