Continued Emphasis on Advertising Quality & Customized Content to Bolster the Demand for Programmatic Advertising
Programmatic advertising market estimated to reach US$ 95.58 Bn by 2026, growing with promising rate throughout the forecast period from 2018 to 2026. Majorly commanded by North America, programmatic advertising market is highly driven by rapidly growing automation in advertising industry. Programmatic advertising refers to a technology that automates the planning, selling, buying and optimization of advertising inventory using targeted audience data. Need for advertisers to connect with their target audience in the right environment, with right message, at right time provided much-needed impetus to the programmatic advertising market. Credence Research anticipated that nearly four of every five dollars spent on digital advertising in the U.S. transacted programmatically in 2017. Significant importance of automation in advertising industry provided traction for number of players to adopt programmatic advertising in search of feasible ways to suffice the ever-rising demand for advertisement. For instance, on November 13, 2017, Adobe Systems, Inc. successfully launched the first fully automated programmatic advertisement campaign.
Market Synopsis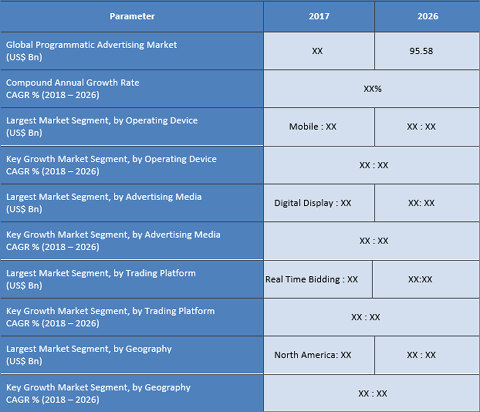 Programmatic Mobile Advertising to Continue Leading the Market
Mobiles dominate the overall programmatic advertising market. In 2017, more than 70% of programmatic advertisement spending has channeled through mobiles as well as it is bound to remain strong over the forecast period. Dominating and increasing market shares of mobile in programmatic advertising market credited to overall advancement in mobile advertising technology. Mobile advertising offers marketer strong and real-time reach to targeted customers. With growing budget for mobile advertising by almost all industries, demand for programmatic advertising on mobiles accounted to witness promising growth over the period.
Mobile is becoming integral part of consumers' daily routine with spending almost quarter of their daily media consumption time. Increasing time spend on mobile phones by consumers, substantiating it an ideal platform for advertisers to reach an engaged and large number of audience.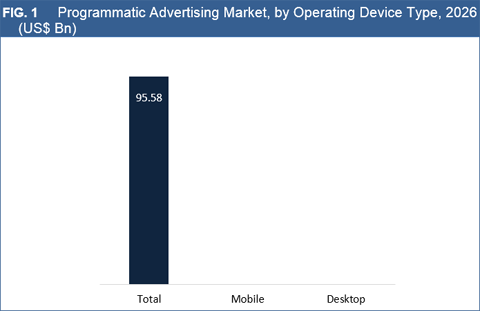 North America Leads the Market; Asia Pacific to Emerge as the Fastest Growing Regional Market
Presently, North America leads the programmatic advertising market with a little over 60% market share of the overall market value worldwide. The U.S. with strong adoptive market to new technologies across the nation primarily backs the market here. In the U.S, more than half of digital video advertisements traded via automation up to 2016. Moreover, by 2018, Credence Research expected that nearly three-quarters of all video advertisements would transact programmatically in the U.S. Similarly, in 2018, addressable TV technology market is on track to reach US$ 2.2 Bn also its household penetration in the U.S. to increase around 85% by 2019. With such high potential of market, programmatic TV will continue to acquire market shares in the U.S. with effective increment in planned budget across the nation. In 2017, market research for the programmatic advertising in the U.S. revealed that 65% of B2B marketers trade advertising programmatically.
Asia Pacific emerged as the fastest growing market for programmatic advertising and estimated to surge with significant growth rate throughout the forecast period. China, Japan, Australia, Singapore and India are among the leading countries having promising penetration of programmatic advertising market. The countries hold huge potential of offering huge demand for programmatic advertising primarily due to growing automation in advertising technology to broaden the reach towards customers. Similarly, Europe holds the great potential for programmatic advertising with established digital advertising market. In 2017, the IAB Europe Programmatic Trading Committee revealed that more than 50% of European display advertisement spend now traded programmatically. Promising upswing in online advertisement is primarily paving the way for programmatic advertisement market growth across Europe.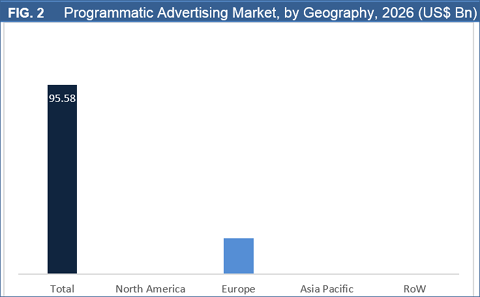 Data-Driven Creativity to Define the Key Strategy
Programmatic advertising market is highly competitive in established markets including North America and Europe than emerging markets including Asia Pacific and Rest of the world. Analyzing customers need and keeping the approach sophisticated is the chief strategy of big players in advertising market. By analyzing consumer data, marketers are looking to cater for dynamic requirements of advertising market. For instance, Adobe Systems Inc. defines their concept of programmatic advertising, as an integrated system of audience, algorithms and data, which aids consistent and relevant experiences across customer requirements. Similarly, Flurry, Inc. operates the data collected from more than 700 Mn smartphones and builds strong consumer database. This targeted data specifically appeals to consumer requirements. However, new General Data Protection Regulation (GDPR) act harmonizes and modernizes data protection requirements. All organizations that control or process the personal data of targeted audience are liable to implement data processing considering protection of consumers' personal data. Some of the major players profiled in the report include AOL Advertising, Inc., AppNexus, Inc., AdRoll, Inc., Adobe Systems Inc., Adingo, Inc., Beeswax, Inc., Connexity, Inc., DataXu, Inc., DoubleClick Inc., Flurry, Inc., MediaMath, Inc., Rubicon Project, Inc., Rocket Fuel Inc., RadiumOne, Inc., The Trade Desk, Inc., Turn, Inc. and others.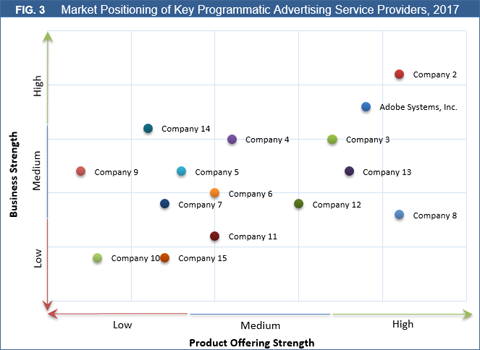 Historical & Forecast Period
2016 – Historical Year
2017 – Base Year
2018-2026 – Forecast Period
This research report presents the analysis of each segment from 2016 to 2026 considering 2017 as the base year for the research. Compounded Annual Growth Rate (CAGR) for each respective segments calculated for the forecast period from 2018 to 2026.
Report Scope by Segments
Programmatic advertising market report provides market size and estimates based on market dynamics and key trends observed in the industry. The report provides a holistic view of global programmatic advertising market based on operating device, advertising media, trading platform and geography. Key segments covered in the report are as follows:
Operating Device Type Segment (2016–2026; US$ Mn)
Advertising Media Segment (2016–2026; US$ Mn)
Digital Display
Mobile Display
Video
Social
Search
Television
Trading Platform Segment (2016–2026; US$ Mn)
Real-Time Bidding (RTB)
Private Marketplace Guaranteed
Automated Guaranteed
Unreserved Fixed-rate
Geography Segment (2016–2026; US$ Mn)
North America


United States
Rest of North America

Europe


United Kingdom
France
Germany
Rest of Europe

Asia Pacific (APAC)


Japan
China
India
Rest of APAC

Rest of the World (RoW)


Latin America
Middle East and Africa (MEA)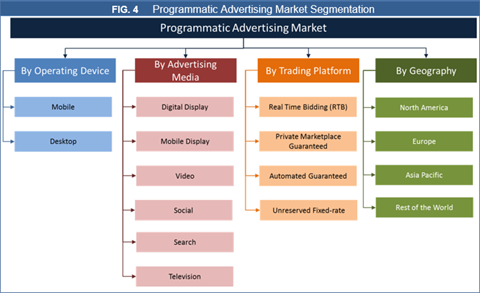 Key questions answered in this report
What was the market size of programmatic advertising in 2017 and forecast up to 2026?
Which is the largest regional market for programmatic advertising?
What are the key market trends observed in the programmatic advertising market and outlook for digital market?
Which is the most promising operating device type, advertising media type and trading platform in programmatic advertising market?
Who are the key players leading the programmatic advertising market?
What are the key strategies adopted by the leading players in market?
What are the key online marketing trends across different geographies and sub-geographies?