Key Market Insights
"Growing electric cars market expected to drive the market growth in the forecasted period"
The rapid development in the integration of the semiconductor industry has a high demand for silicon wafer, as a basic material for producing ICs. The exponential growth of consumer electronics products such as smartphones, tablets, and smart wearable are the end products where ICs are assembled. This industry has kept the demand high for silicon wafers. A silicon wafer is a thin slice of crystalline silicon that is majorly used in our electronics products. Its natural abundance and semiconductor properties like neither too strong conductor and nor strong insulator of electricity made it the preferred choice of the semiconductor industry; compare to its competitor semiconductors like germanium for making wafers.
Secondly, there is a growing demand for electric cars across the world. Rising petroleum prices and its ill-impact on the environment have influenced the buyer to go for electric cars. Moreover, governments and NGOs are also forcing the automobile-makers to switch-to-electric for reducing air pollution. Governments are also supporting the automotive industry as well as buyers by providing subsidy. Supplementarily, technological advancement in self-driving cars where several chips such as LiDAR, radar, camera and other sensors that can sense the surrounding environment are assembled into the system. Major automotive companies like Tesla, Toyota, Volvo, Nissan, Baidu, and Google are continually investing in driverless car development, considering the market potential in the long run. Either the electric car or driver-less car, silicon wafer-based chips, ICs, and sensors are the most important component to run the vehicle.
This new development in the automotive industry expected to further the growth of the silicon wafers market during the forecasted period. Overall, the global silicon wafers market was US$ 6.77 Bn in 2018 and expected to reach US$ 12.67 Bn by 2027, growing at a CAGR of 7.3% from 2019 to 2027.
Market Snapshot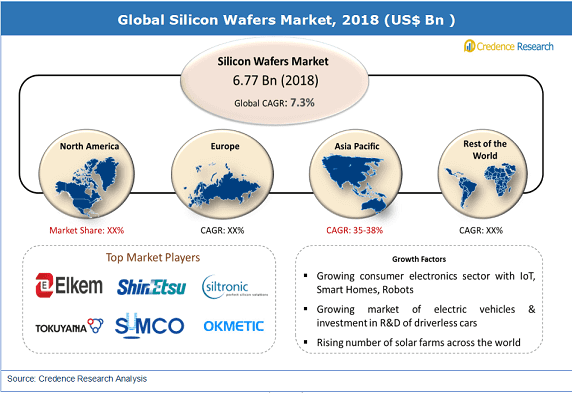 Get a sample copy for more information
End-user Segment Analysis
"Consumer electronics segment dominating the market"
Based on end-user, the consumer electronics segment captured the highest share of the global silicon wafers market in 2018. According to the Consumer Technology Association (CTA), the U.S. based organization representing more 2,200 consumer technology companies in the U.S. predicted the U.S. consumer sales to surpass US$ 400 Bn mark in 2019, growing 2.2% year-on-year. The consumer electronics sector is experiencing the launch of emerging technologies such as smart homes, smart speakers, home robots, smartwatch. With the launch of 5G technology, IoT and enhanced mobile broadband services, the demand for high RAM ICs is expected to grow exponentially; that will show high demand for silicon wafers, worldwide. This, in turn, will benefit the global silicon wafers market.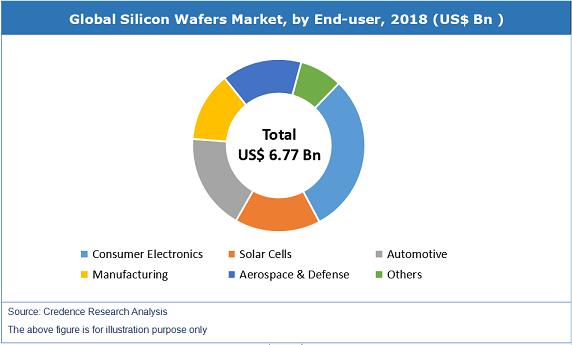 Get a sample copy for more information
Regional Analysis
"Asia Pacific dominating the global market by region"
The global silicon wafers market was dominated by the Asia Pacific, accounting for more than 35% of the market share in the year 2018. Robust demand from semiconductor industries of China, South Korea, and Japan has kept the region leading in the global market. Furthermore, India's "Make in India" campaign to establish chip fabrication units in the country has also added advantage to the regional market. China's growing production of electric cars and manufacturing hubs of smartphones has a high demand for silicon wafers.
According to the "2018 China Semiconductor Silicon Wafer Outlook report", wafer production growth is the fastest in the world. Further, strong domestic demand and favorable government policies have added advantages to the growth of fabrication units in the country. It is forecasted in the above report that China can produce 4 million wafers per month by 2020.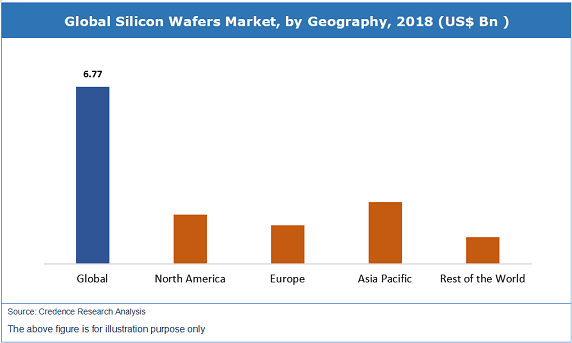 Get a sample copy for more information
"Technological advancement is keeping the market competitive"
The global silicon wafers market is competitive in nature. Prominent players operating in the silicon wafers market are adopting strategies such as partnership with other companies, acquisition of smaller players to increase their production capacity and geographical reach. Following is the list of players included in the published reports.
List of Companies Covered:
Elkem ASA
Shin-Etsu Chemical Co., Ltd.
Addison Engineering, Inc.
Siltronic AG
Okmetic
SUMCO CORPORATION
Global Wafers Japan Co. Ltd.
Nanoshel LLC
PV Crystalox plc
LDK Solar High-tech Co., Ltd.
REC Solar Holdings AS
Tokuyama Corporation
Silicon Materials, Inc.
Others
Key Industry Development:
In May 2019, Okmetic announced the investment of Euro 100 million to double the production capacity of its SOI wafers in its Vantaa plant by 2H20. The company experiencing growing demand for its SOI wafers due to an increased amount of advanced MEMS and power components used in the electronics industry. With the increased production capacity, the company expected to fulfill its customers' demand.
In January 2019, REC Group collaborated with Sol Distribution Pty Ltd. to distribute the company's high-performance solar cells across Australia. The collaboration will improve the market penetration of solar cells across the residential and commercial segments. With this agreement, REC Group expected to improve its market share in the Australian solar cells market.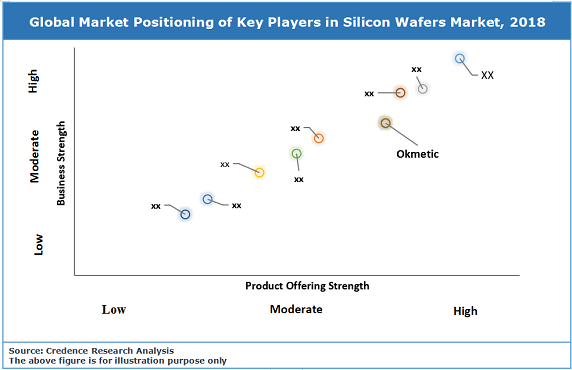 Historical & Forecast Period
The research report presents the analysis of each segment from 2017 to 2027 considering 2018 as the base year for the research. Compounded annual growth rate (CAGR) for each respective segments calculated for the forecast period from 2019 to 2027.
Market Segmentation
ATTRIBUTE
DETAILS
Research Period
2017-2027
Base Year
2018
Forecast Period
2019-2027
Historical Year
2017
Unit
USD Billion
Segmentation

Wafer Type Segment (2017-2027; US$ Bn)
• Polished Wafers
• Epitaxial Wafers
• Silicon-on-Insulator (SOI) Wafers
• Others (Diffused, AT, Hyper-Hi, etc.)

Doping Type Segment (2017-2027; US$ Bn)
• Doped Wafers
o N Type
o P Type
• Un-doped (Intrinsic Type) Wafers

Wafer Size Segment (2017-2027; US$ Bn)
• 150 mm
• 200 mm
• 300 mm
• 450 mm

End-user Segment (2017-2027; US$ Bn)
• Consumer Electronics
• Solar Cells
• Automotive
• Manufacturing
• Aerospace & Defense
• Others (Medical Devices, Robotics, etc.)

Geography Segment (2016–2026; US$ Bn)
• North America (U.S. and Rest of North America)
• Europe (U.K., Germany, France, and Rest of Europe)
• Asia Pacific (Japan, China, India, and Rest of Asia Pacific)
• Rest of World (Middle East & Africa (MEA), Latin America)
The current report also comprehends qualitative market valuation factors such as key market drivers, market trends, restraints and opportunities that give a better market understanding of the global silicon wafers market. Additionally, the global report also comprises a graphical representation of a competitive landscape based on their market initiatives and strategies, product portfolio and business strengths.
Unique data points of this report
Recent trends across different regions in terms of development of silicon wafers market
Attractive investment proposition for application segment as well as geography
Key questions answered in this report
What was the market size of silicon wafers market in 2018 and forecast up to 2027?
What are the key factors driving the global silicon wafers market?
What are the key market trends and high-growth opportunities observed in the silicon wafers market?
Which is the largest regional market for silicon wafers market?
Which segment will grow at a faster pace? Why?
Which region will drive the market growth? Why?
Which players are leading the silicon wafers market?
What are the key strategies adopted by the leading players operating in the market?