3D concrete printer refers to a robotic system used for fabricating various building components such as walls, roofs and lintels. The 3D printer deposits a concrete precisely under the operators' command. The process is completed by laying down successive layers of concrete until the whole object is fabricated. 3D concrete printers are capable of fabricating objects that are difficult/impossible to be manufactured through conventional construction processes.Thus, using these printers can help in achieving faster, safer and environment friendly construction buildings.
The most significant factor fueling the market growth is the high precision and efficiency of 3D concrete printing process over traditional construction method. The overall process is based upon a digital model and hence various complex designs can be implemented in the construction applications. The 3D concrete printing market is also driven by the superior advantages, in terms of raw materials and cost, over traditional construction process. Using 3D printing in construction can greatly reduce on material wastage thereby reducing the overall project cost.
Although the initial cost of 3D concrete printers is high, using these printers can make the overall construction process cost-effective. These printers are estimated to be largely used in countries where there is labor shortage (making them costlier). However, major factor hampering the market growth is the reluctance of construction companies to switch from traditional practices to 3D concrete printing. Additionally, using 3D concrete printing requires skilled labor which becomes a concern for the construction companies. This may significantly affect the market growth.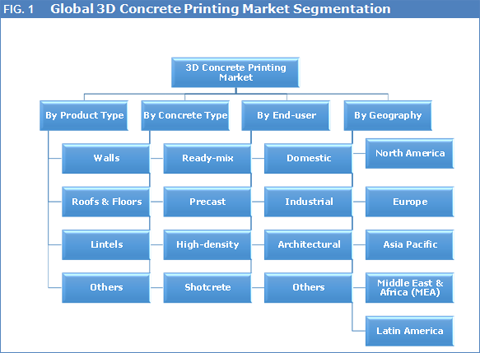 The report titled "Global3D Concrete Printing Market- Growth, Share, Opportunities and Competitive Analysis, 2016 – 2023" offers strategic insights into the global 3D concrete printing market along with the market size and estimates for the duration 2014 to 2023. The said research study covers in-depth analysis of multiple market segments based on applications, end-usersand cross-sectional study across different geographies. The study covers the comparative analysis of different segments for the years 2015&2023. The report also provides a prolific view on market dynamics such as market drivers, restraints and opportunities.
In order to help strategic decision makers, the report also includes competitive profiling of the leading players 3D concrete printer market, their SCOT (Strength, Challenges, Opportunities and Weaknesses) analysis, market positioning and key developments. Some of the major players profiled in the report are Dus Architects, Foster + Partners, Winsun Global, Skanska ABand others. Other in-depth analysis provided in the report includes:
Current and future market trends to justify the forthcoming attractive markets within the 3D concrete printing industry
Market fuelers, market impediments, and their impact on the market growth
In-depth competitive environment analysis
Trailing 2-Year market size data (2014 – 2015)
SRC (Segment-Region-Country) Analysis
Overall, the research study provides a holistic view of the global 3D concrete printing market, offering market size and estimates for the period from 2016 to 2023, keeping in mind the above mentioned factors.