The market for air purifiers is poised to witness strong growth worldwide during the forecast period 2020 - 2027. Air purifiers are fast gaining acceptance among consumers across varied end-use segments owing to an increase in the occurrences of air borne diseases. The combination of factors including rising level of air pollution due to ever growing population, rise in the number of on-road vehicles, and rapid industrialization has deteriorated the air quality and increased the incidences of air borne diseases like asthma, anthrax, lung cancer, etc. This coupled with rising awareness regarding health hazards pertaining to untreated indoor air bode well for the market growth. In addition, recovery in the global real-estate industry post bleak economic conditions prevalent during economic recession is expected to augment the number of residential units, thereby driving fresh installations of air purifiers. In addition, increasing demand for HEPA-based purifiers and emergence of several energy efficient variants are further supporting market demand. The trend is expected to continue throughout the forecast period. All these aforementioned factors are expected to contribute towards a compounded annual growth rate (CAGR) of XX% during the forecast period 2020 – 2027.
In order to help strategic decision makers, the report also includes competitive profiling of the leading air purifiers manufacturers, their business strategy analysis, market positioning, and key developments. Some of the major players profiled in the report include Daikin Industries, Ltd., Sharp Corporation, Honeywell International, Inc., LG Electronics Inc., Camfil AB, Whirlpool Corporation, AllerAir Industries, Inc., Blueair AB, Panasonic Corporation, Jarden Consumer Solutions (Europe) Limited, Koninklijke Philips N.V., 3M, EcoQuest International, IQAir, Rabbit Air, and WINIX Inc. among others. Apart from the company profiles, the report includes a section covering the competitive landscape wherein the market positioning of the companies has been discussed. The section also provides a view of key business strategies adopted by the leading market players.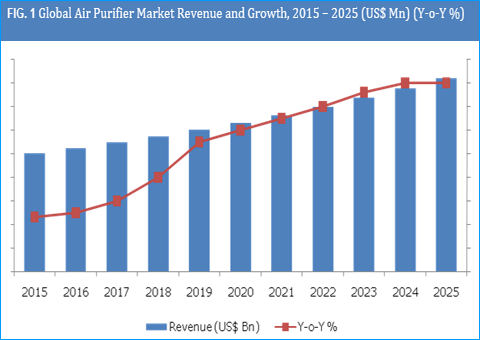 The global air purifiers market is classified into following categories:
By Type

Stand-alone Air Purifiers
In-duct Air Purifiers

By End-use Application

Residential
Commercial
Industrial

By Technology

HEPA
Electrostatic Precipitators
Ionizers & Ozone Generators

By Region

North America

The United States
Rest of North America

Europe

The United Kingdom
Germany
France
Rest of Europe

Asia-Pacific (APAC)

India
China
Japan
Rest of APAC

Rest of the World

Latin America
Middle East and Africa
Other in-depth analysis provided in the report includes:
Current and future market trends to justify the forthcoming attractive markets within the global air purifier industry
Comparative analysis for different segments for the years 2019 & 2027
Market fuelers, market impediments, and their impact on the market growth
In-depth competitive environment analysis including the positioning of market players and their business strategy analysis
Trailing 2-Year market size data (2018 – 2019)
SRC (Segment-Region-Country) Analysis
Overall, the research study provides a holistic view of the global air purifiers market, offering market size and estimates for the period from 2020 to 2027, keeping in mind the above mentioned factors.