The global market for aircraft sensors was valued at US$ 1,653.2 Mn in 2017 and is expected to reach US$ 2,686.5 Mn by 2026 at a CAGR of 5.7% from 2018 to 2026. The demand for aircraft sensors is primarily driven by production of new aircrafts. The fleet size of passenger aircrafts in service crossed 19,000 units, with record level of deliveries in 2016 due to continuous increase in passenger traffic. In 2016, the global air travelers' traffic grew impressively by 6.4% compared to passenger traffic in the last year. In busy and packed lifestyle, to save the time, people are preferring to fly from one place to another. In addition, availability of airline services at cheaper rate reshaping travelers perception with respect to other traveling options. In addition, steadily reducing oil and jet fuel prices are also motivating airline service providers to expand their operations to support rising demand for airline services. Some major aircraft manufacturers including Boeing Co. and Airbus Group, also predicts considerable investment opportunity in new commercial aircraft manufacturing in the next decade with increasing number of air travelers. According to Boeing, rise in middle-income level travelers will create a demand for more than 41,000 new airplanes over the next 20 years. This predicted increase in the numbers of new aircraft is foreseen to drive the demand for aircraft sensors.
Market Synopsis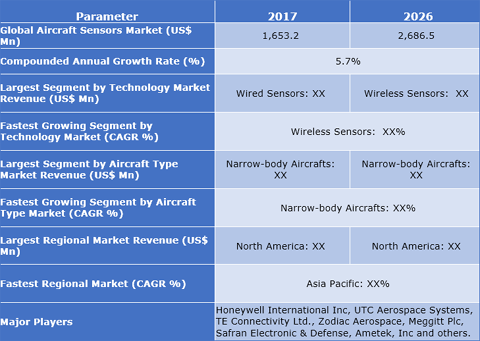 Wireless sensors to outpace wired sensors in aircraft control and monitoring applications
Aircraft industry is continuously looking to integrate solutions that will help to reduce operational and maintenance cost for them. Use of wireless sensor networks in aircraft structural health monitoring would benefit aircraft operators in reducing weight and design complexity. All these benefits directly result into lower maintenance and operational cost ensuring additional revenues for airlines operators. In addition, wireless sensors improve the effectiveness of data acquisition as it allows connecting multiple data acquisition units without requiring external hardware. At present, several projects are ongoing to check feasibility of wireless sensor networks over wired sensor system. Europe has supported a project FLite Instrumentation TEst WIreless SEnsor (FLITE-WISE), intended to check feasibility of using wireless sensors networks (WSN) using radio interface technology to communicate. Wireless sensors are expected to witness robust growth in the near future with improving effectiveness of this technology over wired solutions and rising awareness about the benefits of WSN in aircraft maintenance and monitoring.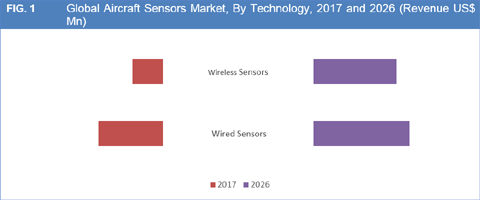 Narrow-body aircrafts predicted to be the most prominent product category for aircraft sensor manufacturers and suppliers
Narrow-body aircraft segment is expected to remain dominant aircraft category for aircraft sensors with their increasing production and demand over the forecast period. Leading aircraft manufacturers, Boeing and Airbus both predicts that narrow-body aircrafts is expected to remain the most potential product category with 70% of total new aircraft deliveries over the next 20 years. Narrow-body aircraft consumes less fuel that significantly reduces operating cost for airline service providers. This is the primary factors influencing airlines operators to shift towards narrow-body aircraft over wide-body aircraft. In North America, wide-body aircrafts accounted for 20% of domestic flying capacity in 1983, which was reduced to 5% by 2014. Similar trend is observed in China and other major countries across the world. Thus, the wide-body aircraft product category is expected to witness slow growth in the aircraft sensors market.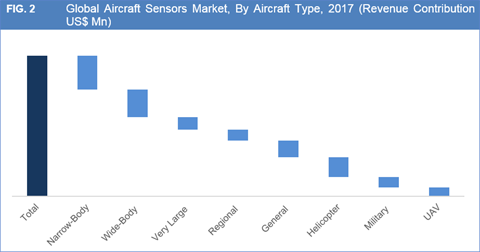 North America will maintain its dominance over the forecast period
U.S. is the largest aerospace engineering market globally. Aircraft engineering is one of the top contributing sectors in the U.S. manufacturing industry. The U.S. government gives significant attention to aerospace industry, as it comprises 3% of the total manufacturing workforce in the country. Moreover, U.S. is the largest manufacturer and exporter of commercial aircrafts. France, Germany, Japan and UK are major customers for the U.S. aircraft manufacturers. However, Asian countries including India, China and Southeast Asian countries are expected to be the major market for aircraft manufacturers due to increasing air travelers in these countries. Asia Pacific, comprises largest fleet size of commercial aircrafts and expected to witness the fastest growth for aircraft sensors with growing demand for narrow-body aircrafts in the region.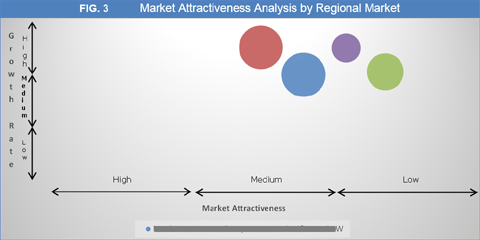 Product innovation is the key strategy adopted by leading aircraft sensors manufacturers
Recognized aircraft sensors manufacturers including Honeywell International Inc, UTC Aerospace Systems, TE Connectivity Ltd., Zodiac Aerospace, Meggitt Plc, Safran Electronic & Defense, Ametek, Inc., Curtiss-Wright Corporation, Esterline Technologies Corporation and others are focusing on product innovation, partnership agreements and geographical expansions for better revenue enhancement opportunities. Recently, Honeywell introduced its new series of self-diagnosing Integral Health Monitoring (IHM) proximity sensors that gives alerts when sensor system is damaged or impacted. Introduction of such innovative products to enhance performance of aircraft systems and to reduce aircraft maintenance cost will help manufacturers to gain competitive advantage in the industry.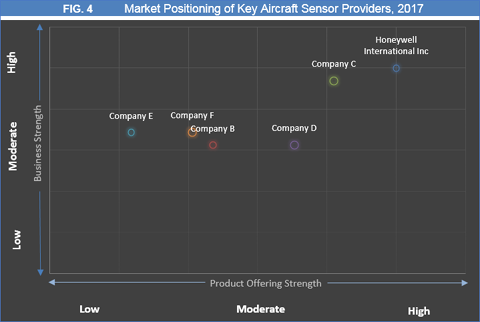 Historical & Forecast Period
2016 – Historical Year
2017 – Base Year
2018-2026 – Forecast Period
This research report presents the analysis of each segment from 2016 to 2026 considering 2017 as the base year for the research. Compounded Annual Growth Rate (CAGR) for each respective segments are calculated for the forecast period from 2018 to 2026.
Report Scope by Segments
Research study on aircraft sensors market provides exhaustive analysis of trends and dynamics in the global aircraft sensors market. The report offers in-depth qualitative as well as quantitative analysis of different sensor technologies used in aircrafts. The report outlines key driving and limiting factors and highlights key opportunity areas in the global aircraft sensors markets. Precise analysis of the global aircraft sensors market would help industry players across the value chain in formulating their market winning strategies. The report also includes Porter's Five Forces, value chain of aircraft industry and attractive investment preposition of aircraft sensors industry in order to assist market players in their expansion and market entry decisions. The aircraft sensors market is categorized into sensor type, application, technology, aircraft type and geography. This report also profiles major layers in the industry.
Aircraft Sensors Market by Technology (2016–2026; US$ Mn)
Wired Sensors
Wireless Sensors
Aircraft Sensors Market by Aircraft Type (2016–2026; US$ Mn)
Narrow-Body Aircraft
Wide-Body Aircraft
Very Large Aircraft
Regional Aircraft
General Aviation
Helicopter
Military Aircraft
UAV
Aircraft Sensors Market by Geography Segment (2016–2026; US$ Mn)
North America
United States
Canada
Europe
Germany
United Kingdom
France
Rest of Europe
Asia Pacific (APAC)
Japan
China
India
Rest of APAC
Latin America (LATAM)
Middle East and Africa (MEA)
Key questions answered in this report
What is the historical and potential market size of aircraft sensors market?
What are the key trends in the global aircraft sensors industry?
What are the key investment areas in the aircraft sensors market?
Who are leading players in the global market and their market winning strategies?
What are the mandatory regulations and specification required to integrate sensors in aircraft systems?
Who are major customers for aircraft sensors manufacturers and suppliers?
Which is the attractive technology segment for aircraft sensors manufacturers?
Which are key investment aircraft categories for sensors suppliers and manufacturers?