"Growing Airline Passenger Traffic, Advanced Construction Material and Military Modernization to Augment Aircraft Doors Market"
The global aircraft doors market was valued at US$ 3.75 Bn in 2018 and expected to witness notable growth, expanding at CAGR of 4.49% during the forecast period from 2019 to 2027. Aircraft doors are designed and manufactured as an integral part of airframe structure with air-tight precision. Based on their working principle and position in airframe body, aircraft doors are locked either by means of pressure difference on opposite sides of the door or by external locking mechanism. With technological development in manufacturing processes and advanced materials, aircraft manufacturers are constantly focusing on improving their ball game. Composite materials are being used by manufacturers for airframe manufacturing owing to their comparatively better strength-to-weight ratio than conventional metals and alloys. Similarly, welding process for such composite door materials is being improved in order to provide fail-safe and air-tight operation.
Significant growth in the number of air passengers along with the consistent rise in demand for aircraft is projected to boost the global aircraft doors market. Similarly, globalization and increased trade movements over the years are anticipated to accelerate the aircraft doors market for business jets. Further, the adoption of coming-of-age 3D-printing technology for aircraft doors manufacturing is the key area of focus by manufacturers. For instance, Sogeclair SA aerospace company has successfully produced high strength & lightweight aircraft door with the use of Voxeljet VX1000 3D-printer and aims to continue such production. Purchase of modern military aircraft by governing bodies in order to bolster their military strength is bound to grow the demand for military aircraft doors across the globe. For instance, Russian air force acquired some advanced military aircraft in 2018 that include Su-35S & Su-30SM fighters, Su-34 bombers, Mi-8 transport helicopters and Yak-130 training aircraft among others.
Electrically operated aircraft doors known as Next Generation Equipped Doors (NexGED) are paving their way in the aircraft doors market. Electric doors provide superior performance and better emergency evacuation passage over conventional mechanical doors owing to linear actuators that are used for arming and disarming of the slide. Such technological advancement combined with growing consumer base for airline travel is expected to boost the aircraft doors market during the forecast period.
Market Snapshot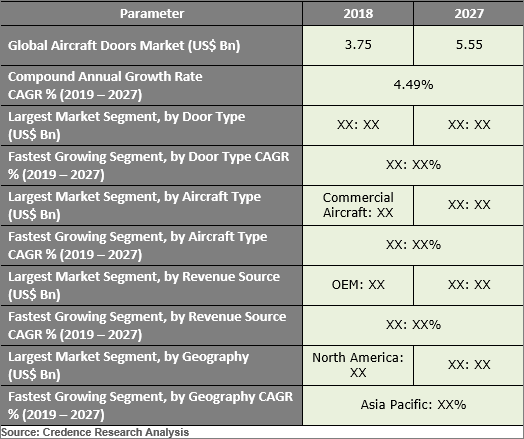 Get a sample copy for more information
"Commercial Aircraft accounted for the Largest Market Share in 2018"
Based on aircraft type, commercial aircrafts contributed major share in the overall aircraft doors market in 2018. The global consumer base for commercial aviation is growing significantly over the years. Such rising air passenger traffic ultimately demands for an increased air fleet size. Further, Low-cost carriers (LCCs), owing to their continuous innovation and leveraging cost efficiency have revolutionized the short-haul market by providing low-cost air travel to consumers. Airlines, especially in regions such as the Middle East and the Asia Pacific, are gaining eminent share in the global aviation sector. Rise in production of new aircrafts owing to the aforementioned reasons will in-turn drive the aircraft doors market during the forecast period.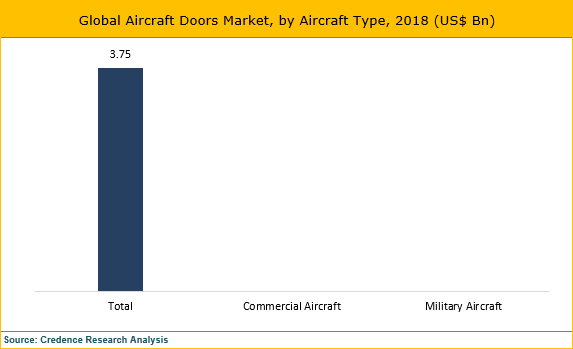 Get a sample copy for more information
"North America Garnered Largest Market Share in 2018"
The global aircraft doors market, based on geography was led by North America in 2018. Growth of this region is mainly accredited to the presence of major aircraft manufacturing companies and airlines such as Airbus, Boeing, American Airlines and Bombardier Aerospace among others. Apart from this, higher spending capability, growing economy and huge consumer base for air travel are key factors accelerating the aircraft doors market growth in the region. Similarly, huge budget allocation by regional governments in upgrading their military by purchasing new aircrafts or modernizing existing ones is expected to accelerate aircraft doors market growth during the forecast period.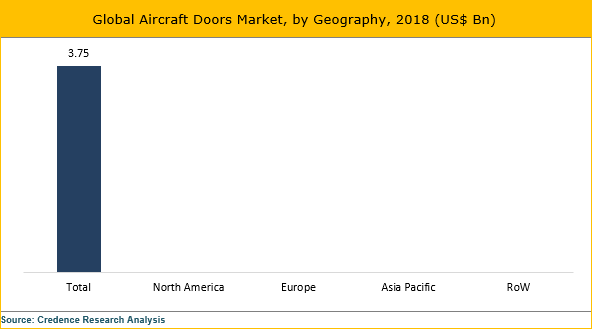 Get a sample copy for more information
Competitive Insights
Aircraft doors market players are adopting several strategies such as new product development, contracts & agreements, partnerships and joint ventures to be competitive in volatile market dynamics and to cater the ever-growing aircraft delivery demands. Key players considered in the aircraft doors market include Airbus Group, Triumph Group, Inc., Mitsubishi Heavy Industries, Ltd., Honeycomb Company of America, Inc., Saab AB Aerospace Company, DAHER-SOCATA Aircraft Manufacturers, Elbit Systems, Ltd., Group Latecoere, TransDigm Group, Inc., Collins Aerospace, Goodrich Corporation and GKN Aerospace Services, Ltd. among others.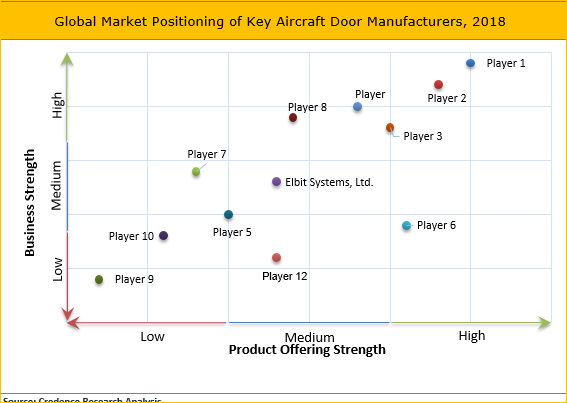 Historical & Forecast Period
The research report presents the analysis of each segment from 2019 to 2027 considering 2018 as the base year for the research. Compound Annual Growth Rate (CAGR) for each respective segments calculated for the forecast period from 2019 to 2027.
Report Scope by Segments
Aircraft doors market report provides market size and estimates based on market dynamics and key trends observed in the industry. The report provides a holistic view of global aircraft doors market based on door type, aircraft type, revenue source and geography. Key segments covered in the report are as follows:
ATTRIBUTE
DETAILS
Research Period
2017-2027
Base Year
2018
Forecast Period
2019-2027
Historical Year
2017
Unit
USD Billion
Segmentation

Door Type Segment (2019 - 2027; US$ Bn)
• Passenger Door
• Emergency Door
• Service Door
o Water Service Access Door
o Forward Service Door
o Air Conditioning Access Door
o Avionics Bay Door
• Cargo Door
• Others (Equipment Door, Landing Gear Door, Central Lavatory Door; etc.)

Aircraft Type Segment (2019 - 2027; US$ Bn)
• Commercial Aircraft
o Narrow-body Aircraft
o Wide-body Aircraft
o Cargo Aircraft
o Large Aircraft
o Regional Jet
o Business Jet
• Military Aircraft

Revenue Source Segment (2019 - 2027; US$ Bn)
• Original Equipment Manufacturer (OEM)
• Aftermarket

Geography Segment (2019 - 2027; US$ Bn)
• North America (U.S., Rest of North America)
• Europe (U.K., Germany, France, Rest of Europe)
• Asia Pacific (Japan, China, India, Rest of APAC)
• Rest of the World (Middle East & Africa, Latin America)
Key questions answered in this report
What was the market size of aircraft doors market in 2018 and forecast up to 2027?
What are the key factors driving the global aircraft doors market?
What are the key market trends and high-growth opportunities observed in the aircraft doors market?
Which is the largest regional market for aircraft doors market?
Which segment will grow at a faster pace? Why?
Which region will drive the market growth? Why?
Which players are leading the aircraft doors market?
What are the sustainability strategies adopted by the key players operating in the market?