"Steadily Growing Aviation Industry Worldwide to Drive the Demand for Aircraft Tires"
The overall aircraft tires market is set to demonstrate steady growth rate during the forecast period from 2018 to 2026, up from US$ 1,260.4 Mn in 2017. Aircraft tires are among the most dynamically engineered components present onboard aircrafts. Although for short durations, these tires are designed to withstand extremely heavy loads operating at high speeds of more than 150 miles/hour. The market is primarily driven by the consistently rising commercial aviation worldwide. Commercial aviation industry, especially in India and China, has been witnessing high growth since the past few years. The two countries have set record high orders for commercial aircrafts in the years 2017 and 2018. Subsequently, the demand for related components including aircraft tires is projected to remain strong during the forecast period.
Market Synopsis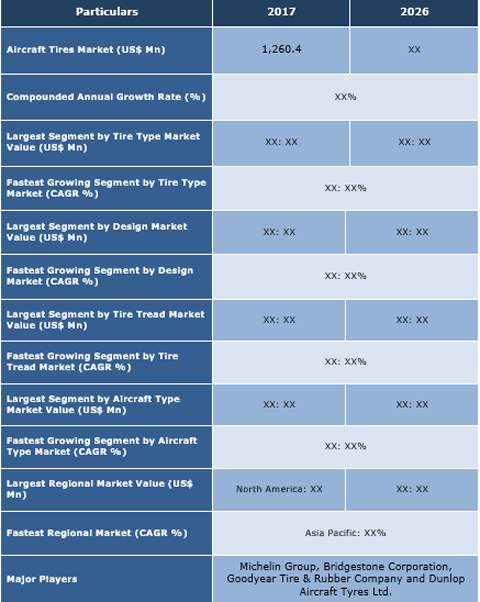 Get a sample copy for more information
"Growing Aviation Sector in Asia Pacific to Retain Dominant Position of Commercial Aircraft Tires Segment"
In 2017, the commercial aircraft tires segment dominated the overall aircraft tires market worldwide. Although the overall defense aircrafts fleet is larger than commercial airliners, the replacement rate and volume of commercial aircraft tires is fairly higher. In addition, commercial segment growth is driven by the higher frequency of operation over defense aircrafts. The commercial aircraft tires segment is expected to demonstrate higher growth rate during the forecast period on account of rapidly growing commercial aviation industry in Asia Pacific.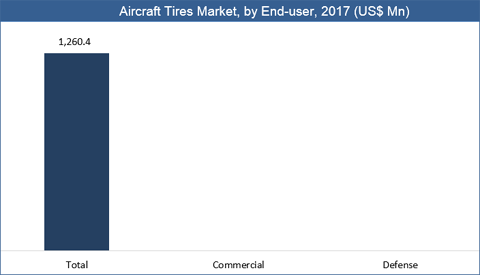 Get a sample copy for more information
"Asia Pacific to Surpass North America Aircraft Tires Market in the Near Future"
In 2017, North America led the overall aircraft tires market closely followed by the Asia Pacific region. The U.S., having the largest defense as well as commercial aircraft fleet, globally, mainly governs the market in North America. Asia Pacific is set to register the highest growth rate in the aircraft tires during the forecast period. India and China are witnessing the highest growth in commercial, defense as well as cargo aircraft growth in the region. According to International Air Transport Association (IATA), China is set to surpass U.S. commercial & general aviation market by 2022, with India attaining the third spot. Thus, due to continually rising number of air travelers in the countries, the region would exhibit high demand for commercial aircrafts, thereby driving the demand for aircraft tires. As a result, the Asia Pacific aircraft tires market is expected to surpass North America in the near future.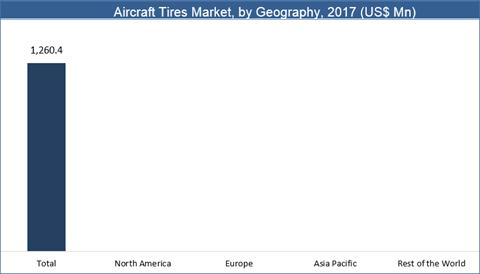 Get a sample copy for more information
"Higher Complexity in Aircraft Tire Manufacturing to Ensure Consolidated Market Throughout the Forecast Period"
The aircraft tires market worldwide is highly consolidated in nature. The top three companies in the market viz. Michelin Group, Bridgestone Corporation, Goodyear Tire & Rubber Company and Dunlop Aircraft Tyres Ltd. collectively account for more than 80% of the total market revenue generated worldwide. Despite numerous players operating in the overall tires market, the aircraft tires market has relatively less number of players. Very few tire companies possess the technology to produce aircraft tires due to stringent requirement of high performance and operation in extreme climate conditions.
Market players can be seen emphasizing on retreaded tires segment considering its continually increasing consumption in the market. Additionally, majority of the companies have set up their manufacturing and retreading plants in Asia Pacific, considering low cost of manufacturing and rapidly growing aviation industry here. Some of the major players profiled in the report include Michelin Group, Bridgestone Corporation, Goodyear Tire & Rubber Company, Dunlop Aircraft Tyres Ltd., Qingdao Sentury Tire Co., Ltd. Desser Tire & Rubber Co., LLC, Guilin Lanyu Aircraft Tire Development Co., Ltd., Petlas Tire Corporation, Specialty Tires of America, Inc. and others.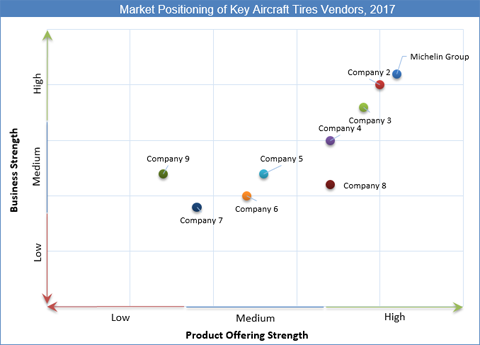 Historical & Forecast Period
This research report presents the analysis of each segment from 2016 to 2026 considering 2017 as the base year for the research. Compounded Annual Growth Rate (CAGR) for each respective segments calculated for the forecast period from 2018 to 2026.
Report Scope by Segments
The aircraft tires market report provides market size and estimates based on market dynamics and key trends observed in the industry. The report provides a holistic view of global aircraft tires market based on tire type, design, tire assembly, tire tread, end-user, aircraft type and geography. Key segments covered in the report are as follows:
ATTRIBUTE
DETAILS
Research Period
2016-2026
Base Year
2017
Forecast Period
2018-2026
Historical Year
2016
Unit
USD Million
Segmentation

Tire Type Segment (2016–2026; US$ Mn)
• Type III
• Type VII
• Type VIII (Three Part Type)
• Metric

Design Segment (2016–2026; US$ Mn)
• Bias Ply Tires
• Radial Ply Tires

Tire Assembly Segment (2016–2026; US$ Mn)
• Tubeless Tires
• Tubed Tires

Tire Tread Segment (2016–2026; US$ Mn)
• New Treaded Tires
• Retreaded Tires

End-user Segment (2016–2026; US$ Mn)
• Commercial
• Defense

Aircraft Type Segment (2016–2026; US$ Mn)
• Fixed Wing
• Rotary Wing

Geography Segment (2016–2026; US$ Mn)
• North America (U.S. and Rest of North America)
• Europe (U.K., Germany, France, Russia and Rest of Europe)
• Asia Pacific (Japan, China, India, and Rest of Asia Pacific)
• Rest of World (Middle East & Africa (MEA), Latin America)
Key questions answered in this report
What was the market size of aircraft tires in 2017 and forecast up to 2026?
Which is the largest regional market for aircraft tires?
What are the notable market trends observed in the aircraft tires market?
Who are the key players leading the market?
What are the key strategies adopted by the leading players in market?
Unique data points of this report
Statistics on commercial & defense aviation across different geographic regions/countries
Statistics on spending on defense aircrafts across major countries
Key trends on use of new tires and retreaded tires
Attractive investment proposition for tire type segment as well as geography
Comparative scenario for all the segments for years 2017 (actual) and 2026 (forecast)
---
Related Reports Published on Credence Research
☛ Aircraft Retread Tires Market By Process Type (Pre Cure and Mold Cure), By Aircraft Type (Commercial and Defense), By Tire Type (Type III, Type VII, Type VIII (Three Part Type), and Metric), By Design (Bias Ply Tires and Radial Ply Tires), By Tire Assembly (Tubeless Tires and Tubed Tires) – Growth, Future Prospects and Competitive Analysis, 2019 - 2027
☛ Retread Tires Market By Process Type (Pre Cure and Mold Cure), By Sales Channel (OEM Service Providers and Independent Service Providers), By Vehicle Class (Commercial Vehicles, Passenger Cars, Off-road Vehicles, Two-wheelers and Electric Vehicles) – Growth, Future Prospects and Competitive Analysis, 2019 - 2027