Aircraft engine can be defined as most vital parts of propulsion system which converts fuel energy into useful mechanical energy used to lift and propel the aircraft. Almost every aircraft except some hybrid or solar-powered aircraft use some form of the mechanical engine for their propulsion. A variety of aircraft engines are available for different end-use application aircraft including, passenger, cargo, military and aerospace applications. Air transport for passenger, cargo and military application has been on the rise consistently from past few decades. In order to fulfill the demand, a number of new aircraft are introduced continuously. With consistently rising demand for all the aforementioned end-user application, the aircraft engine market is also expected to grow in proportion to the demand for aircraft.
Rising fuel prices, strict emission norms and need of powerful engines have forced the aircraft engine manufacturers to upgrade their existing products. In order to fulfill the aforementioned demands, aircraft engine manufacturers are engaged to design and develop more sophisticated and efficient engines. Aircraft with better fuel injection systems and low noise emission is a result of perpetual technological development in the field of engine design. Manufacturing companies, OEM and airline companies are forming alliances and strategic partnership to develop better and economical engines for different end-use aircraft verticals. In addition, the companies are also striving to acquire contracts from government airline agencies and military organization to provide aircraft engines. Owing to breath-taking competition between airline companies and consistently growing demand for new aircraft, the overall aircraft engine market is expected to demonstrate a uniform growth throughout the forecast period.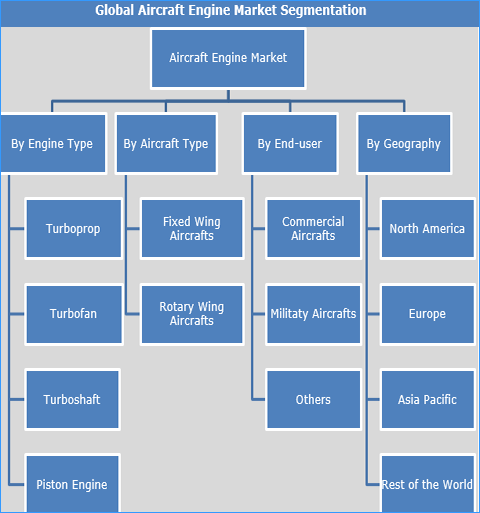 The report titled "Aircraft Engine Market- Growth, Future Prospects and Competitive Landscape, 2017-2025" offers strategic insights into the global aircraft engine market with a focus on the market size and estimates for the duration 2015 to 2025. The said research study covers in-depth analysis of market segments based on engine type, aircraft type, end-user and cross-sectional study across different geographies. The study covers the comparative analysis of each sub-segment for the years 2016-2025. The report also provides a prolific view on market dynamics such as market drivers, restraints, and opportunities.
In order to help strategic decision makers, the report also includes competitive profiling of the leading aircraft engine manufacturing companies, their strategies, market positioning and key developments. Some of the major players profiled in the report include General Electric Company, Rolls-Royce Motor Cars Limited, Honeywell International Inc., United Technologies Corporation, Pratt & Whitney Division, Snecma S.A, Hindustan Aeronautics Limited, United Technologies Corporation, Safran, The Boeing Company, International Aero Engines AG, Engine Alliance LLC, Extron, Inc. and MTU Aero Engines AG.
Other in-depth analysis provided in the report includes:
Current and future market trends to justify the forthcoming attractive markets within the aircraft engine.
Market fuelers, market impediments, and their impact on the market growth
Market inclination insights and key trend analysis for aircraft engine market
In-depth competitive environment analysis
Trailing 2-Year market size data (2015 – 2016)
Overall, the research study provides a holistic view of the global aircraft engine market, offering market size and estimates for the period from 2017 to 2025, keeping in mind the above-mentioned factors.