Automotive steer-by-wire (SBW) systems refer to steering system that is controlled by a computerized engine unit. Unlike conventional steering systems that are linked mechanically, SBW system transmits signals from wheels to a computerized unit which then controls tire movement. The speed of electronic signals means the tires move in accordance with driver's intention, making it faster than a conventional steering system. The system controls tire movement more effectively and reduces vibrations generated due to rough road surfaces from affecting the car's handling. Steer-by-wire systems is estimated to gain immense popularity in the automotive industry in following years and is often considered as the future of automotive steering systems.
Automotive steer-by-wire systems eliminates the use hydraulic pumps for its operation and is considered more efficient than the hydraulic counterparts. The main aim of SBWs is to completely eliminate as many mechanical components (column, steering shaft, reduction mechanism, etc.) as possible. This facilitates to simplify the interior design, better space utilization and optimized steering response. In recent years, deployment of SBW has witnessed significant increase in automobiles. These systems are adopted in vehicles with a focus to improve fuel efficiency and ride experience. SBWs are used in plug-in electric vehicles, which has witnessed an unprecedented demand in recent years. Thus, rise in demand for plug-in vehicles is likely to compliment the automotive SBWs systems market growth in the following years. Considering its prospects in electric vehicles sector, countries such as the U.S., China, South Korea, Japan and some of the Western Europe countries are believed to emerge prominent markets for steer-by-wire technology.
Further, improving SBW designs is another prominent factor driving the market growth. Some of the benefits associated with SBWs include, enhanced design flexibility for vehicles, improved fuel efficiency, reduced weight and reduced vibration among others. Car manufacturers are increasingly looking to deploy SBWs as a result of growing customer demand for fuel-efficient and safer vehicles. Moreover, it further eliminates environmental hazards arising due to disposal or leakage of hydraulic power steering fluid.
However, there are certain downsides with automotive SBWs systems which might hinder its growth in following years. SBW is a relatively new technology with limited adoption. This makes consumers reluctant to adopt it on a large scale. Moreover, technological advancement of these systems have led it to be priced quite higher than conventional steering systems, which further slows down the market growth. Vulnerability to hacking is another prominent disadvantage associated with SBWs. These systems can be hacked by wired or wireless connections and its control shut off or faulted.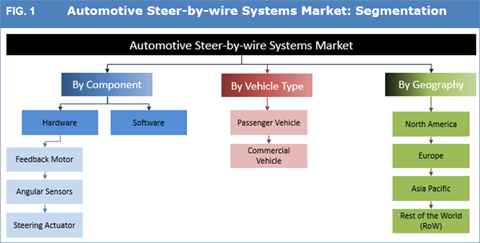 Some of the major players profiled in the report "automotive steer-by-wire systems market" are Nissan Motor Co., Ltd., ZF Friedrichshafen AG, JTEKT Corporation, Thyssenkrupp AG, Paravan GmbH, Sona Koyo Steering Systems Ltd. and Nexteer Automotive among others. Majority of these players emphasize on developing more reliable designs in order to eliminate the threat of hacking, thereby making the vehicles safer.