Automotive wiring harness can be defined as a medium to connect all electrical and electronic components together for power supply, sensor signals and transmitting data for enhancing vehicle performance. An automotive wiring harness is a collection of assorted wires, each having unique attributes such as material, dimensions, current ratings and number of cores, among others. Depending on their application, nature of current and signal to be transmitted, these wires are assembled together into a complete wiring harness which can be readily installed in an automobile. Wiring harnesses are distinguished according to their application in various vehicle types such as two-wheelers, passenger cars, heavy and light commercial vehicles irrespective of their power source.
The automotive industry has been witnessing a significant growth in past few years. Modern day automobiles are loaded with features and utilities which require an efficient power and signal transmission medium. Rising incorporation of enhanced sensor technology in automobiles has further raised the significance of automotive wiring harness. Wiring harness offers secure electric connections by avoiding operational setbacks such as fire and short-circuit. Intense competition and strict guidelines laid by automobile associations have forced automobile manufacturers to incorporate efficient wiring harness to upgrade their product reliability. In addition, automotive wiring harness offers ease in installation, maintenance and replacement for new as well as old automobiles. Initial installation of wiring harness is an expensive process, which poses as a major challenge for growth in the automotive wiring harness market. However, high initial cost of the wiring harness can be remunerated by its reliability and long operational life. Thereby, negative impact of initial expenses on the market is expected to reduce gradually during the forecast period.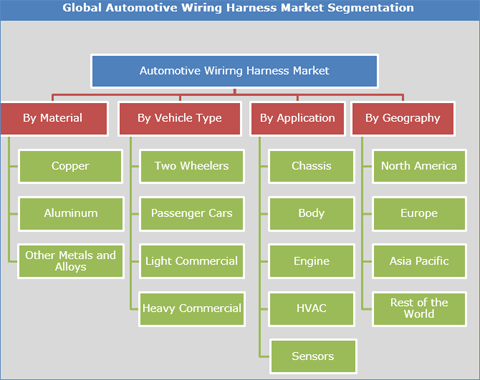 With a focus on the market size and estimates, "Automotive Wiring Harness Market- Growth, Future Prospects and Competitive Landscape, 2017-2025" provides vital strategic comprehension into the global automotive wiring harness market for the period from 2015 to 2025. The investigating report ensure complete top to bottom examination of market portions based on material, vehicle type, application and cross-sectional investigation across various nations worldwide. The report provides a comprehensive outlook on market dynamics including market opportunities, drivers and restraints by providing a complete comparative analysis of each sub-segment for the years 2016 and 2025.
The report further incorporates competitive profiling, strategies, market positioning and key developments of leading automotive wiring harness manufacturers in order to help strategic decision makers. Companies such as Ashok Minda Group, China Auto Electronics Group Limited (THB Group), Delphi Automotive LLP, Furukawa Electric Co., Ltd., Fujikura Ltd., LEONI AG, Lear Corporation, Nexans autoelectric GmbH, PKC Group, Sumitomo Electric Industries, Ltd., Qingdao Yujin Electro-Circuit Systems Co., Ltd., Spark Minda, Kromberg & Schubert KG, Samvardhana Motherson Group and Yazaki Corporation are extensively profiled as leading automotive harness manufacturers in this report.
Other in-depth analysis provided in the report includes:
Current and future market trends to justify the forthcoming attractive markets within the automotive wiring harness industry
Market drivers, market restraints, and their impact on the market growth
Market inclination insights and key trend analysis for automotive wiring harness market
In-depth competitive environment analysis
Trailing 2-Year market size data (2015 – 2016)
Overall, the research study provides a holistic view of the global automotive wiring harness market, offering market size and estimates for the period from 2017 to 2025, keeping in mind the above-mentioned factors.