Industry Outlook
As a significant role to play, bending machines never lost their edge from metal forming and shaping processes. However, bending machines went through a lot of evolution since their first introduction in their mechanical version. Bending machines have grown more sophisticated and accurately automated machines, unlike the conventional hydraulic or pneumatic, powered. Consequently, the demand for modern bending machines is gaining momentum from past few years. The overall bending machines market is projected to grow consistently throughout the forecast period with a CAGR of XX%.
Market Synopsis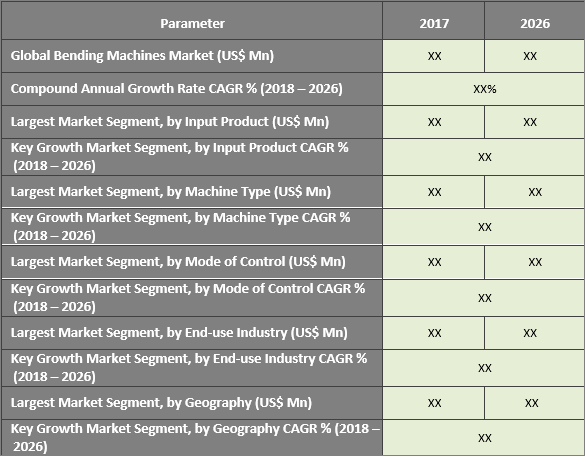 Get a sample copy for more information
"CNC Bending Machines Soon to Take Over Global Bending Machines Market"
At present, CNC bending machines registered the fastest growth in terms of market value. Although the overall market is dominated by conventional bending machine, CNC bending machines are expected to overpower the sales of conventional bending machines. CNC bending machines are accurate and with rapidly evolving industrial automation, several end-use industries are adopting CNC bending machines. Conventional bending machines are projected to stay dominant in developing regions such as Asia Pacific, Middle East & Africa and Latin America.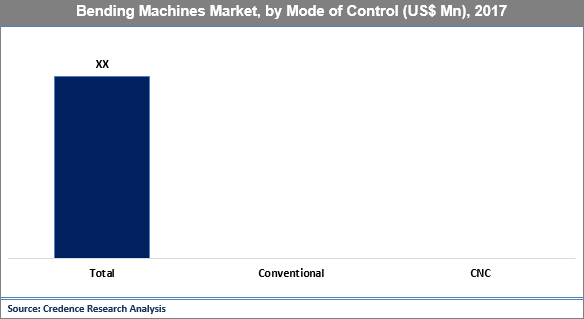 Get a sample copy for more information
"Automotive and Industrial Manufacturing & Processing Industry Confront Each Other As the Market Leader In End-use Industry Segment"
Bending of metal is a vital process in both automotive and industrial manufacturing and processing industries. Consequently, the aforementioned end-use industries emerged as the most valued contributors in overall bending machines market. Soaring demand for consumer goods and automotive are expected to further encourage the demand for new and improved bending machines in coming years. Besides, building and construction, power generation and oil & gas end-use industries also contribute notable share in the market and estimated to grow at a steady rate throughout the forecast period from 2018 to 2026.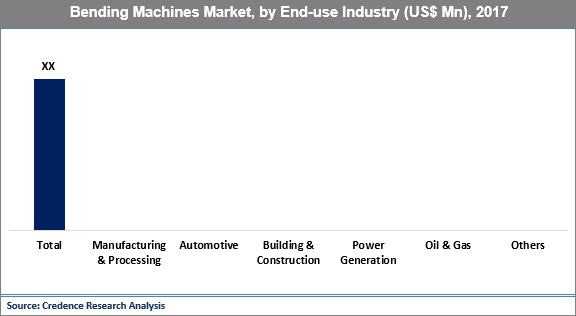 Get a sample copy for more information
"Asia Pacific Holds Huge Potential for the Bending Machines Market"
Home to rapidly developing countries, Asia Pacific dominantly contributes market share in the global bending machines market in 2017. Countries such as China, India, and South Korea are exploring new and advanced industrial automation avenue to boost their production capacity and achieve high degree of accuracy. Consequently, the region is quite optimistic in terms of market growth. North America and Europe trails Asia Pacific in terms of market value. Major manufacturing is also eyeing Middle East and Latin America region as another promising market for bending machines market in coming years.
Market Segmentation
ATTRIBUTE
DETAILS
Research Period
2016-2026
Base Year
2017
Forecast Period
2018-2026
Historical Year
2016
Unit
USD Million
Segmentation

By Input Product Position (2016–2026; US$ Mn)
• Plates & Sheets
• Pipes & Tubes
• Wires & Bars
• Angles & Beams

By Machine Type (2016–2026; US$ Mn)
• Mechanical
• Hydraulic
• Pneumatic
• Electric

By Mode of Control (2016–2026; US$ Mn)
• Conventional
• CNC

By End-use Industry (2016–2026; US$ Mn)
• Manufacturing & Processing
• Automotive
• Building & Construction
• Power Generation
• Oil & Gas
• Others (Transportation, Precision Engineering, etc.)

Geography Segment (2016–2026; US$ Mn)
• North America (U.S. and Canada)
• Europe (U.K., Germany, France, and Rest of Europe)
• Asia Pacific (Japan, China, India, and Rest of Asia Pacific)
• Rest of World (Middle East & Africa (MEA), Latin America)
"Fragmented Market and Stiff Competition Axing the Profit Margins of Major Vendors"
With proper planning and well-executed business strategies, bending machine companies can overcome over the stiff competition of this fragmented market. Developing new and improving bending on CNC and industrial automation platform is also one of the vital strategies adopted by the leading vendors. Some of the key bending machines vendors profiled in this research study include AMOB (Portugal), Baileigh Industrial, Inc. (the U.S.), Chiao Sheng Machinery Co., Ltd. (Taiwan), Chiyoda Kogyo Co., Ltd. (Japan), Electropneumatics & Hydraulic Private Limited (India), Pines Engineering & H&H Tooling (the U.S.), Promau S.r.l. (Italy), Shuz Tung Machinery Industrial Co., Ltd. (China), SOCO Machinery Co., Ltd. (Taiwan), SweBen (Sweden), Sharpe Products (the U.S.), Thorson Industries (India) among others.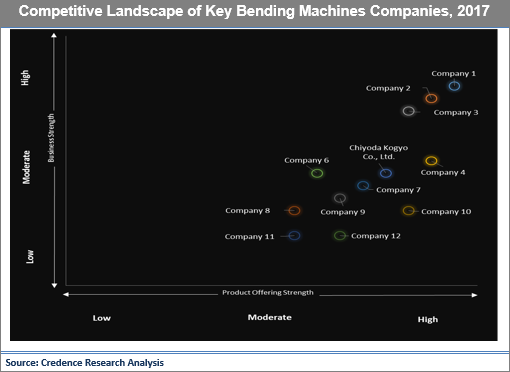 Key questions answered in this report
What are the recent trends in global bending machines market and its impact on the different end-use industries deals with metal forming processes?
How growth in CNC and their demand for manufacturing and processing created an optimistic growth environment for global as well as regional bending machines market?
Which are the largest and fastest growing segment in input product, machine type, mode of control and end-use industries?
Which is the most attractive geographical region/country for overall bending machines market?
How growing power demand play a crucial part in overall bending machines market in coming years?
What is the market value, estimation, and tendencies in developing regions such as Asia Pacific, Middle East & Africa, and Latin America?