Bicycle frame is the most integral component of any bicycle to which various other components such as forks, tires, handle and paddling mechanism, among others are attached. Bicycle frame forms the main structure of a bicycle and brings robustness and rigidity to the bike. Various types of frames are available in the market which can be used to construct different types of bicycles such as mountain bikes, road bikes, children's' bikes and folding bikes, among others. Depending on the type of bike to be built, bicycle frames can differ in shapes and sizes. Some of the most common shapes of bicycle frames include diamond, step-through and cantilever, among others. Bicycle frames are manufactured using a wide range of material including aluminium, steel, titanium, carbon fiber and magnesium. Steel and aluminium have been the preferred materials over the years for manufacturing of a sturdy bicycle frame however, popularity of carbon fiber has increased in the recent years. Depending on the use and customer preferences, numerous manufacturers offer customized bicycle frames to meet specific requirements of the end user.
Factors such as rising popularity of bicycles and increasing usage in sports and recreational activities have led to the continued demand for bicycles across the world. With growing demand for bicycles, the sales of bicycle frames continue to growth proportionally. Leading manufacturers of bicycles procure frames from various original equipment manufacturers (OEMs) for building the overall bicycle. In addition, availability of a wide range of customized frames has enabled end-users to build their own bicycle from scratch. Thereby, customized frames have gained immense popularity among various professional cyclists and enthusiast in the recent years.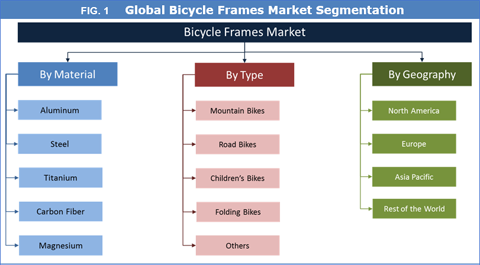 The research report titled "Global Bicycle Frames Market- Growth, Future Prospects and Competitive Analysis, 2018 – 2026" offers an investigative analysis of the global bicycle frames market including market values and forecasts for the period from 2016 to 2026.
The report additionally provides competitive analysis including market positioning of leading providers of bicycle frames and current market developments. Some of the leading manufacturers of bicycle frames included in the study are ADK Technology Limited, Advanced International Multitech Co. Ltd., Cicli Pinarello SRL, Dengfu Sports Equipment Co. Ltd., Felt Racing, LLC, Giant Manufacturing Co Ltd., Ideal Bike Corporation, Kona Bikes, Pinion GmbH, Quest Composite Technology Corporation, SCOTT Sports SA, Specialized Bicycle Components, Inc., TOPKEY CORPORATION and Velocite Tech Co Ltd.
In-depth analysis included in the report encompasses:
Current and anticipated market trends in order to identify growth prospects within the bicycle frames industry
In-depth competitive environment analysis
Market dynamics including drivers, restraints, and their impact on the market growth
Historic 2-Year market value data (2016 & 2017)
---
Related reports on our portal
☛ Bicycle Tires Market By Product Type (Tubed Tires, Tubeless Tires, Airless Tires), By Application (On-Road Application, All Terrain Application) - Growth, Future Prospects And Competitive Analysis 2017 – 2025
☛ Folding Bicycles Market By Material (Aluminum, Steel, Carbon Fiber and Titanium), By Number of Gears (Single Speed and Multi-speed) - Growth, Future Prospects, and Competitive Landscape, 2018 - 2026