"Dental Equipment Market to Exhibit Healthy Growth during the Forecast Period from 2018 to 2026"
The global dental equipment market accounted for a value of US$ 5,039.6 Mn in 2017 and expected to attain US$ 7,951.5 Mn by 2026. Factors characterizing the growth of this market are globally growing older population, rising prevalence of oral diseases coupled with increased spending over dental care, and mounting technological advances in dental equipment. Novel technology-enabled dental handpieces provide higher efficiency and reduce the procedural time in tissues removal procedure. The new technologies enable a motor of 100-400,000 RPM with a persistent torque to treat hard tissues. These devices are comprised of automatic reversing feature for various endodontic procedures, thereby gaining popularity from dental care professionals. According to the International DOI Foundation, worldwide oral health burden accounted for US$ 442.0 Bn in 2015 with direct treatment costs of dental diseases at US$ 298.0 Bn every year. The American Dental Association (ADA) reported in 2016, the national dental care expenditures were US$ 124.0 Bn in 2016, increased from US$ 120.0 Bn in 2015, up from US$ 114.0 Bn in 2014. As per the data published by World Health Organization (WHO), the worldwide population aged 60 years and above has surged from 841.0 Mn in 2013 to 962.3 Mn in 2017, and is projected to cross 2.0 Bn by the end of 2050. This population is more prone to develop oral health diseases, thereby assisting in the market growth.
Market Synopsis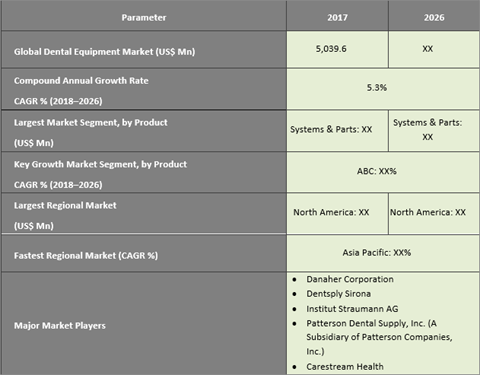 Get a sample copy for more information
"The Systems & Parts Segment to Command the Market from 2018 to 2026"
The systems & parts segment is further categorized into instrument delivery systems, vacuums & compressors, cone-beam computed tomography (CT) systems, casting machines, furnace & ovens, electrosurgical instruments, and computer-aided design (CAD)/computer-aided manufacturing (CAM) systems. The CAD/CAM segment dominated the market in 2017 as these techniques have technological superiority and quickly substituting die casting techniques. The cone-beam computed tomography (CT) systems segment would register comparatively higher CAGR over the forecast period as these systems capture images of tissues and adjacent parts of the tooth and helps in delivering precise treatment.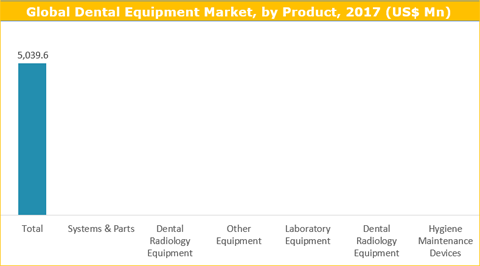 Get a sample copy for more information
"North America led the Market in 2017 due to the Presence of Supportive Healthcare Infrastructure and Domicile of key Market Players"
North America is expected to dominate the market throughout the forecast period owing to the government support for the formation of legislation, grants and funding, the presence of key market participants, favorable healthcare infrastructure, higher adoption of dental equipment, and availability of technologically advanced products. Technological developments related to novel equipment including digital X-rays for tooth cavity detection and high-resolution screening systems are supporting the supremacy of the region.
Europe is following North America in terms of revenue attributed to rising demand for cosmetic dentistry, rising incidence of oral cancer, increasing dental caries & trauma cases in children. According to the WHO, presently, the incidence of oral cancer ranges from 5 to 10 cases per 100, 000 individuals in European countries.
India is swiftly catching up in dental equipment manufacturing and becoming a manufacturing hub to supply dental equipment & materials to other countries including Africa, Sri Lanka, Pakistan, and parts of the Middle East. India has more than 5,000 dental laboratories, 297+ dental institutes, around 309 dental colleges which are approved by the Dental Council of India (DCI). Furthermore, surging number of dental colleges in the country will propel the demand for dental equipment, thereby contributing to the regional growth. Additionally, the presence of a large patient pool, improving healthcare infrastructure, and growing awareness about oral health-related products among patients in China, India, and Japan are expected to register the fastest market growth.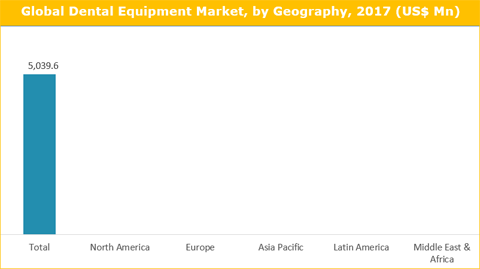 Get a sample copy for more information
"The Presence of International Market Players Creates Market Penetration Challenging for New Entrants"
Key companies in this industry are Danaher Corporation; Dentsply Sirona; 3M; BIOLASE, Inc.; GC Corporation; Carestream Health; Institut Straumann AG; Patterson Dental Supply, Inc. (A Subsidiary of Patterson Companies, Inc.); A-dec Inc.; and Planmeca Oy. These manufacturers are implementing organic & inorganic business growth strategies such as vertical & horizontal integration, new product launches, joint ventures (JVs), collaborations & partnerships, mergers & acquisitions (M&As), divestitures, and operational & geographical expansions. These players are focused on strengthening their presence in various segments. For instance, Dentsply Sirona has a stronghold in dental technologies & equipment segment such as CAD/CAM systems, imaging systems, and treatment centers. Some market players are considering the cost parameters when targeting cost-sensitive customer base in emerging countries such as China, India, Brazil, and Eastern European countries. In September 2018, BIOLASE, Inc. launched #KeepDramaAtTheMovies campaign in order to educate patients & dentists with its minimally invasive (MI) dental lasers namely BIOLASE Waterlase. In July 2018, the Company hosted a series of BIOLASE User Community events in order to provide dental offices with an informal platform to discuss the technical & practical aspects of the laser dentistry.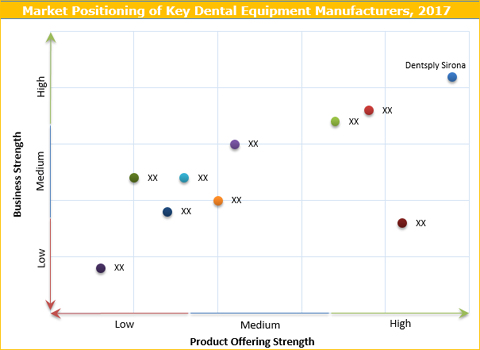 Historical & Forecast Period
This study report represents analysis for each segment from 2016 to 2026 considering 2017 to be the base year. Compounded Annual Growth Rate (CAGR) for each of the respective segments estimated for the forecast period from 2018 to 2026.
Report Scope by Segments
This report on the global dental equipment market emphasizes on the qualitative & quantitative analysis of present and future market dynamics. The report covers thorough information on the global dental equipment market by categorizing the market on the basis of product and geography. The medical device businesses, suppliers & distributors of the medical devices, industry investors & associations, venture capitalists, research & consulting organizations, research & academic institutes, and healthcare professionals will get significant market insights from this report for decision-making and strategizing the position of the market.
ATTRIBUTE
DETAILS
Research Period
2016-2026
Base Year
2017
Forecast Period
2018-2026
Historical Year
2016
Unit
USD Million
Segmentation

Product Segment (2016–2026; US$ Mn)
• Systems & Parts
o Instrument Delivery Systems
o Vacuums & Compressors
o Cone-beam Computed Tomography (CT) Systems
o Casting Machines
o Furnace & Ovens
o Electrosurgical Instruments
o Computer-aided Design (CAD)/Computer-aided Manufacturing (CAM) Systems
• Dental Radiology Equipment
o Intraoral
 Digital X-ray Units
 Digital Sensors
o Extraoral
 Digital
 Analog (Film-based)
• Laboratory Equipment
o Ceramic Furnace
o Hydraulic Press
o Electric Waxer
o Suction Unit
o Micro Motor
• Dental Lasers
o Diode Lasers
 Quantum Well Lasers
 Distributed Feedback (DFB) Lasers
 Vertical-cavity Surface-emitting Lasers (VCSELs)
 Vertical External-cavity Surface-emitting Lasers (VECSELs)
 Heterostructure Lasers
 Quantum Cascade Lasers (QCLs)
 Separate Confinement Heterostructure (SCH) Lasers
o Carbon Dioxide (CO2) Lasers
o Yttrium Aluminium Garnet (YAG) Lasers
• Hygiene Maintenance Devices
o Sterilizers
o Air Purifiers & Filters
o Hypodermic Needle Incinerator (HNI)
• Other Equipment
o Dental Chairs
o Dental Handpieces
o Dental Curing Lights
o Scaling Units

Geography Segment (2016–2026; US$ Mn)
• North America (United States and Canada)
• Europe (U.K., Germany, Rest of Europe)
• Asia Pacific (China, Japan, Rest of Asia Pacific)
• Latin America (Brazil, Mexico, Rest of Latin America)
• Middle East and Africa (GCC, Rest of MEA)
This report also incorporates the qualitative analysis of market dynamics/variables such as key market drivers, restraints, opportunities, and trends which provide complete market information of the overall dental equipment industry. Also, the report also includes a graphical demonstration of the competitive landscape based on their market initiatives & strategies, product portfolio, financial information, and key developments. Major market contributors profiled in this report are Danaher Corporation; Dentsply Sirona; 3M; BIOLASE, Inc.; GC Corporation; Carestream Health; Institut Straumann AG; Patterson Dental Supply, Inc. (A Subsidiary of Patterson Companies, Inc.); A-dec Inc.; and Planmeca Oy.
Key questions answered in this report
What are the current market trends and dynamics in the dental equipment market and valuable opportunities for emerging players?
Which product segment contributes to the maximum market share?
Which product accounts for the fastest CAGR during the forecast period?
Which systems & parts sub-segment holds the highest market share?
Which dental radiology equipment sub-segment accounts for the largest market share?
What is the impact of high cost dental equipment on the market?
Are low and middle-income economies investing in the dental equipment market?
What is the market trend and dynamics in emerging markets such as Latin America and Middle East & Africa?