Fish oil is derived from the tissue of oily fish species from fresh water and sea. It contains a high percentage of long chain omega 3 fatty acids, such as EPA and DHA, which are essential nutrients for both humans and animals. Fish oil is largely used as a feed ingredient in various animal and human nutritional applications, such as aquaculture feed, animal nutrition & pet feed, pharmaceuticals, supplements & functional food.
Currently, aquaculture dominates overall demand and offers strong growth potential in the upcoming years. Fish oil is used for a variety of useful chemical reactions to form intermediates that are used in the manufacture of a diverse range of chemical derivatives. Fish oil is used in a variety of everyday consumer products, including food supplements, functional food, etc. Growing demand for fish oil from various sector is predicted to remain a main aspect for global fish oil market in future.
The global fish oil market is segmented by geography into North America, Europe, Asia Pacific, Latin America and Middle East & Africa. In 2016, Asia Pacific was observed as the largest market for fish oil. The Fish Oil market of Asia Pacific zone is predicted to register highest rate of growth during the projected period. This progress is majorly attributed to growing demand from supplements, aquaculture and petrochemical industries, particularly from growing economies like China, Japan and India.
Geographically, the global cement market is studied for the following regional markets:
North America
a. U.S.
b. Canada
Europe
a. U.K.
b. Germany
c. France
d. Rest of Europe
Asia Pacific
a. China
b. India
c. Japan
d. Rest of Asia Pacific
Latin America
a. Brazil
b. Mexico
c. Rest of Latin America
Middle East and Africa
a. GCC
b. Rest of Middle East & Africa
The market size and forecast for the period 2015-2025 along with the CAGRs for the period 2017-2025 for the mentioned segments are also presented in this study.
Qualitative information sets such as market dynamics (drivers, challenges and opportunities) and market inclination insights are provided in this market assessment report. Tools such as competition assessment and attractive investment proposition are also included in this study for assessment of market competition. The report concludes with company profiles section that highlights key information about the major market players operating in the global cement market.
American Marine Ingredients, Colpex, Copeinca ASA, Corpesca S.A., Croda Inc., FF Skagen A/S, FMC Corporation, GC Rieber Oils, Marvesa Holding N.V., Nutrifynn Caps, Inc., Omega Protein and Pesquera Diamante S.A. are few key manufacturers in the global fish oil market.
The global fish oil market is expected to reach over US$ 3.69 Bn by 2025, growing at a CAGR of 5.8% during the forecast period 2017-2025.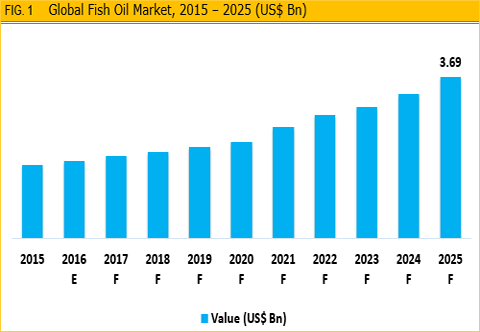 Purpose of the Report
The purpose of this strategic research study titled "Fish Oil Market – Growth, Future Prospects and Competitive Analysis, 2017 – 2025" is to offer industry investors, company executives, and industry participants with in-depth insights to enable them make informed strategic decisions related to the opportunities in the global fish oil market.
Target Audience
Industry Investors
Procurement Managers from End user Companies
Fish Oil Manufacturers
Distributors
USP and Key Offerings
The report titled "Fish Oil Market – Growth, Future Prospects and Competitive Analysis, 2017 – 2025" offers strategic insights into the overall Fish Oil market along with the market size and estimates for the duration 2015 to 2025. The said research study covers in-depth analysis of multiple market segments based on, source type, application type and cross-sectional study across different regions.
In order to help strategic decision makers, the report also includes competitive profiling of the leading players in alpha olefins market and key strategies adopted by them. Other in-depth analysis provided in the report includes:
Current and future market trends to justify the forthcoming attractive markets within the fish oil industry
Market drivers, market impediments, and their impact on the market growth
In-depth competitive environment analysis
Historical 2-Years market size data (2015 – 2016)
Overall, the research study provides a holistic view of the global fish oil market, offering market size and estimates for the period from 2015 to 2025, keeping in mind the above mentioned factors.
Related Reports