Food fortification ingredients are generally recognized as safe ingredients which are added in foods, beverages and other edible products to provide functional and health benefits and also supports the shelf life of the products. Food fortification ingredients identified for the study include vitamins, minerals, carbohydrates, probiotics, prebiotics and others which are added to the food and beverages during the manufacturing process.
Furthermore, the market giants such as Cargill and Kerry are increasingly researching and developing fortification ingredients for various food and other edible products. Dietary supplements, and animal nutrition products are also fortified with essential micronutrients such as vitamins, minerals, etc.
In terms of product type, in 2016, vitamins accounted for over 50% share of the global market in terms of revenue and projected to maintain their hold during the forecast period of 2017 to 2025, due to increasing health concern and preventive measures towards health, clubbed with demand for functional and convenience food products across the globe. Minerals segment is the second largest market and possess essential micronutrients which are used in food and beverages as the standard food products are not always packed with essential minerals. Minerals segments is expected to grow at a moderate pace during the forecast period.
Of the global food fortification ingredients market by application, in 2016, food and beverages application accounted for the largest share of around 50% in terms of value, owing to high consumption of fortification ingredients in daily food products to ensure proper nutrition for the consumers. It is also projected to grow at a highest CAGR during the forecast period 2017 to 2025. Food and beverages application is followed by others applications which includes fats and oils, it is expected grow at considerable rate due to increasing consumer awareness about health benefits and need for healthy oils and fats in daily food products.
In 2016, the food fortification ingredients market by region was dominated by the North America accounting around 36% of the market share in terms of value. North America was followed by the Europe and Asia Pacific. Asia-Pacific being the emerging market is projected to exhibit the highest growth between 2017 and 2025. This growth is attributed to the emerging markets such as China, Japan and India due to the continuous support from local manufacturers and government organizations.
With the rise in the use of fortification ingredients in daily food and beverages, functional foods and infant nutrition products the food manufacturers players are focusing on identifying new micronutrients, and developing innovative solution for the end product manufacturers such as Nestle, Abbott. Some of the key players present in this market are Cargill, ADM, Kerry Group, Ingredion and DuPont among others.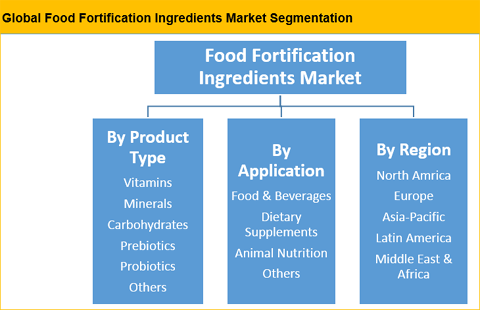 The report titled "Global Food Fortification Ingredients Market - Growth, Future Prospects, and Competitive Analysis, 2017 – 2025" offers strategic insights into the global food fortification market along with the market size and estimates for the duration 2017 to 2025. The said research study covers in-depth analysis of multiple market segments based on product type, application type, and cross-sectional study across different geographies. The study covers the comparative analysis of different segments for the years 2016 & 2025. The report also provides a prolific view on market dynamics such as market drivers, restraints and opportunities.
In order to help the strategic decision makers, the report also includes profiles of the leading aerospace composites manufacturers, along with their, product portfolio and key developments. Other in-depth analysis provided in the report includes:
Current and future market trends to justify the forthcoming attractive markets within the food fortification ingredients industry
Market drivers, market impediments, and their impact on the market growth
In-depth competitive environment analysis
Trailing 2-Year market size data (2015 – 2016)
SRC (Segment-Region-Country) Analysis
Overall, the research study provides a holistic view of the global food fortification ingredients market, offering market size and estimates for the period from 2017 to 2025, keeping in mind the above mentioned factors.